RGU deepens ties with Japan with innovative energy programmes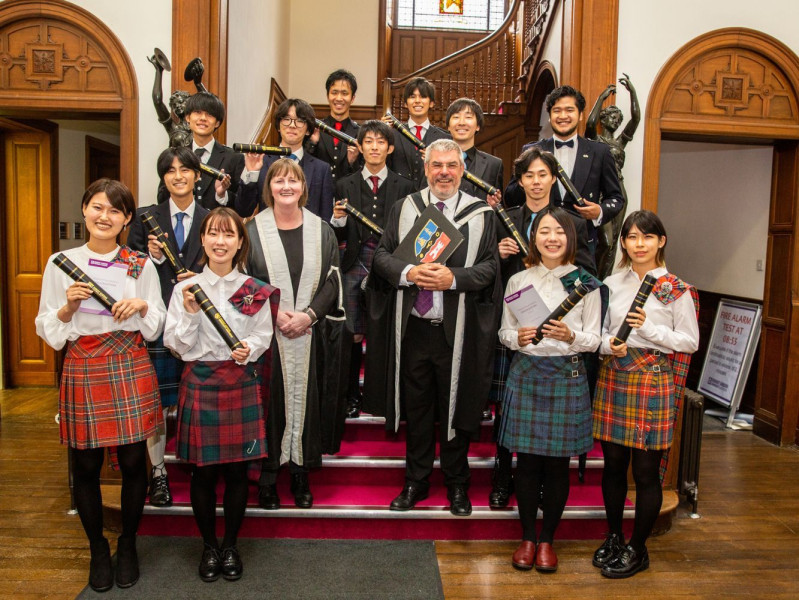 Robert Gordon University (RGU) has further strengthened its links with Japan with the successful delivery of two respected international development programmes focused on offshore energy.
A group of 13 Japanese engineering students and young professionals has spent a month studying at Robert Gordon University (RGU). This is the fifth programme delivered under the RGU – Nippon Foundation Ocean Innovation partnership.
The Summer School participants, from eight different universities and three international businesses (Marubeni, JX Nippon Oil and Gas Exploration Corporation and Mitsubishi Ship Building)) in Japan, spent four weeks in the North-east of Scotland as part of the Nippon Foundation Ocean Innovation Consortium Summer School 2022, studying modules led by RGU staff on offshore energy.
The group sailed from the Port of Aberdeen to view Floatation Energy's Kincardine Offshore Windfarm (KOWF), spent four days in Orkney learning about renewable energy developments on the islands, experienced RGU's state of the simulators and gained insights from industry experts.
As part of the programme, the group enjoyed a packed cultural itinerary which saw them visit Crathes Castle, Braemar Highland Gathering and a day in Edinburgh experiencing what the Fringe Festival has to offer.
The students even wore kilts and tartan to their graduation ceremony at RGU on Friday 9 September.
The Nippon Foundation, a social innovation philanthropic organisation, is leading the effort to enhance capacity building in offshore engineering in Japan and RGU faced a competitive selection to be involved in the initiative when the scheme began in 2016.
The subsea industry in Japan is rapidly developing and the country is increasingly looking to Aberdeen as a centre for subsea excellence.
Naoto Nakagawa, Head of the Office of Offshore Development at the Nippon Foundation, said "I would like to express sincere thanks to Robert Gordon University for the excellent arrangement of the summer school. I strongly believe the students obtained knowledge, experiences, relationships, and friendship through the summer school will be the most valuable assets in their life and utilize them for their future work in offshore energy production and decarbonization. I also strongly hope all of the students keep the precious relationship with RGU and Scotland."
The Kobe City Government sponsored summer programme has run since 2018 and is designed to highlight opportunities of working within the ocean industry to students from a range of disciplines as well as expand the students' international experience.
The course consisted of lectures and Q&A sessions featuring industry experts covering a range of topics such as energy transition, renewable energy, innovation, and Scottish culture.
The programme also provides the students with the opportunity to practice their English language skills through participation in live workshops with academic staff and interactions with RGU students where they got to learn more about what it is like to be a student at RGU and in Aberdeen.
The group spent their week in the North-east studying modules on marine engineering and energy, all led by RGU staff.
As part of the summer programme, which ran from Wednesday 7 September to Friday 16 September, the group also enjoyed learning a little about the history and culture of the area.
This programme is part of an agreement between RGU and the Kobe City Government, signed in 2018, which has allowed collaboration on capability and capacity building for ocean industries.
Kanako Nakamura, from Kobe City Government, said: "RGU and Aberdeen City are important partners for Kobe City Government. With this strong partnership, we aim to achieve the further development of ocean-related business and energy transition.
"We are so pleased to attend the "face-to-face" summer programme after 2 years. We expect that the students learn a lot through this opportunity and will make great contributions to Kobe city soon."
Donella Beaton, RGU's Vice Principal for Economic Development, said: "It has been fantastic to welcome the students from Japan to RGU over the last month.
"Both the Nippon Foundation and Kobe City Government programmes highlight our commitment to supporting economic development and build on our already strong relations in Japan.
"Offshore Energy is becoming more actively considered in Japan and we are pleased that RGU is recognised as experts in this field.
"The RGU - Nippon Foundation Ocean Innovation Consortium Offshore Energy Summer School and the Kobe City Government Ocean Energy Programme are now established dates in our calendars, which we are grateful for. Visiting students have not only learned about offshore energy but have also fully embraced the culture in Scotland."
Images include: The Nippon Foundation students at their graduation ceremony with Donella Beaton Robert Gordon University's Vice Principal for Economic Development and Colin Hunter chairman of the board of governors.
AND The Kobe City delegation on their arrival at RGU and during a visit to the National Subsea Centre in Dyce.