Gray's students promote health and wellbeing at Degree Show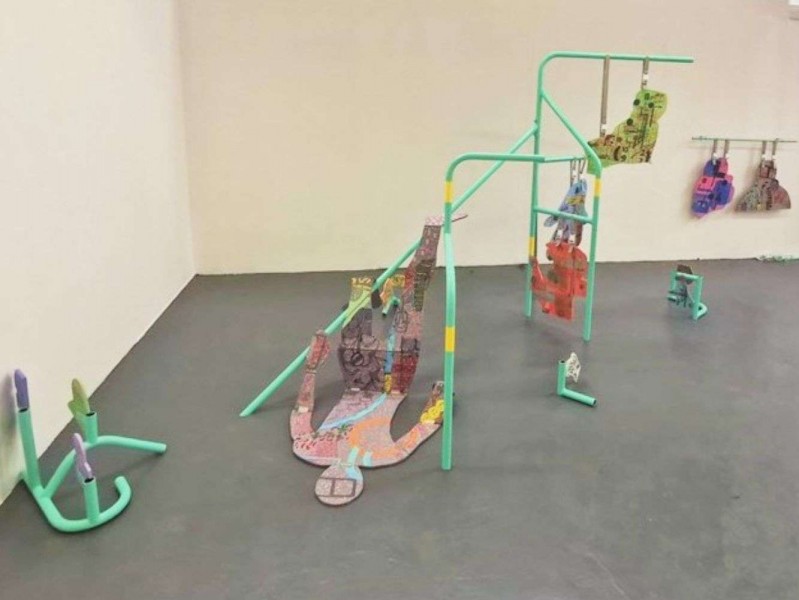 Final year students from Gray's School of Art are using their creative talent to promote health and wellbeing in many of projects featuring at Gray's Degree Show, 'Welcome to the real world', which runs until Saturday 18 June.
Contemporary Art Practice graduate, Sarah Sanger from Glasgow, focuses on the anxieties caused by the modern world and technology and its impact on human nature. Sarah explores ideas of escapism and the tendency to seek distraction and relief from unpleasant realities, presenting colourful photo collages developed through screen printing and sculpture building.
Sarah Sanger explains more: "I've created artworks surrounding the themes of mental health, technology and the evolution of the modern world. My work showcases my anxiety towards buses, roads and time. I have used various materials and screen printing to depict my overwhelming feeling towards the amount of technology that we rely on to live. Humans have designed cities around transport; roads for buses and cars but roads are creating a barrier between animals and natural resources.
"Depicting objects and shapes in a fragmented manner shows how mental health is being damaged by modern technology. I have taken influence from the characteristic of primitivism: flattened forms and non-traditional perspective, the use of geometric patterns and bright colours to illustrate the cause of my anxieties whilst also illustrating how I overcome them.
"I approach my work in a playful and captivating manner with the hope that I will steal your attention and prompt consideration and thoughts of the addictive and persuasive nature of technology. Keeping in mind that technology is challenging the way we think, and it is changing the way we live, work and play. I want my work to reflect that."
Elsewhere in the degree show, 23-year-old Communication Design student, Kiera Thomson from Shetland, creates a project that challenges the stigma surrounding mental health and the damaging phrases often used to describe it, such as 'It's all in your head'.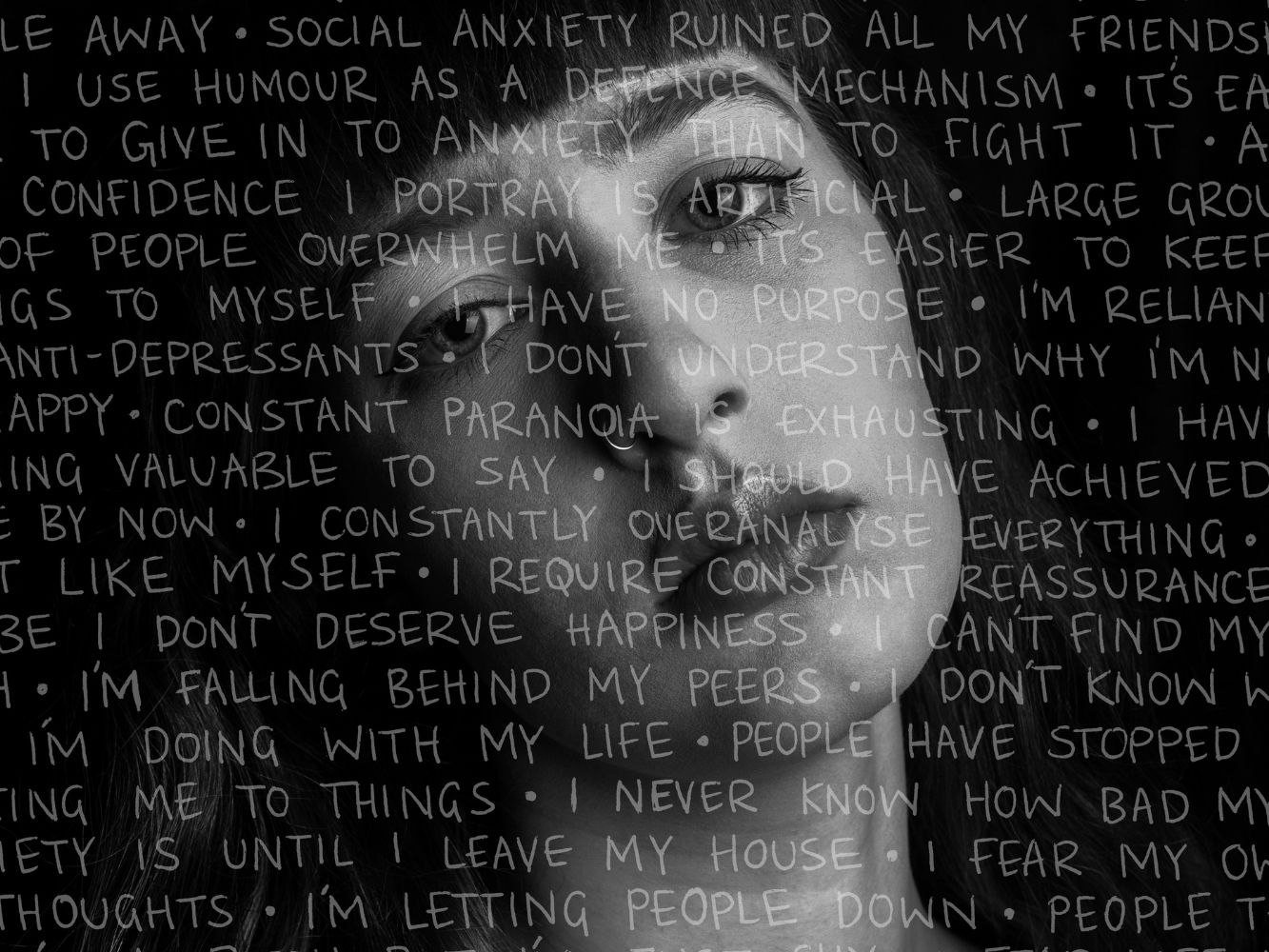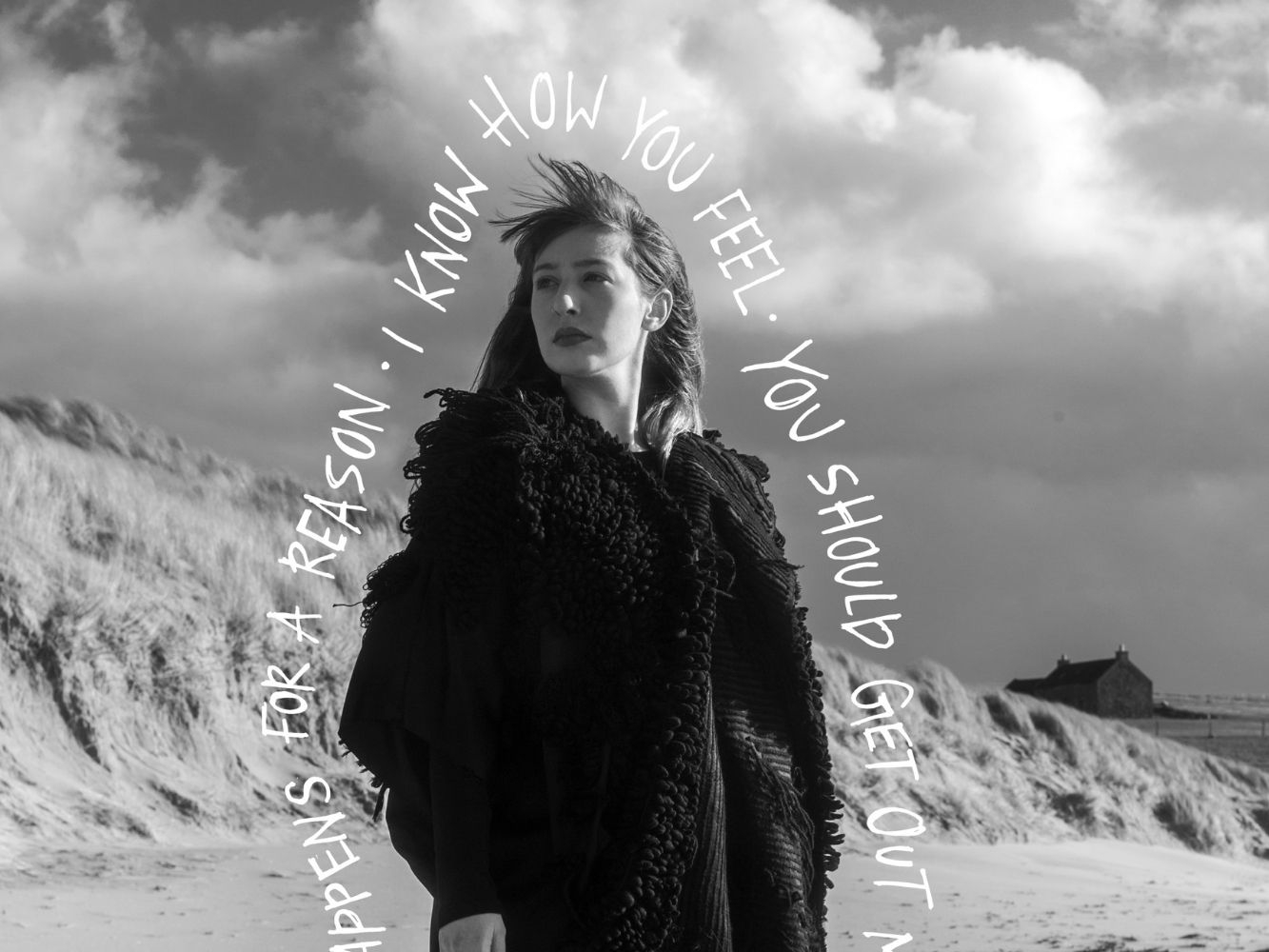 Kiera, who has previously received national recognition for her work, being longlisted for the Scottish Portrait Awards in Fine Art in 2021 and nominated for the Visual Arts Scotland Graduate Showcase award, specialises in Photography. She has developed a number of projects on mental health, as she explains: "This year's major project is no exception. This time, I wanted to concentrate on self-portraiture. I work to creatively obscure myself through a mixture of handwritten/handmade elements as well as using analogue and digital techniques. As a self-confessed perfectionist, I have found that creative destruction has allowed me to let go of preconceptions and appreciate the beauty in my mistakes."
"I aimed to create thought-provoking work, intended to make people think about how their words may directly affect those around them. Some may be trying to be helpful, others may be acting out of malice or even trying to joke, but regardless of intention, from my personal perspective, words like these can stick with you and negatively impact you for a long time."
Winner of the Principal's Award for Design, Fashion and Textiles student, Beth Davidson, creates a textiles collection called 'Outer Shell' inspired by anxieties brought on by Covid and the need for protection. Her designs provide a comforting shell, offering protection from the anxieties of everyday life.
Upon receiving the Principal's Award for Design, Edinburgh based, Beth Davidson, said: "It's so rewarding and humbling to receive this award. It's sometimes hard to have self-confidence and it's great to be recognised."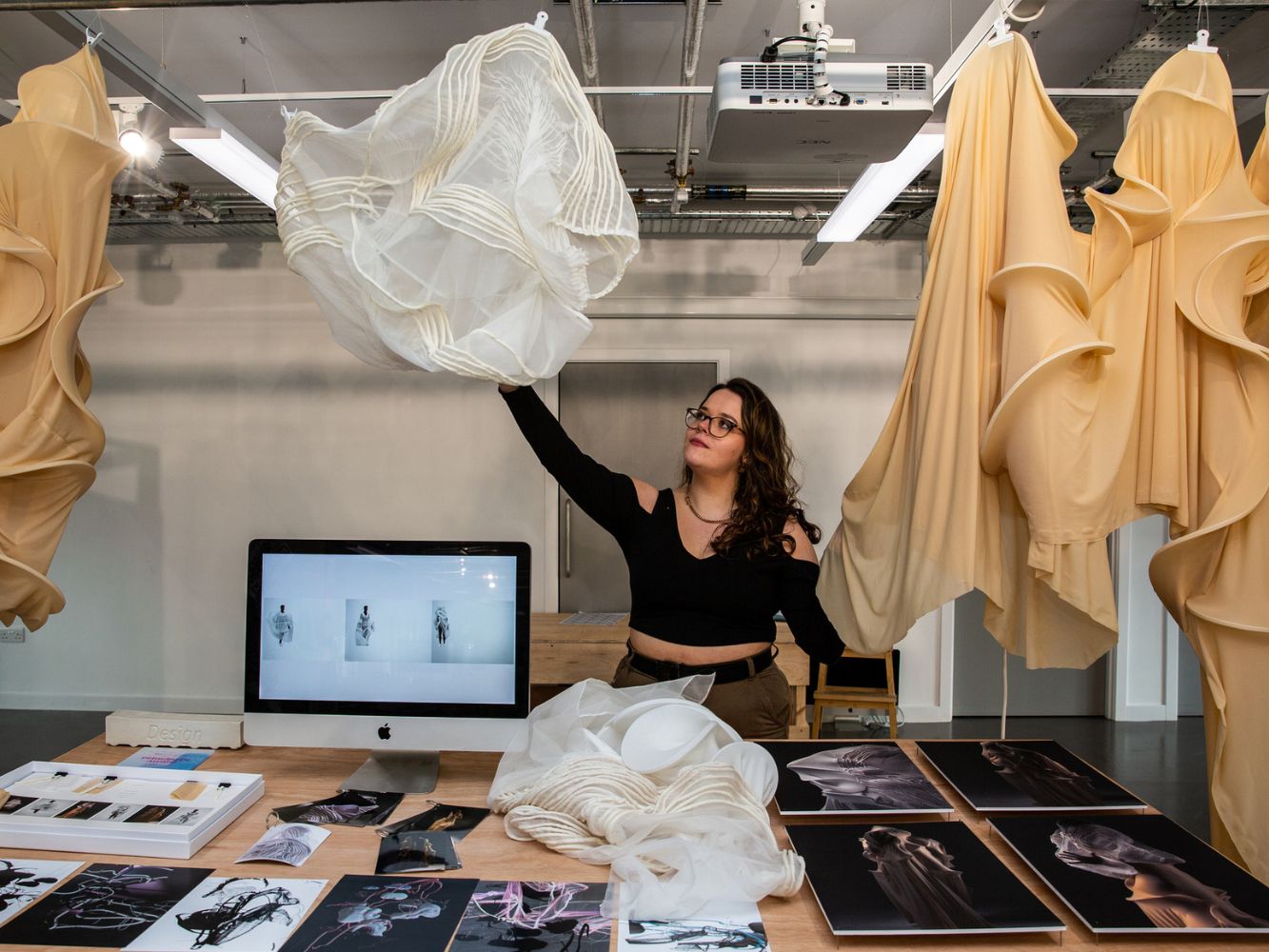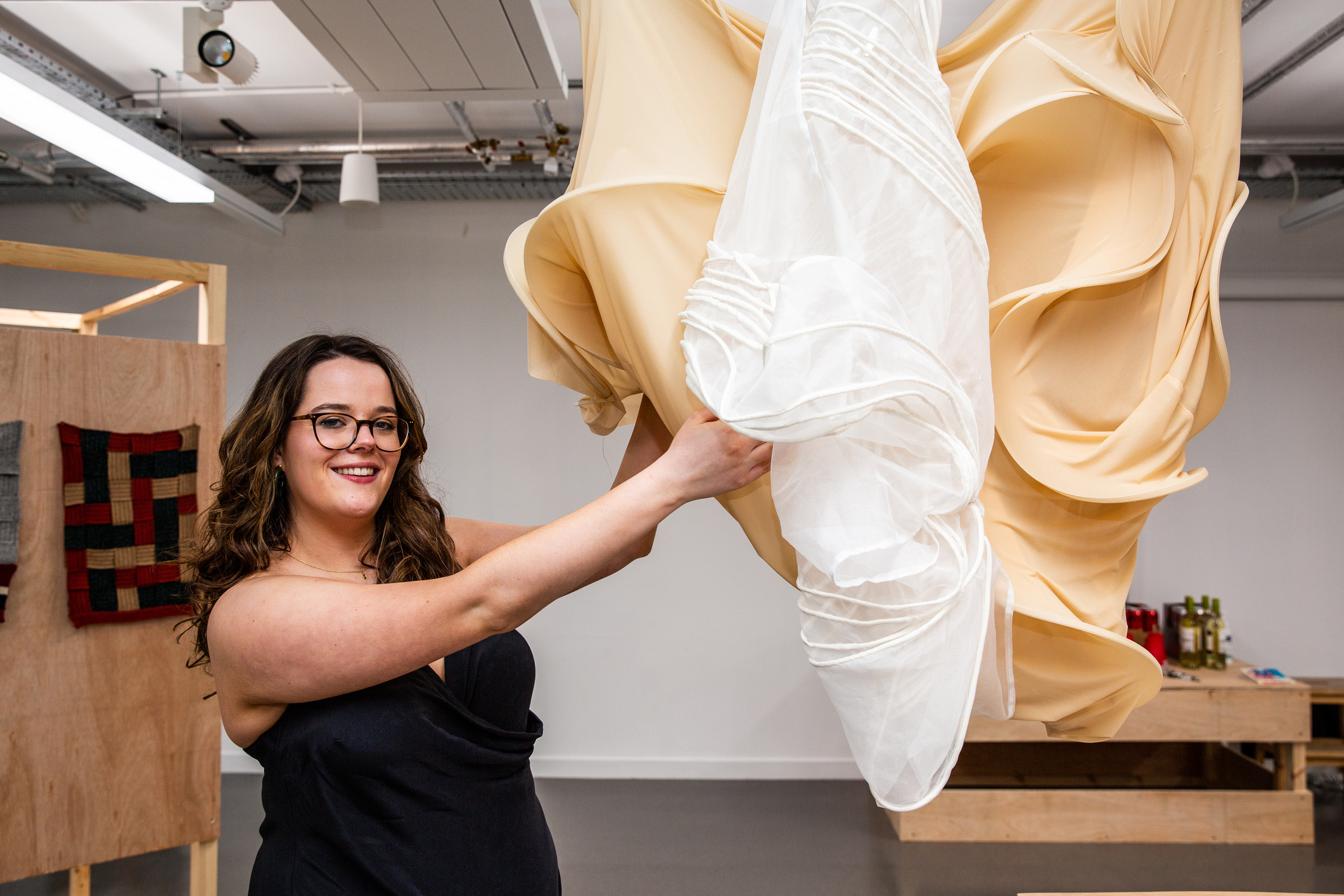 Gray's School of Art's Degree Show takes place at Gray's stunning riverside campus until Saturday 18 June. Members of the public are invited to come along to enjoy graduates across Painting, Photography, Fashion & Textiles, Three-Dimensional Design, Contemporary Art Practice and Communication Design.
The Textiles & Fashion and 3-Dimensional Design graduates are showcasing their work in Gray's state of the-art new exhibition space, the Design Haus, which has received more than two million pounds investment, over the past year.
A series of events are taking place throughout the degree show week including an alumni networking event, an evening reception for those in the creative industries and a range of school workshops for secondary pupils.
An online directory is also available highlighting work from each of the student's exhibiting:
#GraysDegreeShow