Artist behind 'The House in the Woods' joins 'Guest at Gray's'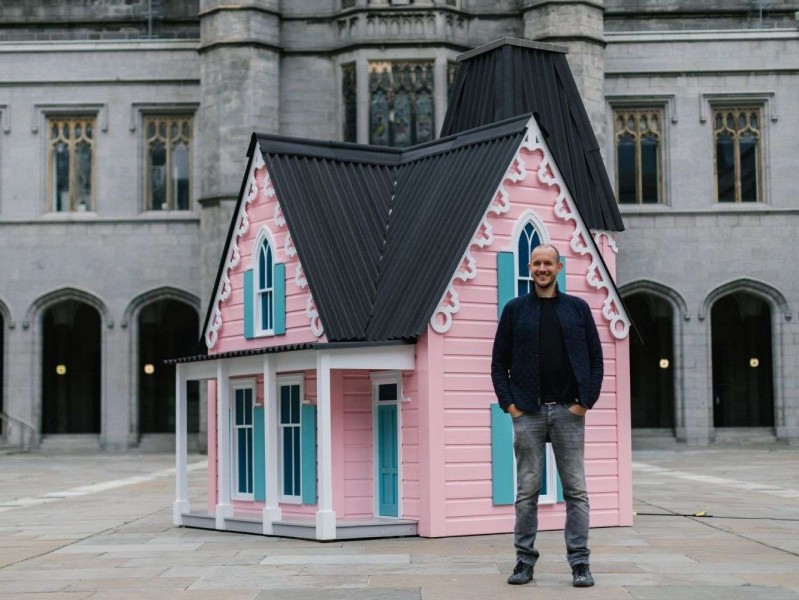 The artist behind 'The House in the Woods', James Rigler, is to inspire an audience at a 'Guest at Gray's' event taking place at Aberdeen Art Gallery on Friday 25 March.
Members of the public are invited to come along to this free event which is part of the newly refreshed 'Guest at Gray's' programme, co-delivered in partnership between students from Gray's School of Art at Robert Gordon University (RGU) and Aberdeen Art Gallery.
The series brings together the best national and international artists, designers, writers and curators to Aberdeen including Glasgow-based artist, designer, and craftsman, James Rigler.
James will give a talk at Cowdray Hall, from 1pm – 2pm, sharing insights into the inspiration behind his colourful work that explores the ongoing impact of historical architectural styles, embracing sculpture and working in clay and other everyday materials to create familiar but ambiguous objects and environments.
During the redevelopment of Aberdeen Art Gallery, James was commissioned by the Friends of Aberdeen Art Gallery & Museums to create a monumental new site-specific work, Primitive Forms, a vibrant and gently humorous response to the 're-mixing' of the building's architecture.
James also created a 'House in the Woods' in Marischal College quad, a highlight of the Look Again festival 2018, and this sculpture is due to be installed on the campus at Robert Gordon University, this spring.
James says sharing an insight into his work through 'Guest at Gray's' and displays in public spaces such as RGU's campus, is important. James said: "Art helps us to see the world differently. Sometimes this might be in a challenging, confrontational way; sometimes it's a more subtle process.
"It's crucial that we recognise the way we are affected by the architecture around us, particularly when those buildings offer a particular way of viewing history. Architecture isn't neutral; it's always revealing something about the society that built it.
"I think all public spaces would benefit from more artwork; lots of our public spaces have had their sculptural elements fixed since the 19th Century. I think we would introduce very different artists and artworks to these spaces nowadays."
Sally Reaper, Co-Director, Look Again, said: "It is fantastic that James is hosting a 'Guest at Gray's' and sharing his experiences and perspective about the role of art and culture in society. The event is free to join and part of Robert Gordon University's commitment to strengthen arts and culture across the North east of Scotland.
"We are very much looking forward to bringing James's 'House in the Woods' Sculpture onto campus at RGU and see this as an opportunity to create a vibrant campus that can be enjoyed by communities beyond the immediate university."
Admission to James Rigler's Guest at Gray's talk is FREE but please book. Learn more about Guest at Gray's at @Look Again Aberdeen. To book visit: https://bit.ly/3tsogzR