Seventh year in a row win for RGU at Energy Institute competition
Thursday 25 November 2021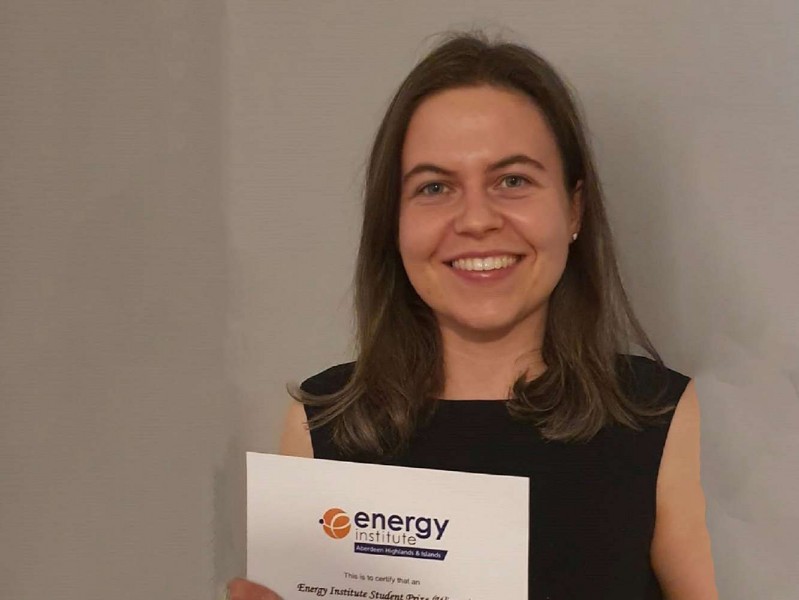 RGU Engineering student Anna Petitt took the top prize in an annual competition held by the Energy Institute (EI) that honours the best energy papers from MSc students at both Aberdeen universities.
Organised by the EI Aberdeen, Highlands and Islands (AHI) branch, the event brings together industry and academia, displaying the latest thinking and research from MSc students and provides them the opportunity to network with prospective employers.
Senior representatives and industry figures were part of a judging panel which was impressed by the quality and standard of the student presentations.
Anna Petitt, who is graduating with an MSc in Oil & Gas Engineering (with Distinction) from RGU, received the first prize of £250 for her thesis 'Determination of the Parameters of Flow Control Devices to Operate Effectively in a CO₂ Storage Well'.
"I am honoured to have come in first place given the high calibre of the presentations," said Anna. "Winning this prize is testament to the fact that Carbon Capture and Storage (CCS) will be fundamental to the Energy Transition but there are challenges which I hope my project can be a part of solving.
"I would like to thank RGU for nominating me for this competition, my employer, Tendeka, for the use of the CCS model, the operators for supplying their well data, and the Energy Institute for the opportunity to present my project to a wide audience."
Lead judge Rebecca Allison, Chair of the EI AHI branch and Head Emissions Reduction Manager at the Net Zero Technology Centre said: "We were incredibly impressed by the quality of the content and confident presentations the students delivered, especially as they were presenting online for a second year. They certainly showcased, again, the variety and passion of the new talent coming into our industry—hopefully leading to successful and varied careers going forward."
The third prize of £100 also went to an RGU student, Larissa Lourdes González Valverde, who is graduating with and MSc Solar Energy Systems (with Distinction) for her thesis on 'Design and Optimization of an Efficient Solar Water Pumping System for Agricultural Purposes at Small Scale'.
Sponsors Global E&C are a major employer for the energy industry and their Technical Director Paul Rushton commented: "Recognising and celebrating students in this way is hugely important to us—a as a business that provides engineering, procurement and construction to the energy sector. The enthusiasm and skill of individuals like these will be pivotal in supporting the energy solutions we all need for our sustainable future."
Dr Mohamed Amish, Oil and Gas Engineering Programme Leader, at RGU's School of Engineering, said: "I am extremely delighted and pleased for Anna's and Larissa's significant achievement.
"Throughout the clean and energy transition projects they worked closely with industry and showed a high level of engineering knowledge and skills, initiative and independent thinking, alongside a commendable attitude and enthusiasm in implementing and executing the final product".