RGU students win national architecture competition to feature at COP26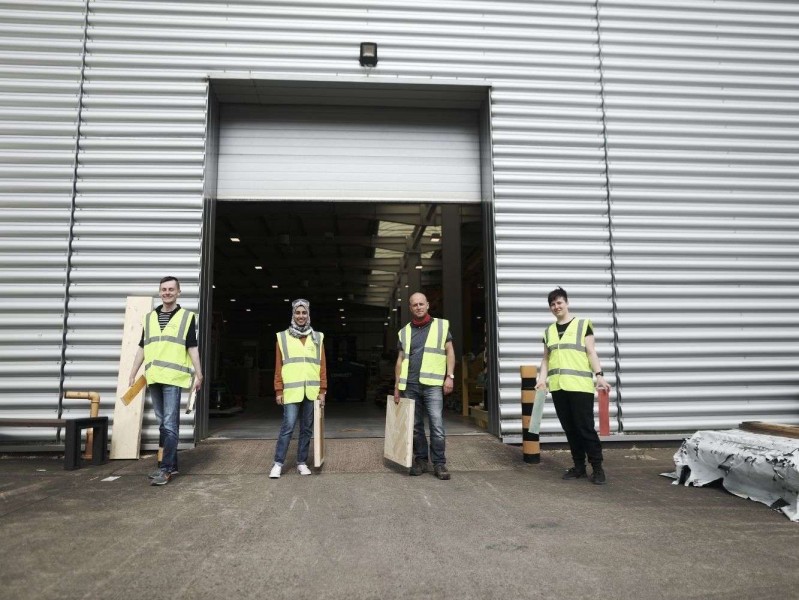 Architecture students from Robert Gordon University are celebrating winning a national competition for highly energy efficient buildings that will feature at the 2021 UN Climate Change Conference, COP26, in Glasgow later this year.
Four students from Robert Gordon University's Scott Sutherland School of Architecture and Built Environment have won the prestigious 'Icebox Challenge Glasgow' award, after designing a vibrant energy efficient building.
The 'Icebox Challenge Glasgow' is a competition open to students from across Scotland who were challenged with creating a building that was both innovative and eye-catching. The competition asked students to design one structure built to Scottish Building Standards and another built to a more environmentally friendly, 'Passive House' standard.
The structures are to be left outside for three weeks, each holding an equal amount of ice. When opened, the amount of ice left in each box will be measured. How much ice remains will demonstrate how well each ice box keeps out the heat.
The team of architecture students from Robert Gordon University's Scott Sutherland School of Architecture & Built Environment, created a winning design celebrating a traditional highland building using timber, herringbone cladding, stained red, green, and yellow, that was inspired by the natural colours of the highlands. They also took inspiration from the Integra House designed by RGU Professor, Gokay Deveci.
Each of the two structures designed by the RGU Architecture students will be built by the students at the Construction Scotland Innovation Centre in Glasgow before being put on public display in St.Enoch's Square Glasgow from 19 July to 8 August. This will run ahead of the UN Climate Change Conference, COP26.
One of the winners, mature architecture student, Matthew Clubb, from Daviot, Aberdeenshire said; "I am absolutely thrilled that students at RGU have won the 'Icebox Challenge Glasgow'. We have worked hard as a team to create a building that is vibrant aesthetically and embraces passive design and prefabrication.
"We drew inspiration from the Scottish Highlands and incorporated design features and materials that would minimise our building's embodied carbon. It is fantastic that our designs will be showcased and built at a public installation in Glasgow city centre ahead of the UN Climate Change Conference."
Head of The Scott Sutherland School of Architecture & Built Environment, Professor David McClean said: "We are delighted that a group of architect students from Robert Gordon University has won this exciting national competition and will gain international exposure. The climate imperative occupies an increasingly central position in the education of architects, and in practice itself, and it is wonderful to see students motivated to engage creatively in this way and of their own volition.
"In the face of advancing climate change, the design of energy efficient buildings is now more important than ever. Building substantially on our research expertise, the School is constantly reinforcing the development of knowledge and skills in sustainable practices across the breadth of its curricula. I am delighted that the judges of the Icebox Challenge Glasgow, have recognised our talent and that our students' work will be showcased to a global audience ahead of the UN Climate Change summit in Glasgow."
Yogini Patel from the Passivhaus Trust said: "Passivhaus is a proven solution to slash energy use, back by three decades of performance evidence from across the globe. Efficiency is crucial to meet net-zero carbon targets. The Icebox Challenge has travelled the globe, and this year comes to Glasgow in the run up to COP26. Student design competitions like this offer valuable opportunities for our next generation of architects and designers to get inspired by the climate action they can engage in. We anticipate the public installation will capture people's attention, facilitate vital discussions and, raise awareness of the impact of simple solutions such as Passivhaus."
The winning group of students from Robert Gordon's University included mature student Matthew Clubb, Lina Khairy, aged 23, Alina Vinogradova aged 28 and Kyle Henderson, aged 23.
In addition to gaining international exposure thanks to the run-up to COP26 and involvement from the International Passive House Association, the winning group will be awarded £1000 from the Glasgow Institute of Architects (GIA) after the fabrication and public display stages.
The 'Icebox Challenge Glasgow' is run by the International Passive House Association and The Passivhaus Trust, who are a global network of architects, planners, scientists, and contractors in partnership with Edinburgh Napier University.
The group strive to promote Building Passive which means building better! The aim of the competition is to create an energy efficient building that was judged on design, cost-effectiveness, innovation, energy supply and sustainability.
More information can be found at https://iceboxchallenge.org/
From left to right, photo shows RGU architecture student Icebox Challenge winners, Kyle Henderson, Lina Khairy, Matthew Clubb & Alina Vinogradova.