Animations light up city centre gallery with RGU's Look Again Project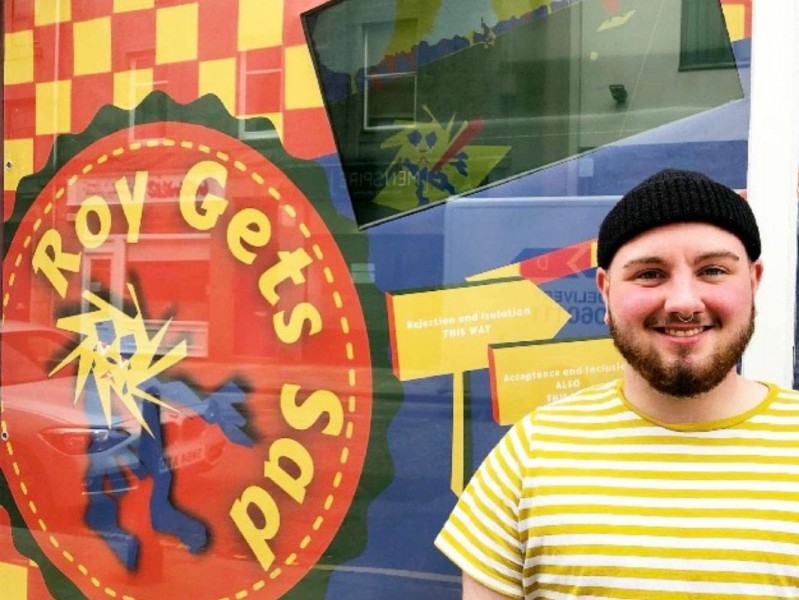 A gallery of animations light up Aberdeen this week as Robert Gordon University's Look Again project, launches a new exhibition in its city centre Project Space.
The new exhibition, 'Roy Gets Sad', features Gray's School of Art graduate Indie McCue, who has created a set of vibrant animations that explore social inclusion and acceptance. The exhibition is part of a series supported by the Look Again 'Seed Fund' which supports emerging creative talent in the North East.
Artist Indie McCue, was invited to explore Robert Gordon University's Art & Heritage Collection, which includes art pieces created by artists from Gray's School of Art, stretching back to the 1960s. Within his work, McCue focuses on social inclusion and the search for acceptance in society.
The Look Again gallery on St. Andrew Street can be viewed through the window and is completely free for everyone to enjoy. There is also the chance to download QR codes at the exhibit and to interact with a series of computer games linked to the exhibition.
Hilary Nicoll, Co-Lead for the Look Again Project says: "Robert Gordon University's is committed to supporting the creative sector in the North East and this Look Again project is one way of animating vacant space in the city centre with art, design and creative projects.
Hilary Nicoll adds, "Covid-19 has brought its challenges for those working in the creative industry, just like others, but our Look Again projects continue to support grassroot artist and our window gallery, has demonstrated that it is still possible to showcase new talent in the north east."
Artist Indie McCue says; "My personal experience of social inclusion and exclusion has been exaggerated by the Covid 19 pandemic, much like the general population. The pandemic has provided a new digital space for social inclusion but we still need to work hard to be accepted face to face.
"Gray's School of Art's Look Again project has offered me real support as an emerging artist and I would encourage everyone to come along to see the exhibition for themselves.
"Within my work, I explore a character called Roy who embodies difference and searches for belonging and purpose only to be devastated at each step by those who judge the alternative. Roy strives to find a place of solace, fun and friendship through this series of animations that I hope people will connect with and enjoy."
Look Again is a creative unit based at Gray's School of Art, RGU in Aberdeen. The group hosts a range of events and exhibitions throughout the year all designed to connect, highlight and strengthen the creative sector in North East Scotland. This exhibition will run until Friday 2 July.
The group also receives support from Creative Scotland and Aberdeen City Council. To find out more about the project visit: