RGU partners with UNAM on innovative cardiovascular research in Mexico
Thursday 27 February 2020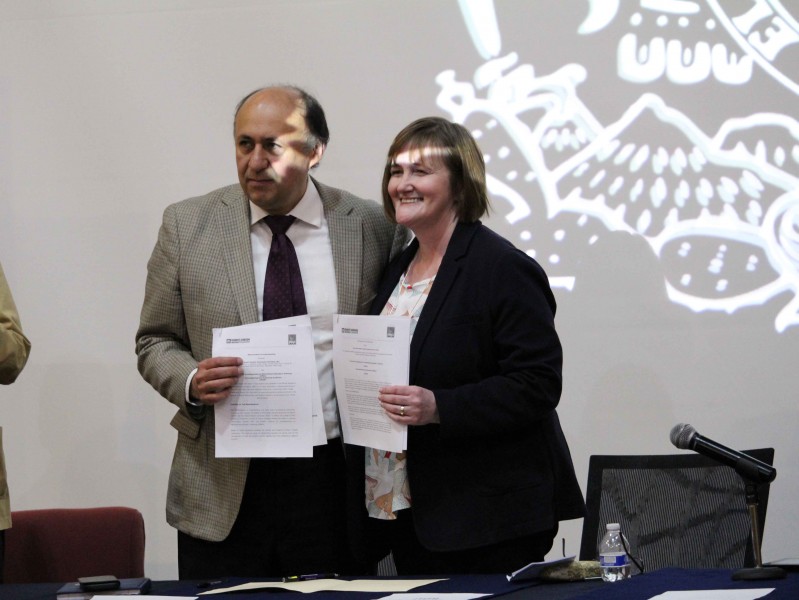 Robert Gordon University (RGU) is partnering with Universidad Nacional Autónoma de México (UNAM) on a research project that will develop support tools for the diagnosis of cardiovascular diseases in Mexico, specifically pulmonary hypertension.
Researchers from RGU and UNAM's schools of computing will design a system to aid diagnosis from medical images with state-of-the-art techniques such as deep learning and data science.
According to the World Heart Federation, cardiovascular diseases are one of the most prevalent causes of morbidity and mortality in almost two-thirds of the world population. Early detection is vital to the prevention of pulmonary hypertension; however, there is no viable or cost-effective medical image-based solution to do so.
The support tools developed will provide a significant advantage in the reduction of time needed to diagnose patients, which in turn will have a positive impact on the Mexican economy and social welfare. It will also contribute to the United Nations 2030 Sustainable Development Goal of reducing premature death from non-communicable illnesses such as cardiovascular disease.
Donella Beaton, Associate Vice Principal, Business and Economic Development at RGU, said: "The project is evidence of the global impact of RGU's research and the reach of our expertise. It is an innovative partnership which will foster knowledge exchange and collaborative working on an international scale, bringing far-reaching benefits in the diagnosis of cardiovascular diseases in Mexico through cutting edge research and technology development."
RGU and UNAM have been working in partnership in a number of areas over the last two years, which has been cemented by the signing of a Memorandum of Understanding (MoU) between the two universities, providing the framework to undertake more collaborative research projects, sharing of best practice, as well as student and staff exchanges to share expertise and build capacity.
The MoU was signed by Dr. Héctor Benítez, General Director at IIMAS (Applied Mathematics Research Institute) UNAM and Donella Beaton, RGU Associate Vice Principal, Business and Economic Development at the start of a three-day symposium this week organised by UNAM to promote partnership and collaboration. The MoU signing event was attended by Dr. Rosaura Ruiz, Minister for Science, Technology and Education from Mexico City, who was at the opening ceremony of the RGU-UNAM symposium.
Commenting on the MoU, Donella Beaton adds: "I am delighted to be at UNAM to sign this MoU which reflects the strong relationship that has been built between the two institutions over the past two years. The MoU and this important symposium demonstrates RGU's continued commitment to strengthening its links in Mexico."
Dr. Héctor Benítez, said: "We are pleased to host RGU experts at IIMAS-UNAM and we believe that this MoU will further promote collaboration between our academic staff and students.
"IIMAS and RGU share similar research focus areas such as data processing, artificial intelligence and high-performance systems. This lends a strong foundation for collaboration and knowledge transfer between the two institutions. We have already had joint seminars and workshops such as those delivered at this symposium which promote industry-academia partnership and data science."
The research project has been funded by the British Council (through the Newton Fund) and Secretaria de Educacion, Ciencia, Tecnologia e lnnovacion, which has provided match funding.
(L-R): Dr. Héctor Benítez, General Director at IIMAS (Applied Mathematics Research Institute) UNAM, Donella Beaton, RGU Associate Vice Principal, Business and Economic Development