RGU Students Win Energy Institute Competition for the Fifth Consecutive Year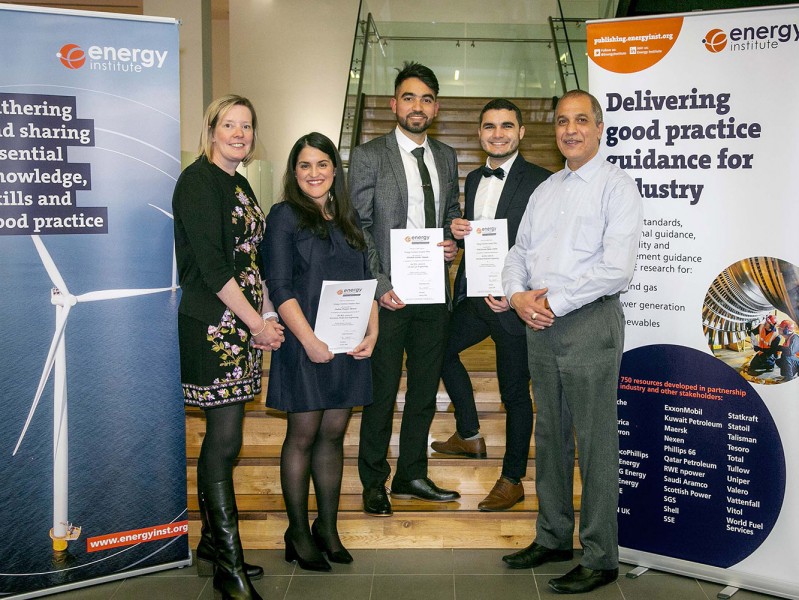 Engineering students from Robert Gordon University (RGU), Andreia Prospero Meneses and Erick Antonio Jimenez Sandrea, have taken home the top prizes in an annual competition held by the Energy Institute (EI).
The event, sponsored by Aker Solutions Ltd, was organised by the Energy Institute to honour the best energy papers from MSc students at RGU and the University of Aberdeen (UoA).

This annual event is held to bring together industry and academia, showcasing the latest thinking and research from MSc students and a chance to network with prospective future employers.
Senior representatives from Aker Solutions and other industry figures were part of a judging panel which was impressed by the quality and standard of the presentations and abstracts submitted by the students.
Four students were shortlisted by the two universities and the top prize of £250 was awarded to Andrea from RGU's MSc Petroleum Production Engineering for her thesis on lifetime integrity assessment of corroded pipelines. Andreia said: "It is an honour to have been selected from so many talented students for this award. Winning this competition is a recognition of all the hard work and commitment I have put in this past year. This prize gives me the confidence and motivation to keep on giving my best."
Erick, who also studied the MSc Petroleum Production Engineering, received the second prize of £150 for his thesis on production optimisation. Erick said: "This project gave me valuable insights on every aspect of the production system, and the chance to work alongside industry professionals in the oil and gas sector."
Host Phil Davie, Senior Vice President, Aker Solutions said: "It was incredibly inspiring to see so much enthusiasm, creativity and innovative spirit from the next generation of energy leaders."
Dr Mohamed Amish, Oil and Gas Engineering Programme Leader, at RGU's School of Engineering, said: "The generosity and support extended to our students by Aker Solutions and the oil and gas industry have been invaluable. I am incredibly proud of Andreia and Erick for what they have achieved. They have demonstrated a strong understanding of the sector and vision as to how we tackle future challenges.
"Their accomplishment also reflects the high-quality staff-student partnership which supports students from the application process through their journey to graduation. It also exemplifies the high standards of our courses and the top-quality students we attract."
Katrina Dunbar, EI Branch Manager, who moderated the evening said: "It is really encouraging to see in-depth research coming from the next generation of industry practitioners".