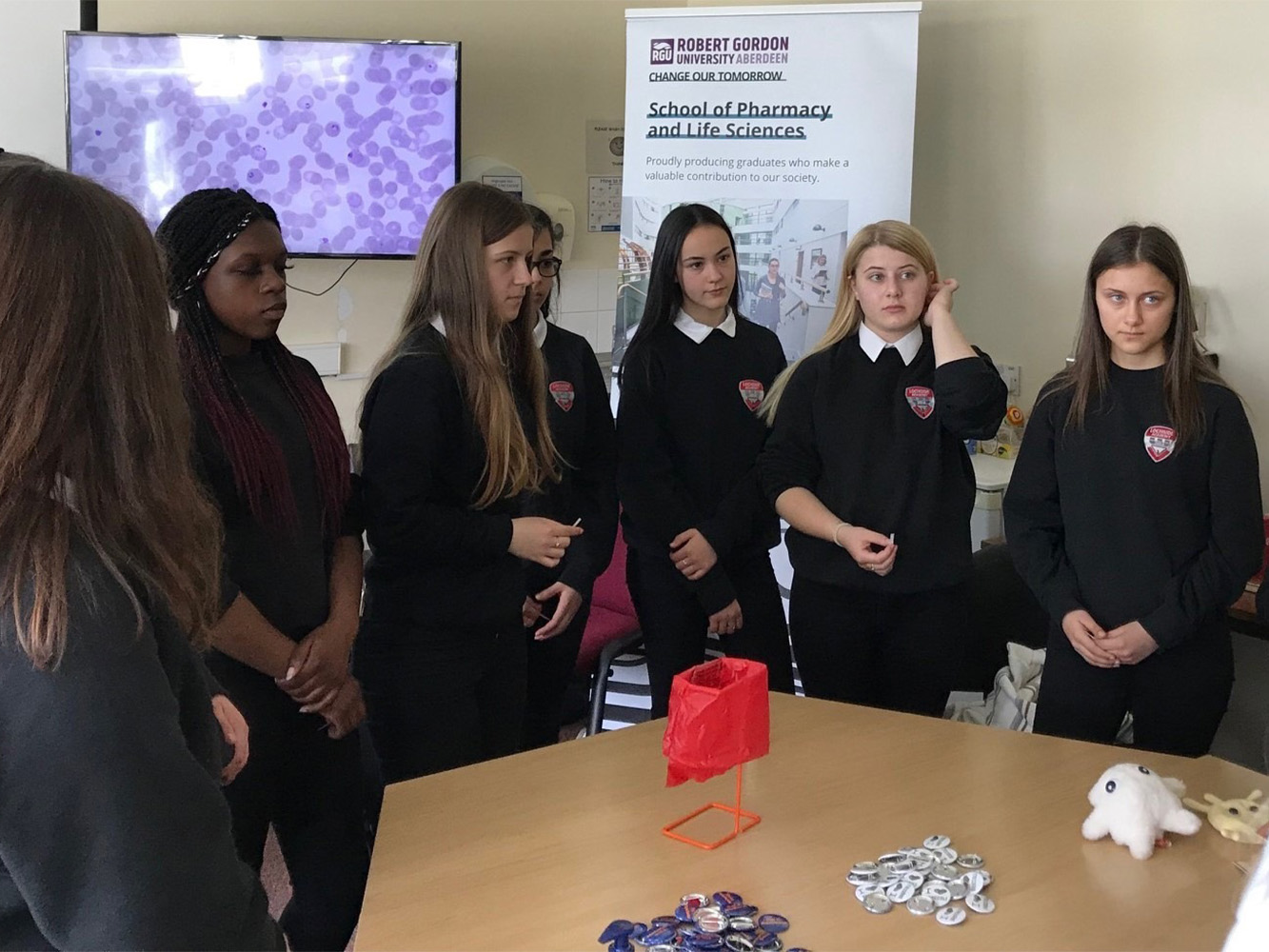 School pupils delved into a world of working laboratories and simulated samples to gain hands-on experience as part of Biomedical Science Day at Aberdeen Royal Infirmary on Thursday 20 June.
Robert Gordon University (RGU), in partnership with NHS Grampian, organised the event which provided pupils with the opportunity to tour working laboratories, talk with experienced scientists and gain analytical workshop experience using the simulated samples.
Biomedical Science Day is in its third year and promotes the vital role biomedical scientists play in healthcare by showcasing their work to patients, hospital staff and pupils considering a future in the profession.
Rebecca Wright, Biomedical Science Lecturer at RGU's School of Pharmacy and Life Sciences, said: "Hundreds of hospitals across the UK were celebrating this profession in the engine room of NHS. It was particularly exciting for us this year, as it was the first time RGU and the region were representing Scotland as one of the four national hubs for the event.
"It was really great to see the pupils from local schools explore this often hidden profession. It gave them a broad insight into the role of a biomedical scientist and a chance to consider it as a career path they can pursue with help from our academic staff."
More than 150 million samples are handled by UK laboratory services every year. A number of biomedical science specialisms are involved in their testing. A Biomedical Scientist from each clinical discipline was on hand to talk pupils through the experiments, and an academic representative from RGU helped those who were inspired to learn more about careers in biomedical science.
Paul Drew, senior chief biomedical scientist at NHS Grampian, said: "It was a pleasure to welcome school pupils to Aberdeen Royal Infirmary and give them a glimpse of the exciting world we work in. Our team provide vital, though usually unseen, support to clinical teams. Our expertise ensures they can determine the right course of treatment for patients.

"A career in biomedical science is tremendously rewarding and I hope to see some of the pupils we met today returning to our labs as qualified professionals in a few years time."
The national event was founded by The Institute of Biomedical Science, the professional body for biomedical scientists and laboratory support staff. Four hubs represent each nation in the UK for Biomedical Science Day: Aberdeen Royal Infirmary for Scotland, Royal Victoria Hospital for Northern Ireland, St James' Hospital for England and University Hospital Wales.
The event was free and open to S4 to S6 pupils in the Aberdeen area, as well as college students and NHS Grampian staff with an interest in Biomedical Science as a career path.