RGU supports equality and diversity at Grampian Pride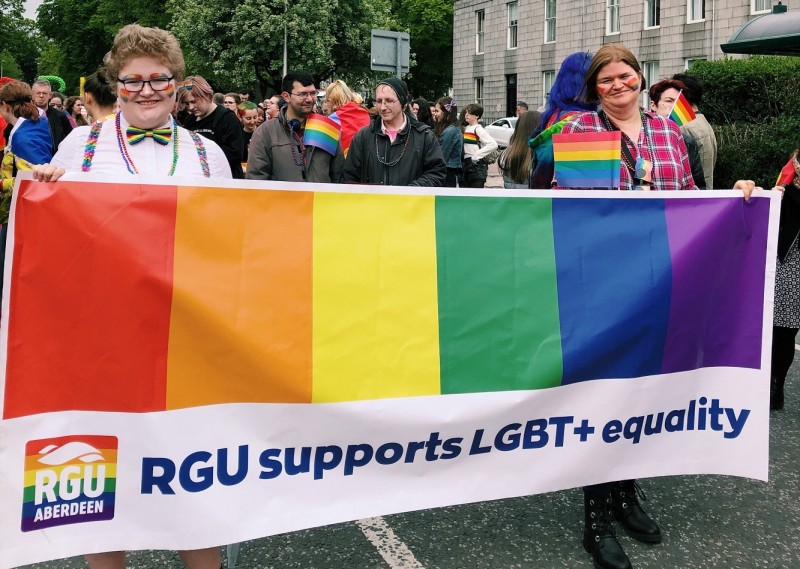 RGU took part in Grampian Pride's parade for the first time today, Saturday, May 25, showing its support for equality and diversity in the North East of Scotland.
Grampian Pride aims to bring the local and wider community together, welcoming LGBT+ individuals and their straight allies in the North East by providing a safe space for all.
This is the second event of its kind for Grampian and consists of a march, stalls, information about LGBT+ organisations and services, entertainment, key speakers, safe spaces, and a family area.
Students, staff, alumni and friends of the university all took part in the march, and leading them was an RGU float, which was donated by Colin Lawson of Transport Ltd.
Head of Marketing, Kate Bullock, commented: "RGU strives to create a working, learning and social atmosphere which is inclusive, harmonious and respectful of diversity. Today's event was a huge success and it was great to see so many out in support of the LGBT+ communities.
"In the run-up to Grampian Pride this week, RGU's social media channels will feature the RGU Pride logo. We have deliberately chosen to do this in support the LGBT+ community and in celebration of the culture and values of RGU."
The university promotes a number of internal activities to support diversity and inclusion for its students and staff, such as monthly rainbow film nights, providing rainbow lanyards for staff and students who wish to show their support, and promoting the internal Rainbow Network.
RGU Rainbow Network Chair Hamish Walker says: "As a proud employer, we are not only celebrating the diversity of our staff and alumni, but also the diversity of all the students that choose to study at Robert Gordon University."
The parade's theme was 'just be yourself' and started at 10.30am from Albyn Place before working its way down Union Street.
Visit http://www.grampianpride.org for more information about Grampian Pride. Staff can email lgbtstaffnetwork@rgu.ac.uk to join the RGU Rainbow Network.