RGU alumna Dr Jenna Ross shortlisted as one of the top MBA students in the world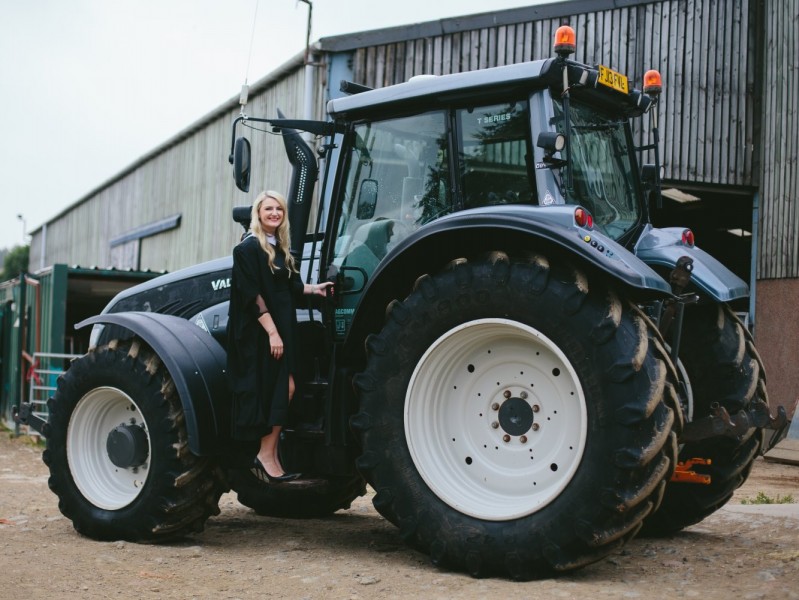 RGU graduate Dr Jenna Ross has been recognised as one of the top MBA students in the world.
Dr Ross has been shortlisted in the AMBA (Association of MBAs) Student of the Year Award, which is a global award that recognises the talents and contributions made by students.
The award plays a pivotal role each year in promoting the MBA's position as the leading international business qualification and Dr Ross is one of five nominees and the only one from Scotland – she is shortlisted among alumni from Hong Kong, Spain, Ireland and Bath (UK).
She embarked on an MBA at RGU's Aberdeen Business School to turn her passion for science and farming into a business concept and graduated with distinction this summer.
Dr Ross, who grew up on a family farm in Tarland, Aberdeenshire, has also won four prestigious awards, as well as an opportunity to travel the world through the Nuffield Farming Scholarship Trust to gather global data to enhance farming methods in the UK.
She said: "I have spent 24 weeks travelling the world in 2018, looking at where my bio-molluscicide research fits into the bigger picture. This experience has got me exploring some of the big agricultural challenges, such as increasing productivity, so that we can feed the world's growing population.
"To me, the innovative use of science and technology will be key to addressing these challenges, but we first have to understand their commercial application.
"The MBA has played a key role in doing this for me. Not only has it allowed me to test the feasibility of my business idea, but it has got me thinking outside the box. It has provided me with all the tools I need regarding commercialisation, as well as the confidence to see it through."
Since graduating from RGU in July, Dr Ross has travelled to Norway, Finland, Japan, New Zealand, Australia, Canada, US, Netherlands, Belgium, France and South Africa as part of the Nuffield Scholarship. She has also been involved as a STEM ambassador and LANTRA industry champion, promoting skills and careers in the land-based sector. Dr Ross has also took over the role of Nuffield Scotland Secretary in November, with the aim of promoting the Nuffield Farming Scholarship Trust across Scotland.
She said: "I was overjoyed to find out that I had been selected as a finalist for the Association of MBAs Student of the Year award. This is a massive achievement, as AMBA has over 250 accredited business schools across the globe. This brings international recognition to myself, my research, my business ideas, as well as the excellent level of education at RGU.
"This award acknowledges my academic achievement, my impact on RGU and my career development. The results will be announced at the AMBA Excellence Awards and Gala and I look forward to a great night where I will be joined by the Head of Aberdeen Business School Professor Elizabeth Gammie and the MBA Director, Dr Ian Broadbent.
"I hope that on being selected as a finalist, I inspire more young people into higher education to study science, agriculture and business. In my sector this is vital, as we need to find a way to feed our growing world population."
Dr Ian Broadbent, MBA Director at RGU's Aberdeen Business School, said: "This is tremendous recognition on a global stage for Jenna and for RGU's MBA programme. It is great to see that Jenna is building upon her MBA, which has been designed to enable students with entrepreneurial ambitions to develop and validate their business concepts."
The winners will be announced at the 2019 AMBA Excellent Awards ceremony in London on February 1 in front of an audience comprising prestigious business leaders, international deans and directors, and distinguished MBA alumni.
There are six categories comprising Employer and Business School Partnership Award, MBA Innovation Award, MBA Student of the Year Award and MBA Entrepreneurial Venture Award (private sector), as well as two new categories for 2019: MBA Entrepreneurial Venture (not-for-profit sector) and Business School Impact on Community and Society.