Transatlantic exchange gives students clinical and cultural education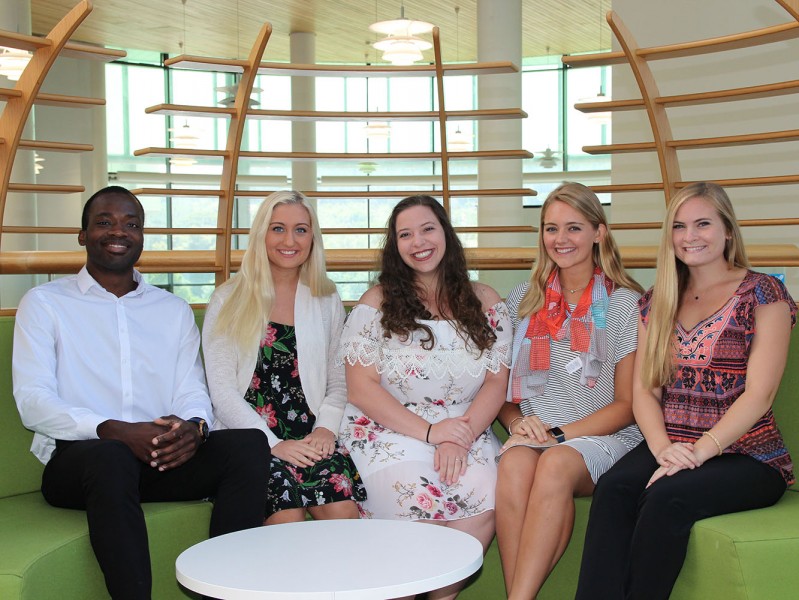 RGU and University of Tennessee, Knoxville (UTK) have joined forces for an international exchange programme, which has seen nursing students learn more about their profession on either side of the Atlantic Ocean.
The partnership between RGU's School of Nursing and Midwifery and UTK is in its fifth year and was forged to allow students to benefit from exchanging clinical, academic and cultural experiences.
American students Emmy Baxter, Peyton Daigre, Megan Tillman and Lizzie Barnwell have spent the past two weeks in Aberdeen.
During their time in the North-east, they enjoyed a programme of nursing and social activities, led by students and staff at RGU's School of Nursing and Midwifery.
Megan Tillman, who spent time working with neonatal nurses, while her peers were in the infection ward, said: "It was very interesting to see how childcare works over here, compared to back home. It was very foreign to me to find that nurses actually go to the mother's home and monitor how they and the baby are doing. But I loved it."
The four students noted a number of other healthcare differences between Scotland and the USA.
Lizzie Barnwell said: "Insurance is obviously a big difference. If you have it, then you'll be good for most things most of the time. But if you don't have insurance, it's a whole other ballgame and people won't get care because they can't afford it."
Peyton Daigre added: "I've heard of patients choosing not to receive treatment, because they were uninsured and would rather die and leave the money for their kids. The NHS means that people here don't have to make that choice."
In addition to their academic and clinical exploits, the students were taken to visit a number of local sights, culminating in trips to Edinburgh and Glasgow.
Emmy Baxter said: "We did a walking tour and tried ceilidh dancing too – we were terrible at first, but we got it. I think we all loved Dunnottar Castle too, but the hike to get there caught us by surprise!"
RGU nursing student Kene Okafor spent two weeks in Knoxville at the start of July, where he shadowed medical professionals and took in the Tennessee culture.
He said: "It was very interesting to go over and learn about the different healthcare settings and systems. Overall, it was good to see how well everyone works together – the various departments being innovative and working together to benefit the patient."
When asked what he thought the biggest difference between the countries was, Kene added: "Well, they drive on the wrong side of the road!"
All of the students self-funded their trips and the exchanges were fully facilitated by lecturers at both universities. It is not the only link between the north-east and UTK, which also has exchange partnerships with RGU's School of Creative and Cultural Business and School of Applied Social Studies.
Katie Baxter, lecturer and US Exchange Coordinator at the School of Nursing and Midwifery, said: "It has been very positive to see how successful this exchange programme has been and the real benefits it brings to our students, as well as those from the University of Tennessee.
"The students involved get to experience a variety of clinical and community settings tailored to their particular nursing interests and it has been encouraging to hear their insights about the differences between Scotland and the US.
"I'd also like to thank our clinical colleagues for making such an effort to welcome our guests from the US. Hopefully they have had an enjoyable time here in Scotland and will remember their time with us as their careers develop."