Jane Spiers – Doctor of Letters (DLitt)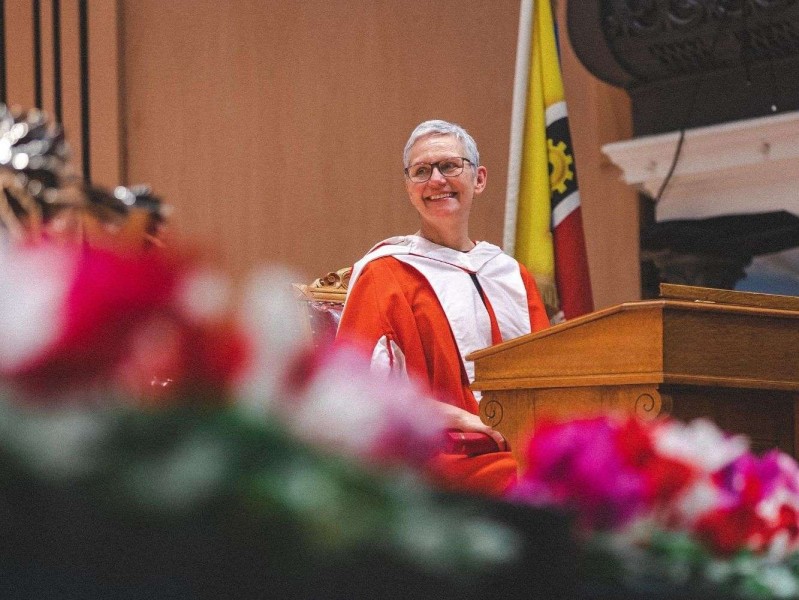 Robert Gordon University's Chancellor, Dame Evelyn Glennie CH, conferred the honorary award of Doctor of Letters (DLitt) on Jane Spiers on Tuesday 7 December for her lifetime achievements and dedication to the creative and cultural sector of the North-East.
Jane has been Chief Executive of Aberdeen Performing Arts since 2012, responsible for three city centre arts venues; His Majesty's Theatre; the Music Hall and The Lemon Tree, for two award winning festivals; True North and Granite Noir and for leading the restoration and renovation of the Music Hall.
"Jane's vision, dedication, and masterful history of achievements makes her an inspiration to all graduates," said RGU's Principal and Vice-Chancellor Steve Olivier. "The consistent positive impact Jane has gifted the North-East is validation that following your passion with resilient, conscientious effort can achieve remarkable things."
In 2019, Aberdeen Performing Arts was named Business of the Year in the North-East at the Northern Star Awards and Jane was given a lifetime achievement award. Prior to this she was the first Chief Executive of Horsecross Arts, bringing together Perth Concert Hall and Perth Theatre. She led the Horsecross Team for nine years through the construction of the new Perth Concert Hall and successful launch of the opening season before going on to champion the redevelopment of Perth Theatre.
She also led the redevelopment of the Tolbooth, Stirling's Centre for Music and the Arts, that went on to win the Crown Estates Conservation Award for the best work of restoration and adaptation in the UK. In 2017, Jane was made an Honorary Fellow of the Royal Incorporation of Architects in Scotland.
Jane commented: "It's such a great privilege to receive this Honorary Doctorate from Robert Gordon University, a university with deep roots in the city and the North East, and a university that nurtures creative thinking and entrepreneurship. I've spent my working life in the arts and so it was extra special to receive my honorary doctorate from Dame Evelyn Glennie in the Music Hall. It's a moment I'll treasure forever."
Jane is an experienced programmer, producer, and festivals and events manager. She started her career in publishing and bookselling and went on to manage the arts team for the London Borough of Southwark before heading up the literature department of the Regional Arts Board for Central Southern England.
She has served on many voluntary Boards, both locally and nationally, and is currently a non-executive director of Sage Gateshead, Edinburgh UNESCO City of Literature Trust, the Theatres Trust, Sound Festival, UK Touring Partnership, and the Scottish Theatre Producing Consortium. Jane is a member of Culture Aberdeen, Aberdeen & Grampian Chamber of Commerce Policy Council, and the Aberdeen City Adoption & Permanence Panel.