Emma Lovie - LLM Oil, Gas, & Renewable Energy Law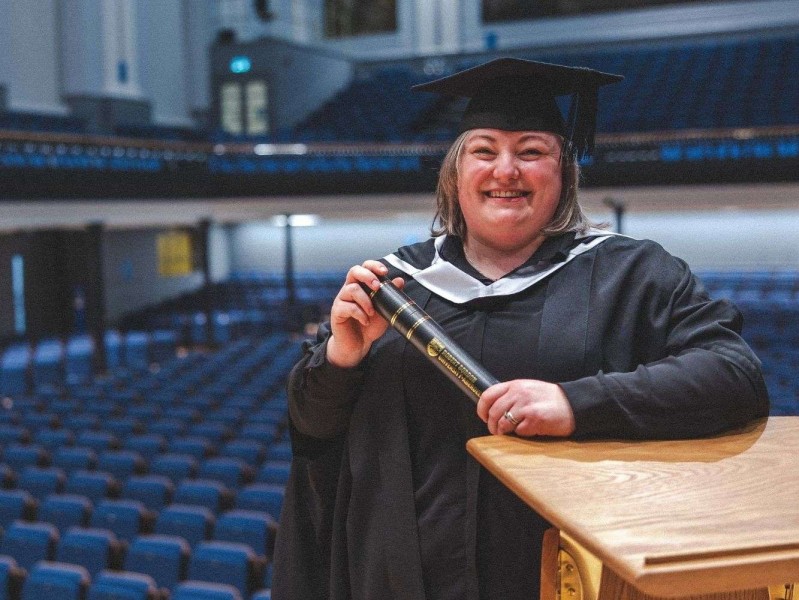 A determined 38-year-old from Peterhead seeking a change in career direction juggled two jobs alongside her studies during a pandemic to graduate with merit from the Scottish University of the Year 2021 as a Master of Laws.
Emma Lovie crossed Aberdeen Music Hall's stage in front of an audience of peers and family to accept her LLM Oil, Gas, & Renewable Energy Law degree from Robert Gordon University on Tuesday 7 December.
"I'm absolutely delighted with what I've achieved," said Emma. "I've been away from higher education for a long time now, and to have managed to get a master's with Merit while working two jobs during a pandemic—and as an older student—is definitely something I am proud of."
Throughout her degree, Emma continued to work as a full-time Research Associate for a local biotechnology company and part-time job at a local restaurant, successfully juggling both alongside a busy home life.
Emma said: "It's been an interesting three years! Higher education should be available to everyone, not just those who are able to study full-time and attend set lectures. Having the opportunity to commit to a degree, part-time, while continuing to work has been invaluable to me.
"The distance learning format is a great alternative for those who, like me, wish to study at RGU while living outside of Aberdeen. Many of the students on my course were even able to study from abroad."
The LLM Oil, Gas, & Renewable Energy Law degree gave Emma experience in critically assessing key legal and contractual issues, including licencing and contracts for environmental and renewable energy, while instilling transferable legal skills and knowledge to better understand and manage the many legal issues of the energy industry.
Emma adds: "Current topics, like climate change and renewable energy featured heavily throughout and my eyes have been opened to issues associated with these—not just in terms of what is happening on my doorstep, but global issues as well."
Emma had previously earned an honours degree in Forensic Science from RGU in 2006. Through the university's alumni communications, she learned of a postgraduate open day where she met with course leaders as well as the Finance and Admissions departments. She was ready to apply by the time she left.
"I've worked in the science industry from when I first graduated," said Emma. "I was starting to feel it was time for a change of direction, and that is when the email arrived. The fact that the course was aimed at the energy sector—an industry I have worked in for many years—was the first thing that caught my attention.
"The lecturers and support staff at RGU have been amazing. They were always available to answer questions and provide support where needed, even with the added pressure of working around pandemic restrictions and changing teaching methods for other courses."
The expertise available at RGU earned the institution the accolade of Top Modern University in Scotland for graduate prospects in Law (Guardian University Guide 2022), but Emma did not have to look far for new opportunities. She was offered the position of Quality Manager with her current employer.
Emma said: "I feel this degree has allowed me to develop a broader understanding of the world we live in today and it's rewarding to be able to apply my studies to certain aspects of this new position with regards to contract law."