Darren Millar - BA (Hons) Business Management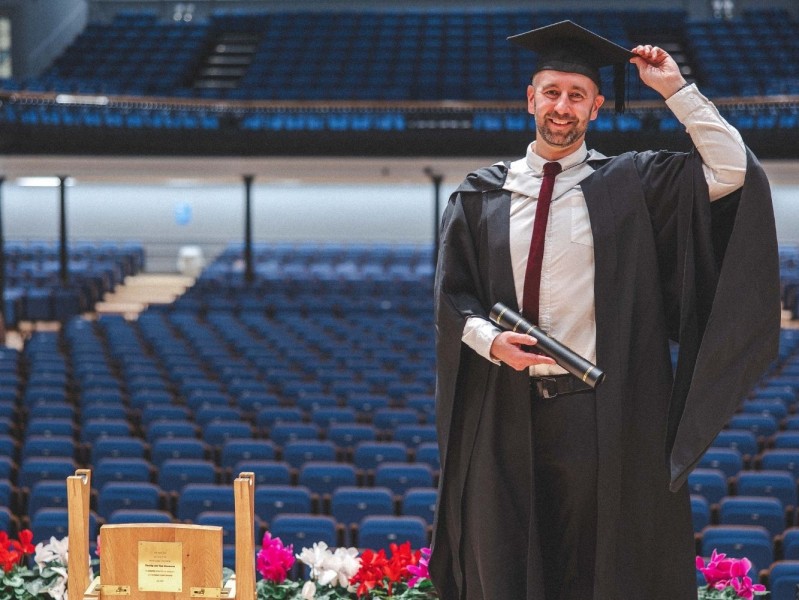 Having returned to study as a mature student, Aberdeen based Darren Millar is graduating with a First-Class Honours degree. He says returning to university has given him a huge confidence boost and the skills to prepare him for his next step on the career ladder.
Darren left OldMacher Academy aged 16 and became an apprentice electrician. He subsequently did a HNC in electrical engineering at NESCOL college, Aberdeen which led to 15 years in supervisory and management roles in the electrical industry.
With substantial work experience behind him, Darren wanted to return to study to develop his business management skills. It was the perfect timing for him and the structured distance learning Business Management Course at RGU appealed to his work / life balance.
Darren says; "I'm extremely proud of my achievement as are my friends and family who're delighted with my First-Class Honours degree success. I really can't fault RGU's Business Management Course both in terms of its structure and content. It has been excellent even although the amount of work and commitment required was huge, especially during my final Capstone dissertation."
Throughout his studies, Darren's dad, who had previously worked in journalism, proofread every assessment he ever did. When he was finished, he gave him a folder with every hand marked draft he ever gave him and there were a lot of drafts! Darren says this is testament to the amount of work involved and it's strange for the course to be over now!
Speaking about his experience during the pandemic, Darren says; "The lecturers were so helpful and vital in making the course work 100% online. My course supervisor was amazing, pushing me to achieve the grade I was aiming for, all via Team calls and emails!"
Whilst at RGU, Darren has valued all the help from student support services. Having returned to study as a mature student, he used the Study Skills support for additional help collating and analysing statistical data from his surveys. This really pushed him to the next level and helped him look at the data in a completely different way.
The course gave Darren, hands-on experience and a business opportunity module helped him create a real business plan. After receiving brilliant feedback, Darren presented his business case to his employer.
An innovation module sparked more ideas and Darren successfully participated in a WIKI as part of the Scottish Innovative Student Scheme Award (SISA). This led to further success as he was awarded SISA's Future Thinker Award and achieved a Head of School Award for his 4th year studies.
Moving forward, Darren says:"I want to build on my business success at RGU and to keep using the skills I've learnt throughout my degree. Looking back on my experience at RGU, I feel the Business Management Course has really helped me move onto the next step of the career ladder. From being accepted, to passing my first assessment and to successfully completing fourth year, the whole experience has given me a huge confidence boost and the skills will undoubtedly prepare me for what will hopefully be a successful future career."