Blanka Bartova - LLB (Hons) Law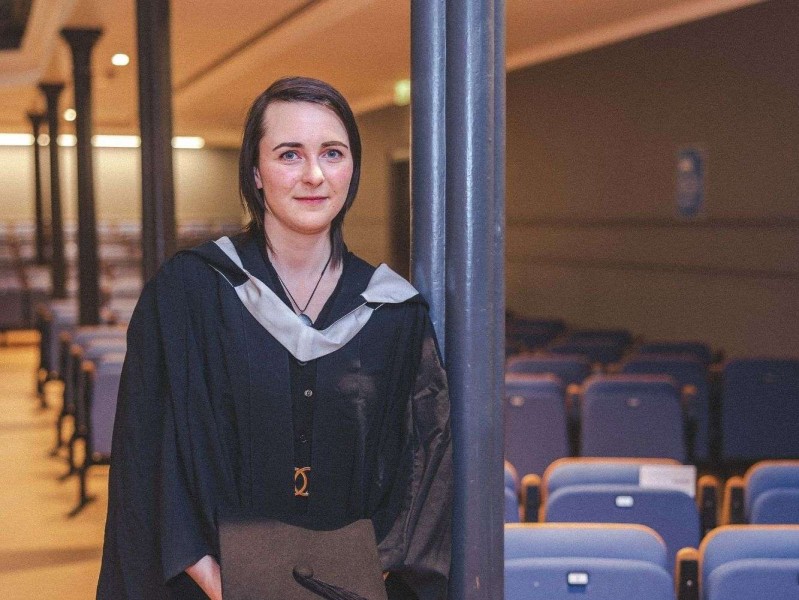 Through resilience and dedication to her studies, 25-year-old Blanka Bartova from Peterhead sought the skills and knowledge to become a solicitor and now graduates as a Bachelor of Law from the Scottish University of the Year.
Blanka crossed Robert Gordon University's graduation stage at the Music Hall in Aberdeen to accept her LLB (Hons) Law in front of friends, family, and peers on Tuesday 7 December.
"I'm proud of my achievements and time at university," said Blanka. "Life during the pandemic was extremely challenging, with issues relating to mental and physical health, relationship breakdowns, isolation, and instability. Despite all of that, I managed to achieve a full A-grade profile in my final year."
"I feel that I have shown a lot of resilience to achieve the quality of my academic performance, particularly when weighed against the struggles of the pandemic, inside and out of university."
Blanka's goal was to gain the skills and knowledge necessary to work as a solicitor and achieve the core qualification. She started that journey studying NC in Business prior to studying HND Legal Services in college before transitioning to university to study Law & Management through a degree link programme.
Degree Link is where the university works with partner colleges to offer guaranteed progression pathways for students across Scotland and provides a range of support to ensure a positive transition experience from pre-application through to graduation.
Ultimately, Blanka chose to study her LLB at RGU—the top modern university in Scotland for graduate prospects in Law (Guardian University Guide 2022)—and gained valuable, real-world experience through its Law Clinic.
Blanka adds: "At the Law Clinic, I started as a research volunteer, then became an office manager, and gained greater experience as a media manager where I established a media team and developed our online presence through LinkedIn and Facebook."
"The Law Clinic also provided a lot of practical experience that will help me in my career. It gave me many opportunities to take the theory learned in lecture halls and apply it to real life cases. I have also had the opportunity to use my initiative and create module-specific study groups that helped students who were struggling to understand some of the course content in my roles as class rep."
Blanka is now returned to RGU to study for a diploma in Professional Legal Practice.
"I feel my studies have given me the necessary foundation to help build my career," said Blanka. "I've been able to practice collaborative teamworking and gained real-world insight into many legal areas, principles, and methods of researching the law effectively."