Peter James Barron, Doctor of Philosophy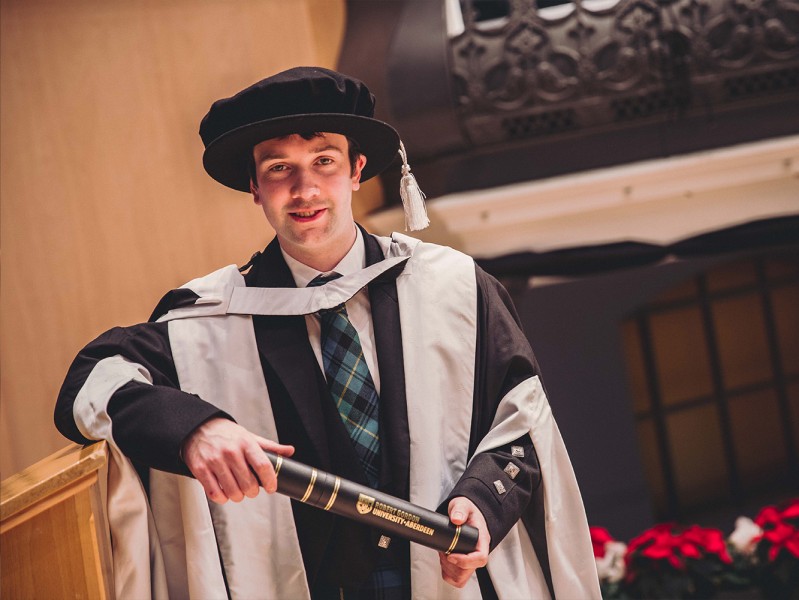 An Olympian cross-country skier with a passion for sports coaching now competes at the heights of academic excellence by graduating from Robert Gordon University (RGU) as a Doctor of Philosophy.
Peter James Barron (29), from Huntly, took to the stage and accepted his PhD in front of family and friends at the Music Hall, Aberdeen, on Tuesday 10 December.
Returning to RGU, where he had studied for his undergraduate degree, PJ took on his PhD project: The Demands of Ladder Climbing Relating to the Wind Energy Industry.
"I had been speaking about the project to a senior researcher from the university's School of Health Sciences while working at RGU:Sport," said PJ. "Having completed a Master's degree, I liked the sound of it, and I knew the supervisory team from my undergraduate years. It sounded exciting so I decided to apply.
"The PhD really helped in developing my presentation, writing, critical thinking and planning skills alongside my leadership and inter-personal skills."
For the last 11 years, PJ has been involved with RGU in some form. As an undergraduate he was competing in the Olympic Games while being supported through the university's Sport Scholarship Programme. It provided him with a range of tailor-made support to suit his individual needs, including strength and conditioning sessions, financial assistance and lifestyle management, all while studying for his Bachelor's in Sports and Exercise Science.
He said: "When I was a sport scholar, RGU was really supportive with exams, helping with coursework and allowing me to train almost full-time in preparation for the Vancouver 2010 Olympics."
After completing his Master's elsewhere, he returned as a sports assistant at RGU Sport. He was also taking part in sports coaching at the university when he began his PhD.
PJ adds: "During my PhD, I coached RGU's water polo team and was captain of the men's water polo team. It was a great opportunity to focus on something away from academia, develop as a coach and spend some time with friends.
"I really enjoyed the way my research supervisors allowed me to drive my own project and supported me to develop as both a researcher and a coach in other sports."
PJ also took advantage of the RGU's Employability and Professional Enrichment Hub for best practice with CVs and interview techniques. He now works an Endurance Coach for Scottish Cycling.
He said: "I was fortunate to volunteer at a local club in Ellon during my time at RGU, but also gain 3 to 4 years of experience as a voluntary coach with Scottish Cycling.
"RGU has given me the opportunity to take part in some very rewarding experiences over the years, and it's always been supportive. This, combined with my PhD, has put me in a great position for the rest of my career."