Nicole Cruden, BEng Mechanical and Offshore Engineering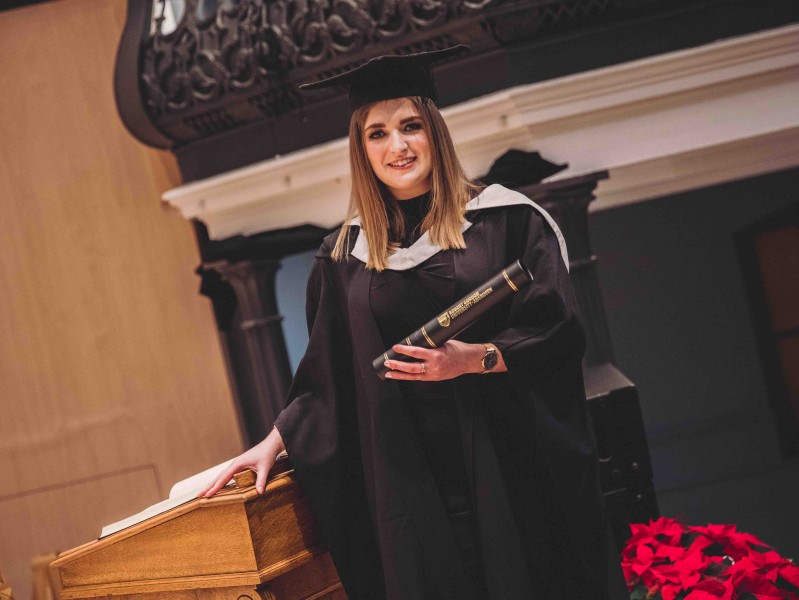 The ability to study part-time while working is paying dividends for Turriff student, Nicole Cruden, who graduated from RGU with a degree in Mechanical and Offshore Engineering.
Nicole will take to the stage at the RGU Graduation ceremony on Wednesday, December 11, at the Aberdeen Music Hall, after successfully completing her studies, which she juggled with her full-time job as a designer with Baker Hughes.
After beginning an apprenticeship and embarking on her studies with a part-time HNC and subsequently an HND at NESCol, Nicole enrolled on the course at RGU, taking part in night classes to fit in with her work schedule.
The part-time, evening-class engineering degree is aimed at students who have the potential and motivation to become competent professional engineers but are unable to commit to full-time study.
Nicole commented: "The ability to study part-time whilst still working full time allowed me to further my education and complete my apprenticeship. If part-time study wasn't available at RGU then I wouldn't have been able to continue working.
"The practical approach to teaching at RGU, combined with a lot of the lecturers having previous industry experience, allowed me to see exactly where each subject was relevant in industry and how I could apply this knowledge to my job role."
Nicole is already reaping the benefits of her hard work, as she has moved into a new role as a Design Engineer with Baker Hughes.
"I started my apprenticeship as a designer and coming to university has allowed me to progress into a design engineer role.
"I now hope to continue with my current role and use the knowledge I have gained from my degree to help me to progress further within the company."
Reflecting on her time at RGU, Nicole is extremely proud of what she has achieved.
"I am proud of myself for achieving my degree. At the point of leaving school I had no intentions of ever going to university as I didn't think I would be able to achieve this, so I am glad to have proved myself wrong.
"I have gained a lot of confidence in myself and my abilities from my time at RGU."