Honorary - Rachel Corsie, Master of the University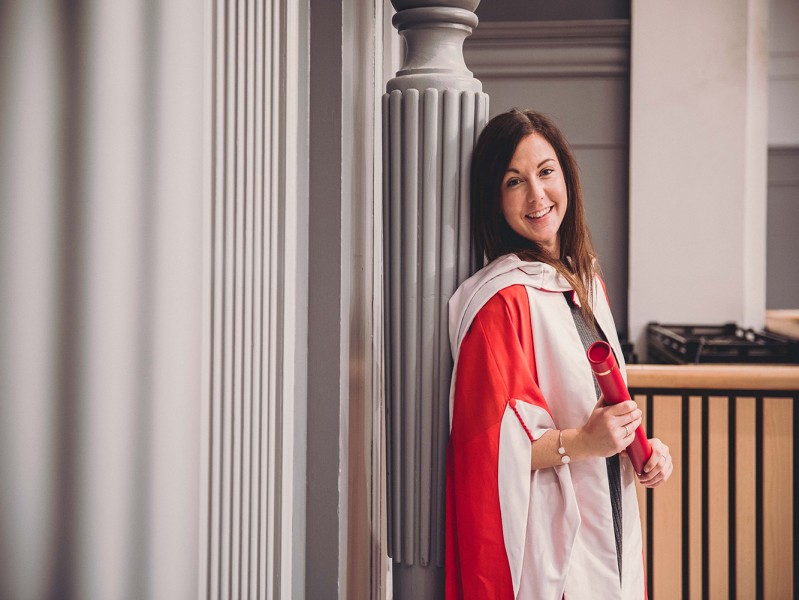 The captain of the Scottish national women's football team, Rachel Corsie, was recognised with an honorary degree from the RGU on Tuesday, December 10.
Rachel, who is a qualified accountant, vlogger, television pundit, part-time journalist, and an alumna of RGU, accepted her honorary Master of the University (MUniv).
Rachel grew up in Aberdeen, attending both Hazlehead Primary and Academy. She developed a love of football by playing in the local park with her Dad and brother.
By the time Rachel attended RGU on a sports scholarship she was already captain of the Scotland under 19 team, having played locally for both Stonehaven and Aberdeen. She was responsible for establishing the University's first Women's team and, by the time of Rachel's graduation, RGU had become the top Scottish University in women's football.
Having graduated with a First Class Honours degree from RGU, Rachel committed to a full-time role with Ernst and Young as an accountant while also winning a host of silverware with Glasgow City.
At the age of twenty-four she took the bold decision to become a full-time professional with a move into the Super League in England with Notts County.
Rachel has amassed over 115 appearances for her country, playing at Euro 2017 and this summer had the honour of captaining the team at Scotland's first ever appearance at a World Cup in France 2019.
Filippo Antoniazzi, Director of Student Life at RGU, commented: "Rachel truly is an inspiration to all young players, demonstrating what can be achieved by combining immense talent with hard work and dedication.
"It is with great pride that we can bestow this honour on Rachel, as she continues to support the development of the women's game, especially here in the North East."