Andrew Davidson - MSc Information and Library Studies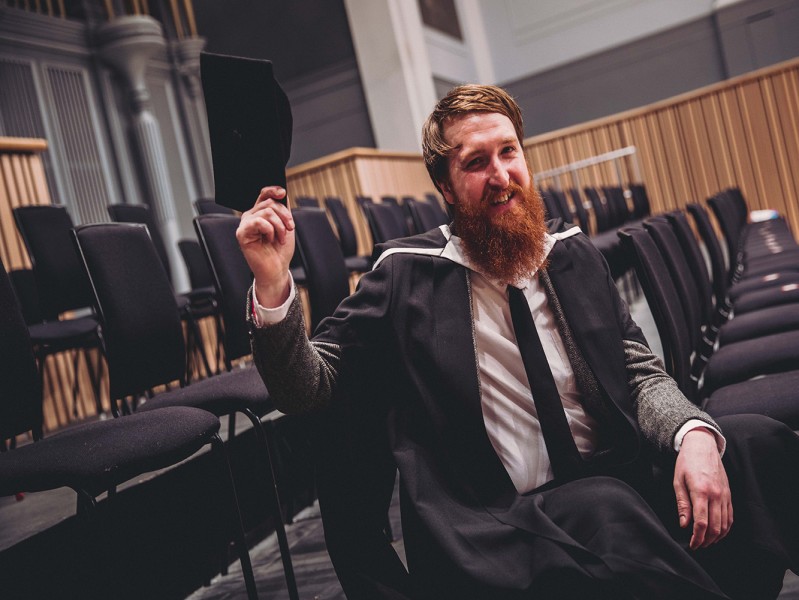 Andrew Davidson has created a digital film archive to preserve the history of the north-east as part of his dissertation project at RGU. Fraserburgh on Film showcases the Buchan town during the war, royal visits and other historical moments from the last 100 years.
The 34-year-old is not only celebrating gaining a MSc in Information and Library Studies from RGU, but also the success of his new project which is now live online. The mounds of historic footage of Fraserburgh has been described as the "best film archive that any town in Scotland has" by his dissertation supervisor, Professor Peter Reid.
Andrew returned to RGU to study as a mature student at the age of 30, when he embarked on a Media degree. He really enjoyed his experience so after he graduated he decided to take his studies to the next step and enrolled in a postgraduate course at RGU. He collected his MSc degree from RGU's School of Creative and Cultural Business at The Music Hall on Tuesday, December 10, at 2.30pm.
"Having worked in Aberdeen libraries for a number of years as a library assistant, the Information and Library studies MSc at RGU seemed like the logical step as I have grown to appreciate the importance of libraries in society and wanted to further my career in this field," he said.
"I had an HND from Aberdeen College which I studied several years ago so was able to get a direct entry into third year for my BA degree which was really great. If it wasn't for this level of flexibility offered by RGU, it would not have been possible for me to complete my BA and go on to study for the MSc within the timeframe I have.
"Between doing my HND and BA, I worked abroad for a number of years - first producing a weekly TV programme in Mongolia, then teaching in China in a city outside Shanghai. I was apprehensive about returning to study but got full support from the staff at RGU.
"When I completed the Media BA I worked on a film project with Aberdeen City Libraries for young volunteers and then decided to study the MSc so I took a bit of a roundabout route to get to where I am. I was also still allowed to work part time for Aberdeen City Libraries while I attended university which was a great opportunity."
Andrew said the modules on his course gave a broad oversight of not only the modern library but also the use of information management.
He added: "I felt that the course gave me room to explore new avenues and interests. It has really increased my understanding of libraries and the heritage sector.
"A highlight of the course has definitely been the level of support and encouragement given to me when doing my dissertation project. My website has collated moving image material from the Fraserburgh area and I received help and support to develop my idea when studying at RGU. I recently launched it to the public and I hope that the project will continue to grow and become a digital community archive with a focus on preserving the social history of the north-east and act as a place to learn about the Doric dialect.
"The support from the staff in preparing for launching my site publicly has really been amazing and Professor Peter Reid has managed to get my site endorsed by The Doric board which is great. I really feel the staff at RGU have taken an interest in me and the project and I am really grateful for their help."
Professor at RGU's School of Creative and Cultural Business, Peter Reid, supervised Andrew throughout his dissertation.
He said: "It has been a joy to work with Andrew on this project. He has done a phenomenal amount of work and has produced what is quite possibly the best film archive that any town in Scotland has.
"This is a very important contribution to the cultural heritage of the north-east and to the social history of Scotland as a whole."
Andrew concluded that he is now looking to further his career in the library sector.
"The university arranged for me to do my placement at the National Library of Scotland's moving image archive in Glasgow and it really gave me an insight into career possibilities I had never really considered so I would like to pursue a career in a field which allows me to combine my skills in media with my interest in heritage and culture," he said.
"I feel that I have been able to explore new ways of using my skills and have been encouraged to look at new career paths, some of which I had never considered before. RGU has given me the confidence to look for a new career, and the skillset to do so."
Andrew's digital film archive can be found online by visiting www.fraserburghonfilm.com. The project was also recently mentioned in Parliament in a motion commending Andrew for his work saying it "will help protect the cultural heritage of Fraserburgh and Scotland".