Abigail Neison, BSc (Hons) Occupational Therapy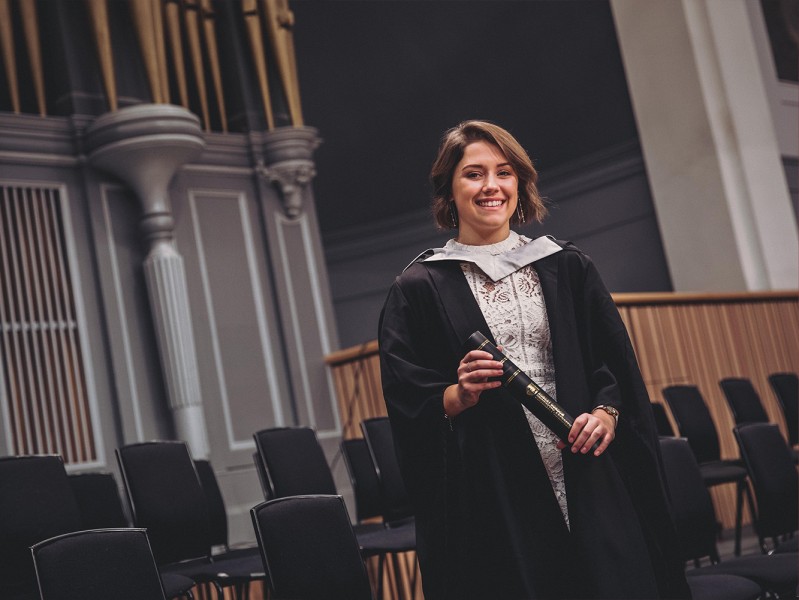 After a skiing accident resulting in serious injury, Abigail Neison from Ellon used the experience to push herself and graduate from Robert Gordon University (RGU) with the knowledge and skills to help others recover.
Abigail (22) took her graduation walk across the stage in Aberdeen's Music Hall, collected her BSc with honours in Occupational Therapy, and exited as an alumna of RGU on Tuesday 10 December.
"In my final year of secondary school I was in a skiing accident, which broke my back," said Abigail. "This experience influenced me. I wanted to help others in similar disabling situations, and it was a major factor in choosing to study occupational therapy.
"Ever since I was a child, I knew that I wanted to have a practical, hands-on career, and I wanted to work with people. Occupational therapists focus on a patient's values beliefs – it's a very person-centred profession."
Abigail went straight from secondary school to university after meeting the requirements for her conditional offer. She enjoyed the interactive nature of the course, which included workshops, tutorials and practical sessions to prepare her for a future in occupational therapy.
"The course was a really interactive experience," said Abigail. "To help prepare us for multi-disciplinary work, we were encouraged to participate in inter-professional learning experiences to work with, and learn about, other health professionals throughout our four years.
"Our placements were organised with the aim of giving each student a wide range of experience, in as many different practical settings as possible, which also really helps to prepare you for the inter-professional world of practice."
During her final year at RGU, Abigail was given the opportunity to become a student facilitator for inter-professional learning sessions. She jumped at the chance to help younger students learn in the same way that she had benefitted from throughout her university journey.
Having completed her course, Abigail plans to take time out and travel with a working-holiday visa to Australia in the company of her boyfriend and the friends she's made through RGU.
"Where possible, I will get experience working as an occupational therapist in Australia," said Abigail. "During my time at university, I was able to develop professional and personal skills which can be transferred into everyday life. I feel proud of my achievements and grateful for all of the opportunities that I've had."