Robert Paisley - BSc (Hons) Cyber Security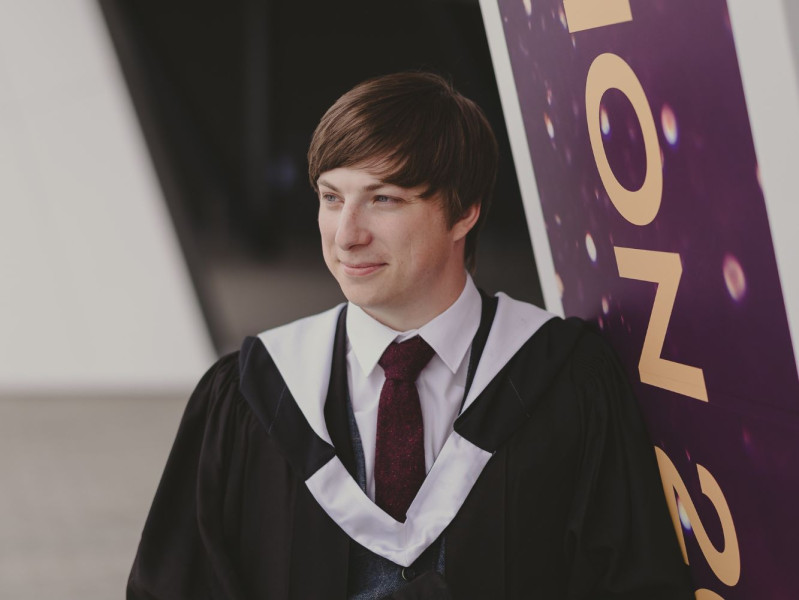 Robert Paisley from Stonehaven is hopeful that his walk across the P&J Live stage to collect his first-class degree in Cyber Security will not be his last.
The 26-year-old is hoping to continue his education at RGU with plans to apply for a PhD and he is full of praise for the staff at the School of Computing.
Robert, a former Mackie Academy and Robert Gordon's College pupil, also took part in the Northern Lights initiative which allowed him to visit schools to demonstrate technology as well as lending a hand at open days and other outreach events.
He admits he always had an interest in computing after completing a degree course in London he opted to apply for RGU after speaking to a former student turned lecturer.
Robert said: "I have always had an interest in computing. When I applied, I received a phone call from an ex-student to ask how my application was going and how I felt about going to RGU. After this call I withdrew all of my other applications and only wanted to go to RGU. I have since found out it was Ross McLean who phoned me, who is now a lecturer in the School of Computing."
He was also involved in the annual RGU Hack, which is a student led event that challenges participants to come with solutions to digital problems in 24 hours.
Robert paid tribute to the staff at the School of Computing and feels the School's Dean, John Isaacs was "inspirational" in his approach to teaching.
He said: "I thoroughly enjoyed my time at RGU. The academic and non-academic members of staff have been incredibly pleasant and friendly. They seem to have a genuine interest in the School and the subject. I must commend our head of School Johns Isaacs. His insights of not just using traditional teaching methods but also delivering content in new ways that students are receptive to are inspirational.
"The academic freedom that we are given to explore the subject is incredible. We have access to equipment that allows us to learn in a practical way which is far more effective."
The BSc (Hons) Cyber Security degree from Robert Gordon University will equip students with the knowledge, skills and experience to prevent, protect and minimise cyber security threats and incidents. Cyber security professionals are in high demand across the world, and this course ensures students are industry ready.