Pamela Rosario Garrido Yanez - MSc Biomedical Technology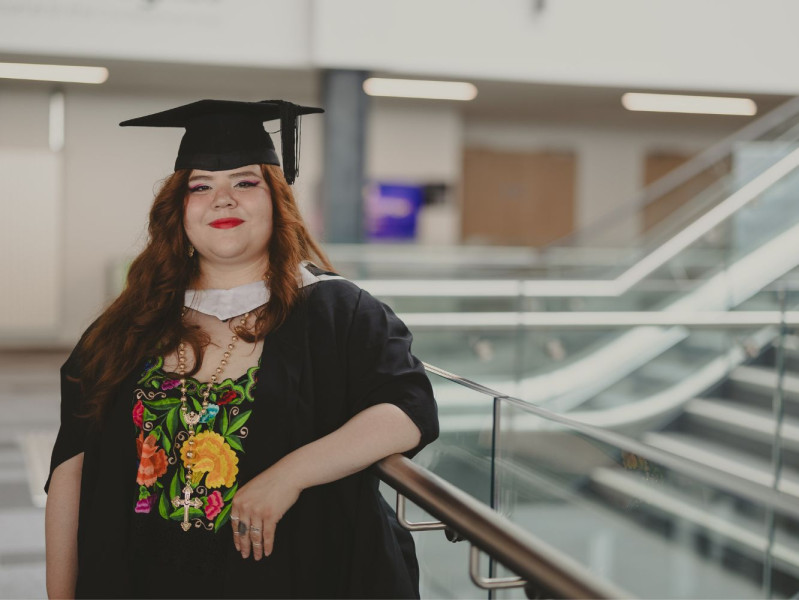 When Pamela Rosario Garrido Yanez from Mexico walked across the stage at P&J Live it marked the realisation of her dream of studying abroad.
The 25-year-old completed the MSc Biomedical Technology after finishing a biomedical engineering qualification in her homeland. She opted to move into this field after having a childhood interest in STEM subjects.
Pamela was able to come to RGU to study after securing a scholarship through the Women in STEM project and she is now working as a field service engineer for General Electric in London after carrying out a placement with the company.
She admits that losing her father and the impact of the Covid-19 pandemic made her feel like her ambition to study abroad was always going to be out of reach, but the scholarship changed everything.
Pamela said: "I got the scholarship for Women in STEM, which is an agreement between RGU and the British council. I am very thankful for this opportunity. I grew up in a middle-income family in Mexico, when my father died of Covid and after the pandemic my economic situation was very affected and the dream to do a postgraduate course abroad looked far off. RGU and the British council covered all my fees, visa, monthly expenses, and flights. Without its help, I am not sure how that will be possible.
"The placement opportunity was an important factor as that allowed me to have contact with different industries and grow professionally. I did placement in London in General Electrics, in the beginning that was a very first impact for me since I used to live in a very small city, but this placement and adapt me to one of the biggest cities bring me the opportunity to take courses and conferences in Budapest and travel through England."
She said that while she leaves RGU with a qualification that's helped secure a job she also made important friendships in Aberdeen which proved vital during difficult times. Pamela feels RGU's Mexican Society were her family during her time in the North East.
Pamela added: "I made good friendships in the halls and RGU's accommodation buildings, people who was also following their dreams and which could support us each other in bad situations when we were studying like homesick, economic problems, language barrier and general study problems. These relations allow me to enjoy every situation of the student life and take advantage of each opportunity in this period."