Karen Darke MBE - Doctor of Education (DEd)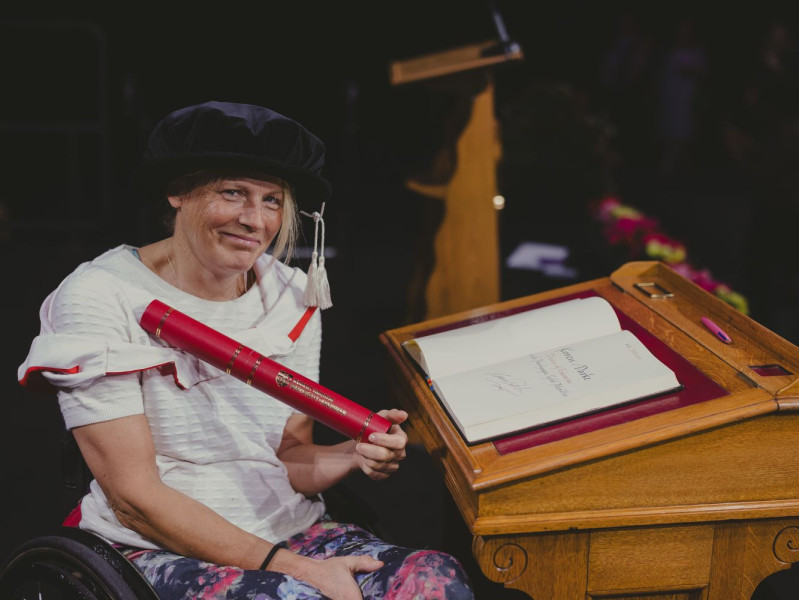 Karen Darke MBE, a British Paralympic gold medallist who has achieved incredible sporting feats, has been awarded an Honorary Degree from Robert Gordon University (RGU).
Presented on Thursday 6 July during the University's graduation ceremonies at P&J Live, Karen was awarded a Doctor of Education (DEd) in recognition for her outstanding career and accolades.
"This Honorary Degree for Karen is testament to her unbelievable sporting efforts and achievements which really do outdo most things any of us could ever imagine possible", said Professor Steve Olivier, Principal and Vice-Chancellor.
"A decorated Paralympian who has set numerous records, Karen's courageous and admirable attitude to life sets an example for us all to strive for and the University is therefore delighted to be recognising her in this way."
A keen runner and mountaineer as a youngster, Karen climbed Mont Blanc and the Matterhorn prior to being paralysed from the chest down following an accident, aged 21, whilst sea cliff climbing.
Just four years later she become the first paraplegic woman to handcycle across the Himalayas before going on to achieve numerous remarkable feats, including sea kayaking from Canada to Alaska; skiing across the Greenland ice cap; and hand-cycling, skiing, and kayaking the length of Japan.
In 2009 Karen became a bronze medallist in the Para-Cycling World Cup which led to becoming a member of the British Para-Cycling team the following year.
At the 2012 Summer Paralympics she won silver in the women's road time trial before achieving gold at the Rio Paralympics four years later. She's also won several more medals in different world championship races.
In 2017 Karen was awarded an MBE for her services to sport, particularly cycling and triathlon. She was was presented with her most recent accolade from RGU by Jo Royle, Dean of the School of Creative and Cultural Business.
Hailing from Yorkshire, Karen has reached career heights that most can only dream of and set records that are unthinkable to most. She is very much an inspiration and has touched the lives of many through her determination, perseverance, and tremendous positive spirit.