Irvyn Hall - BSc (Hons) Computing - Application Software Development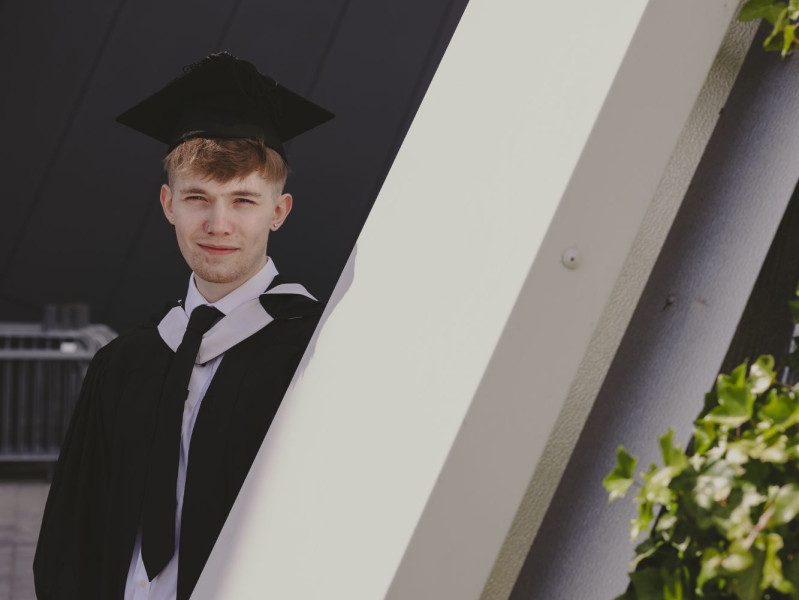 Graduating with first class Honours in Software Development, Irvyn Hall is hoping to move into the industry after picking up the skills and knowledge to succeed at RGU.
The 21-year-old from Bridge of Don in Aberdeen wants to continue learning about the sector by working alongside those with decades of experience.
Irvyn said his time at RGU helped him focus on his goal to move into computing as a full-time job as he was able to concentrate on a specific area during his programme.
He also praised the way the course was set up so he could easily apply what he learned in the classroom to his own computer equipment with placement proving to be a huge learning opportunity.
Irvyn said: "I loved writing software but I didn't know what exact area of computers I wanted to get into, so I figured that RGU would help guide me and give me skills that I needed to start my career with.
"I plan to work at either a tech company so that I can keep learning from experienced professionals and I still value the amount that I still have to learn in my career but I without a doubt have extremely hireable experience and skills after leaving RGU.
The setup for the course having one class online then a lab in person where we did practical work was excellent – we got the learn the theory then apply it into our own laptops. My placement was a great insight also which gave me even more confidence in my ability to start a career."
Irvyn came to RGU after studying at college which enable him to join the course in third year and the former Oldmachar Academy pupil feels his own hard work during his time at Garthdee was just as important as the teaching he received.
He said: "RGU has done everything to prepare me for my career. They gave me confidence in my abilities by validating my hard work I put in and they taught me relevant and transferable software skills in many different disciplines. They made the extremely impossible task of choosing a field to specialise in much easier for myself which was the main purpose I chose to go to RGU.
"RGU teaches such a good computing course and School of Computing is an excellent school if you are trying to start your career in software. If you try and put in effort you will leave undergraduate school with skills and the abilities to start a career."