Duncan Pirie - BA (Hons) Social Work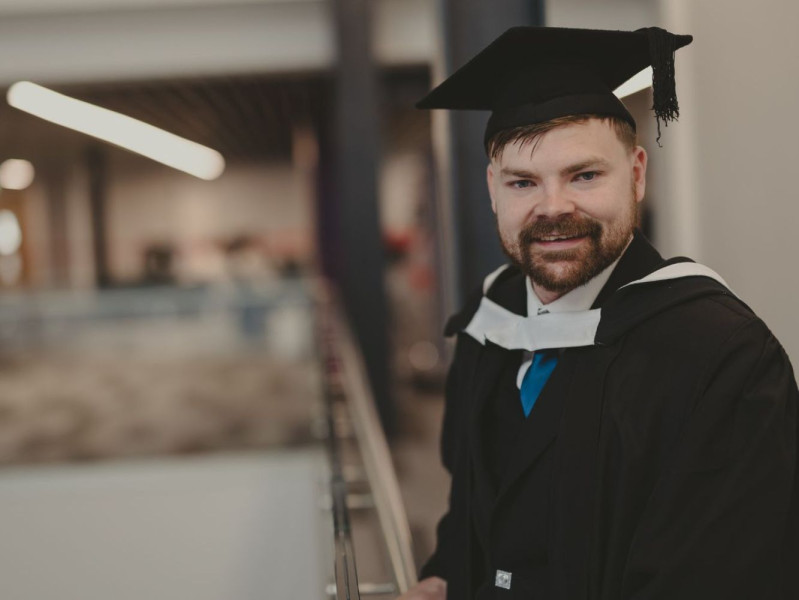 When Duncan Pirie crossed the stage at P&J Live not only did he successfully mark the end of his studies but he is beginning a journey to improve the lives of others using his experiences in care and the skills he gained at RGU.
The 29-year-old grew up under the guardianship of his grandparents following the death of his father and gained an interest in Social Work after receiving support to repeat his exams while at Oldmachar Academy before going on to Dyce Academy.
He said that the life lessons he learned while living with his relatives is something he carried into his studies at RGU and he leaves with first class honours.
Duncan said: "What attracted me to social work was due to growing up within the care system in Scotland and having a social worker during my secondary schooling, with support from my guidance teacher and deputy head they allowed me to repeat my standard grades at Oldmachar. This enabled me to complete higher and advance higher subjects at Dyce and then pursue the BA (Hons) Social Work at Robert Gordon University.
"I would also say, that by living under my grandparent's roof, shortly after my father passed away, I learned and respected their values and traditional norms which I have been able to demonstrate and apply within the course at Robert Gordon University.
"To be standing here now with a degree, makes me incredibly proud that I have persevered and battled through adversities right through my life and my hard work, determination and motivation has enabled me to succeed at RGU and I have been able to use my lived experience within practice to promote change for individuals."
During Duncan's time at RGU he also received support from the Inclusion Centre after he was diagnosed with Dyslexia and Dysgraphia.
He was also able to go on placements where he was able to design and implement a football workshop that focused on leadership, communication, spatial awareness, and boundaries which proved to be successful.
Duncan joined his classmates to travel to Hameenlinna in Finland for a week which proved useful to learn about a different culture as well as getting to know those on the programme as they had been unable to meet due to Covid-19 restrictions.
He also praised the guidance and support from every lecturer at the School of Applied Social Studies.
Reflecting on his four years at RGU, Duncan has secured a job with Aberdeenshire Council's community mental health team and is looking to a bright future in his new role with even the possibility of gaining another qualification.
Duncan said: "I have been fortunate to gain employment within social work and I am looking forward to starting my new role over the summer and working in partnership with service users to promote change and success in their lives.
"Further down the line, I would like to complete my Mental Health Officer training but that will not be for a number of years. I would like to take my fiancée on holiday to say thank you for all the support, they have given me throughout the course.
"I feel RGU has definitely prepared me for moving into my career as a social worker as I have completed two placements, completed various assessments and worked on building my confidence and competence to be able to work with children, families, young people and adults in society."