Doireann McCaughley - MOccTh Occupational Therapy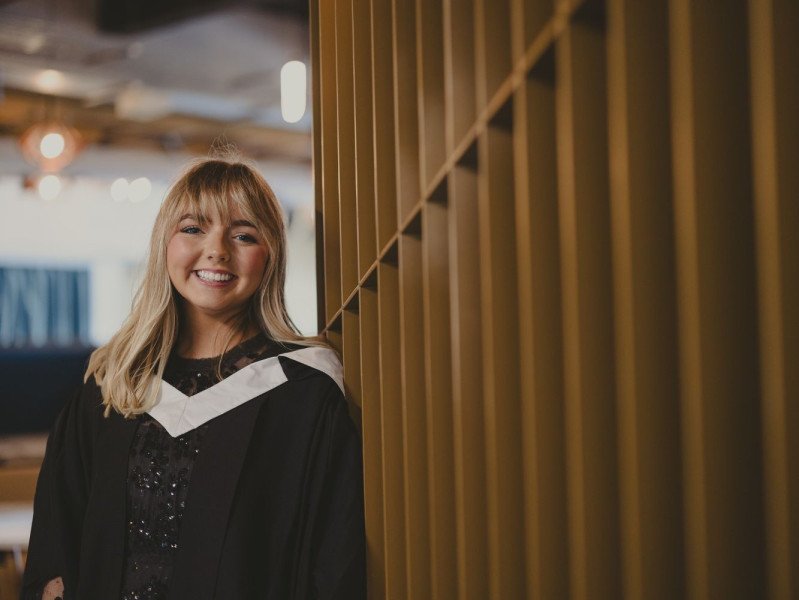 For Doireann McCaughley graduating with MOccTh Occupational Therapy is the realisation of a teenage dream.
The 22-year-old from Cork in Ireland knew she wanted to be an Occupational Therapist at the age of 15 after wanting to be in a role that makes a difference to people's lives.
Doireann admits moving to Aberdeen to begin four years of study at RGU was a "big jump" but she feels it has paid off after securing a job as an occupational therapist with NHS Lothian in Edinburgh. She said the four-year course was a massive draw as she weighed up her higher education options in Ireland.
Doireann said: "I had the option to study back home in Ireland, but RGU had the draw of the four-year integrated Master degree, which I had never seen before. I've always been passionate about academia and meaningful self-improvement, so the four-year Master programme was very appealing. This move was quite a big jump for me as the only time I had ever been to Aberdeen prior to moving over was for my selection interview.
"I came straight from secondary school back home in Cork, Ireland. It was a tough decision to move countries for university, particularly as I was not long 18, however I wouldn't change my decision for the world. I've made the most amazing, lifelong friends both in my course and across the wider RGU community."
Doireann sought help to improve her study skills and in her final year used RGU's Employability Service to prepare for interviews with her occupational therapy lecturers. The interview preparation proved fruitful as she secured her current post with NHS Lothian.
She also have four placement opportunities during her course which allowed her to hone her professional skills to become a confident occupational therapist.
Doireann added: "Both the professional and personal development I have undertaken during my time in RGU has prepared me for my role as a graduate practitioner. Moving away from home at a relatively young age has enabled me to develop a resilience, ambition and passion to explore new and exciting opportunities, which I don't think I would have had I stayed at home where it was deemed safe. The occupational therapy team, their diverse professional backgrounds and willingness to go the extra mile have made a hugely positive impact on me during my time here at RGU.
"I'm very proud of my academic achievement, and the role that I've secured post-graduation. Further, I'm so proud of the friends I've made along the way and relationships I've built during my four years in Aberdeen. RGU has allowed me to develop myself not only academically but holistically."
This four-year integrated Master of Occupational Therapy award was developed in response to employer needs and key current policy and social directives. This course aims to develop students into an Occupational Therapist who is professional, resilient, creative, practical, and dedicated to implementing contextually relevant occupational therapy services, promoting and enhancing health, wellness and quality of life for individuals and populations.