Katrina Cruickshank - MSc in Advancing Nursing Practice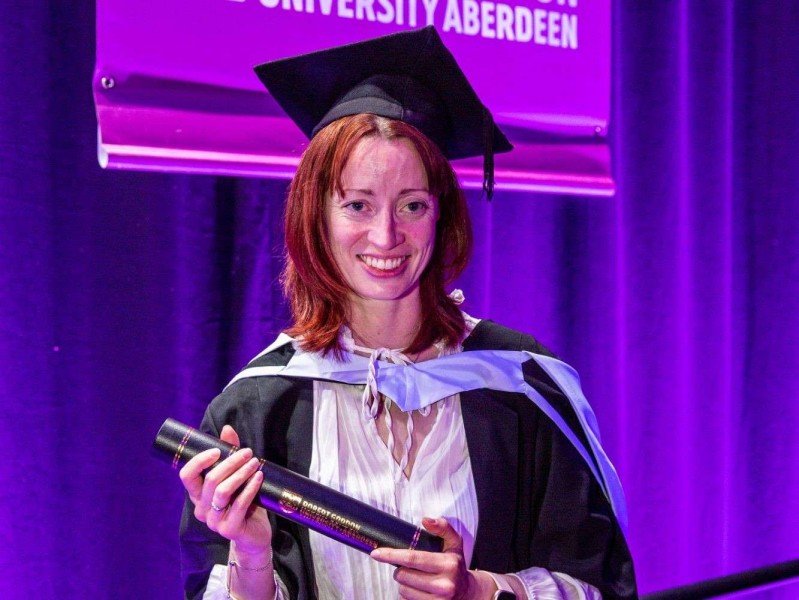 A dedicated and determined Moray-based mature student juggled a full-time job as an NHS Grampian Nurse and her family commitments to once again return to RGU to earn a master's degree.
As Katrina Cruickshank from Elgin celebrates her MSc in Advancing Nursing Practice, she is already planning to take her education higher and continue her studies at the university. Her deep appreciation for RGU has already seen her back at her alma mater three times in the last two decades.
The 42-year-old first joined the university in 1998 to pursue a BSc in Nursing. After briefly working at the Aberdeen Royal Infirmary, she decided to settle back home, taking up a post in orthopaedics at Dr Gray's Hospital. In 2016, more than a decade after first graduating, she completed the Non-Medical Prescriber Module at a master's level as a distance learner.
"I am very passionate about Nursing and have always loved my career. Whilst I enjoyed my job, I started to want more of a challenge. I decided to pursue this module not only to develop myself clinically but also, to enhance what I could bring to the ward.
"Gaining this qualification felt a great sense of achievement, as I did not think I had it in me to study at this level. However, it was completing this module that gave me the drive to continue to develop myself further."
In 2018, Katrina gained one of the highly sought-after trainee Advanced Nurse Practitioner posts to join a one-year fast-track development programme to complete the PGDip in Advancing Nursing Practice. The programme was developed in a combined effort between RGU, NHS Grampian and the Advanced Care Academy.
"Admittedly, it was a gruelling experience, as not only were we completing the modules in a condensed time frame, but this was also on top of juggling working full time and family life. The programme, however, did pull our small group of trainees at Dr Gray's Hospital closer together as we supported each other, leading to the frequent saying We're all in this together."
The pandemic challenged the orthopaedic nurse's time at university, delaying her aspirations to complete the dissertation module to gain the full master's qualification. The graduate credits RGU's online learning and additional support in helping her accomplish her goal and keep a work-life-study balance.
"The only way I managed to achieve this was by having the possibility to do online distance learning. Otherwise, I would not have been able to further my career as that would have meant compromising my family life or giving up valuable full-time work.
"Also, the support I received throughout my journey was a huge benefit. There was always someone to contact for advice or assistance, not only my tutors but others, such as the library and IT staff. They have been exemplary."
Katrina will continue her current role as an Advanced Nurse Practitioner in orthopaedics for NHS Grampian and is already looking at further learning opportunities at RGU. Reflecting on her time at the university, she said: "Gaining these qualifications has allowed me the opportunity to work as an Advanced Nurse Practitioner, which has given me so much job satisfaction. Each day is a challenge, and I am constantly learning something new. Without a doubt, my new path will not only provide me with many development opportunities but will also contribute to enhancing the orthopaedic service. I am proud because returning to RGU as a mature postgraduate student made it all possible."