Jake Newby - BSc (Hons) Cyber Security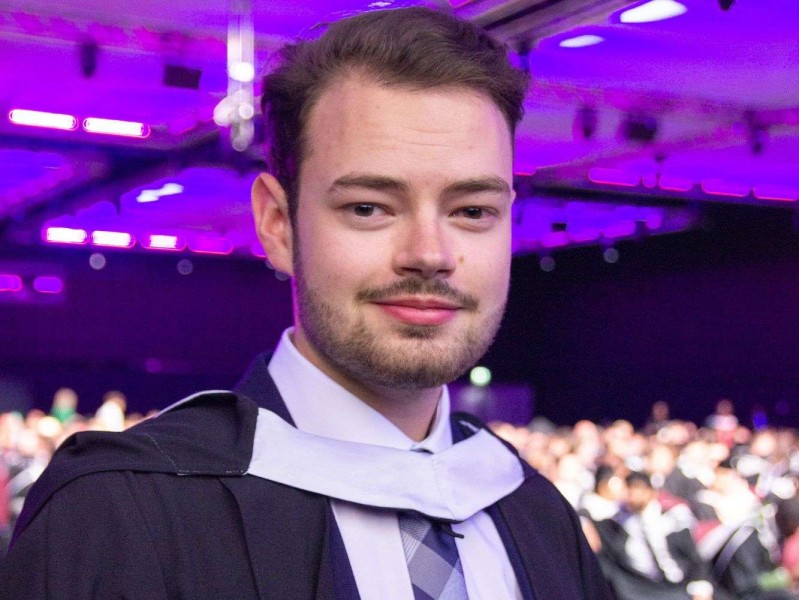 A 22-year-old from Alford with ambitions of becoming an Azure Solutions Architect has graduated from Robert Gordon University (RGU) with first class honours.
Jake Newby crossed RGU's graduation stage on Friday 15 July in front of family, friends, and peers to accept his BSc (Hons) in Cyber Security with first class honours, joining the University's global community of more than 90,000 alumni.
"I'm very proud of what I have achieved in the last four years," says Jake. "I feel grateful that I have had the opportunity to go to university—it was the next feasible step for me.
"I have always been tech savvy, but I found that Computing Science was what I really enjoyed and was good at. My teachers, Mrs Jan Holt and Mr Andy Speirs, at Alford Academy really motivated and encouraged me to continue studying. Without both of their support, I don't think I'd be where I am today."
Jake's Alford Academy friends—Fergus, Nick, and Iain—all had interests in the field of Computer Science. On leaving school they mostly went their separate ways: Iain took a gap year, Nick went to study Computing Science at Edinburgh Napier, and Fergus joined Jake at RGU to study Cyber Security.
Jake adds: "All three of us ended up studying at RGU in the end—Iain applied, and Nick transferred, and both took Computer Science. So, we ended up in a lot of the same modules.
"Fergus will also be graduating with first class honours. He and I have recently started a ticket management service for the Scottish tourism industry, making good use of the skills we gained at RGU."
Despite much of Jake's studies taking place across the pandemic, he found that—with the right lecturers encouraging him and RGU's promptly managed shift to online learning—he remained engaged throughout.
Jake says: "Ian Harris was a fantastic lecturer and he really motivated me to do my best by going above and beyond, making the lectures and labs more engaging and taking time to actually get to know me as an individual.
"While my studies have been minimally impacted by the pandemic—and I personally found it easier to study during lockdowns than prior—the downside was that placement was extremely difficult to obtain."
Keen to gain even more real-world experience, Jake is seeking Cyber Security firms for graduate opportunities and plans to take the Azure AZ-305 exam to become an Azure Solutions Architect Expert.
Azure solution architects have subject matter expertise in designing cloud and hybrid solutions that run on Microsoft Azure—Microsoft's public cloud computing platform for networking, storage, monitoring, and security.
Jake adds: "I gained invaluable experience while at university and developed a fantastic set of skills, which have equipped me for the next step in my journey.
"The future will have cloud technology in abundance. By studying and becoming qualified in this field, I will hopefully gain more security for my future career path."