Duncan Selbie - Doctor of Science (DSc)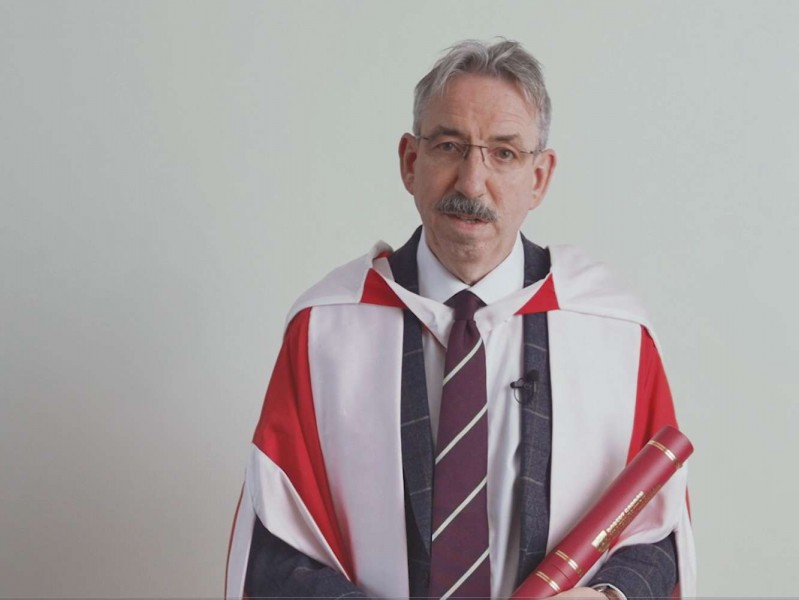 Leader in public health, Duncan Selbie, has been awarded an honorary degree from Robert Gordon University (RGU) at its graduation ceremony this week.
Duncan has received a Doctor of Science (DSc) from the University in recognition of his outstanding contribution to public health throughout his long-serving career in the sector.
Having first joined the NHS in 1980, Duncan's career in public health spans 41 years in the UK and internationally. He has made a significant contribution to the healthcare system in the UK and is currently President of the International Association of National Public Health Institutes, representing 95 countries to build global public health capacity by creating, connecting, and transforming the world's national public health institutes. He is also chief adviser to the Saudi Public Health Authority.
He was the founding Chief Executive of Public Health England from 2012 to 2020. Prior to this Duncan was Chief Executive of Brighton and Sussex University Hospitals, the regional teaching hospital for the south east of England.
From 2003 to 2007 Duncan was the Director General of Programmes and Performance for the NHS and subsequently its first Director General of Commissioning. Previously, he was Chief Executive of South East London Strategic Health Authority and before that Chief Executive of the South West London and St George's Mental Health NHS Trust.
Professor Steve Olivier, Principal and Vice-Chancellor of RGU, comments: "Protecting and improving public health is critically important, particularly at this time, and Duncan has made a tremendous contribution to healthcare systems here in the UK, as well as further afield during his career spanning four decades.
"Bestowing Duncan with an honorary degree is testament to his leadership in advancing public health and the importance we place as a University on working in partnership with the health and social care sectors to equip its workforce with the knowledge and skills to deliver vital healthcare and protect the health of the nation."