Sacha Sivers-Stewart, Mechanical and Offshore Engineering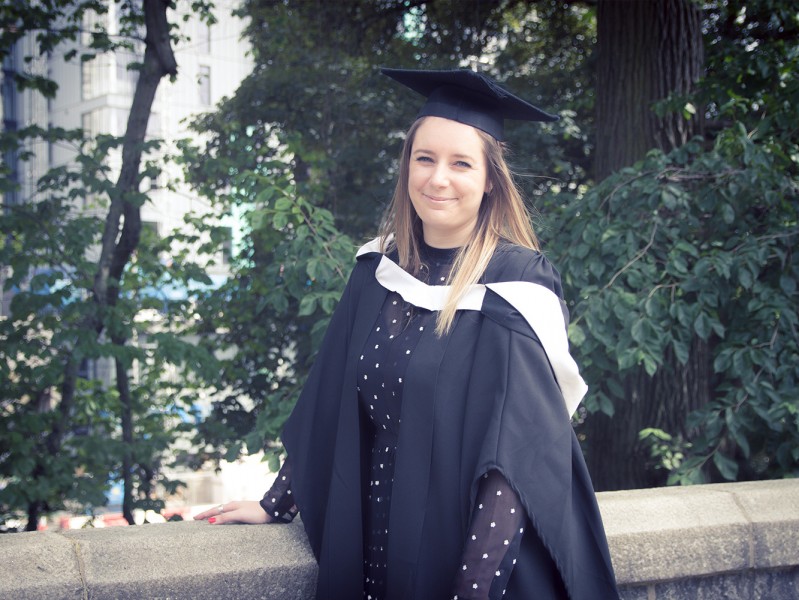 After achieving a degree at RGU, Sacha is following her in grandfather's and father's footsteps by pursuing a career in engineering.
She graduates with a degree in Mechanical and Offshore Engineering from the School of Engineering at a ceremony held on Friday 12 July.
Sacha studied at North East Scotland College (NESCol) and then transitioned to RGU through the Degree Link programme, where she juggled her studies with working full-time at Aker Solutions.
"I am over the moon that all of my time and effort has paid off," said Sacha. "It was my grandfather, a systems engineer, and my father, an electrical engineer, who encouraged and inspired me to follow a path in engineering. I had just started working at Aker Solutions, the same company my grandfather worked for, as a Mailroom Assistant when I decided to further my career by progressing my education.
"I started this journey six years ago at college where I studied through part-time evening classes, then I moved to RGU to study for my degree part-time. The flexibility that part-time study offered allowed me to successfully juggle my full-time career at Aker Solutions with my course. I was able to work my way up the career ladder at the company from Mailroom Assistant, to Receptionist, to Technical Assistant, and then to Support Engineer, which is my current role. My goal now is to work my way into the role of a Mechanical Engineer."
Sacha credits the immense support she received from family, friends, lecturers, fellow students and, Aker Solutions as fundamental to helping her achieve this result.
"Aker Solutions were particularly supportive. When I was made staff during my HND the company funded the rest of my studies which helped me to complete my degree. Sadly, my grandfather passed away three years ago so completing this journey means a lot to me, I'm really proud that I've been able to achieve this goal."
Kenny Moir is the Lead Engineer for Modules at Aker Solutions, and also Sacha's line manager: "Some of the attributes that it takes to be a great engineer are logical thinking and reasoning, communication skills, attention to detail, being a team player, problem solving, and having a natural curiosity. Sacha possess these qualities in abundance, her tenacity and hard work will surely cement a great career in engineering. Aker Solutions and the Engineering team are proud to continue being part of that journey."