Kara Gill, Fashion and Textile Design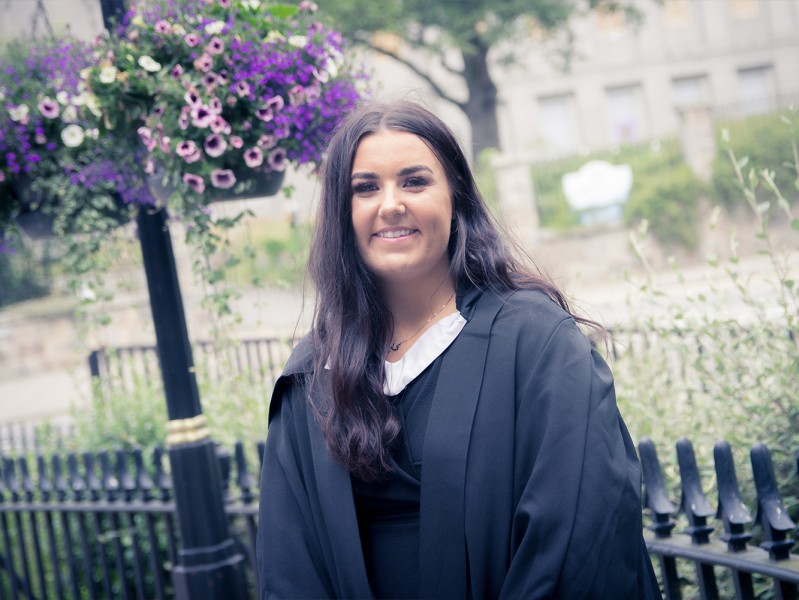 Talented and creative student, Kara Gill, is set to enter the world of fashion after graduating with a first class honours degree at the RGU ceremony on Friday (July 12).
Kara (21), who is from Elgin, has spent the last four years honing her craft on the Fashion and Textile Design course at Gray's School of Art, after excelling in art at Milne's High School in Fochabers.
"My favourite subject and most successful during school was always art, so I knew I wanted to do something creative", Kara said.
"I came for an open night at RGU to get some background knowledge of the different courses the art school had to offer. I decided to pick fashion and textiles, although this was a bit of a gamble as I really wasn't sure what to expect.
"However, after the four years I have developed my own design aesthetic and style and feel comfortable in knowing what kind of career I want."
Throughout her time at university, Kara has made full use of RGU's Employability Hub, which provides careers support and advice for all students as they prepare to embark on their careers.
"I regularly met with my careers advisor, Lorraine Amies, who has shown me all the possibilities I have after graduation and we look at job advertisements and tailor my CV to their job requirements, as well as helping me improve my CV along the way. My careers advisor helps keep me motivated and enthusiastic about job hunting and we've built a good relationship.
"We had employability lectures and a Personal and Professional Development (PPD) module to complete as part of our course work which was all about next steps and the perfect CV.
"We also have the chance to arrange appointments to speak about our future careers and opportunities with our careers advisors. For me the careers advisors have helped and my tutors at Gray's are constantly emailing us with job opportunities and internships."
Among the many highlights of her time at RGU, Kara took advantage of the Erasmus Study Abroad programme, which allows students to travel to other countries and spend a term studying at partner institutions.
"During my third year I took part in study abroad and went to Germany for seven months. This was such a good experience and interesting to see and learn at a different university where they do things totally different.
"It was a great opportunity to network and try and learn another language and has really helped in both my personal and professional development."
Looking back over her last four years at RGU, Kara believes the experience has been one which stands her in good stead for the next chapter.
"I definitely chose to do the right thing by coming to RGU. Although it's been challenging at times, coming out with a 1st has topped off my whole experience and I've made friends for life. I couldn't fault my time at university, academically and socially, it has been the fastest four years of my life.
The highlights of the course and studying at Gray's is definitely the sense of community around the art school. I have had a lot of one-to-one time with my tutors, Keith Gray, Alan Gallacher and Colin Bell, which you won't get anywhere else, and I've built a good bond with them all."