Jennifer and Robert Conlan, Mechanical and Offshore Engineering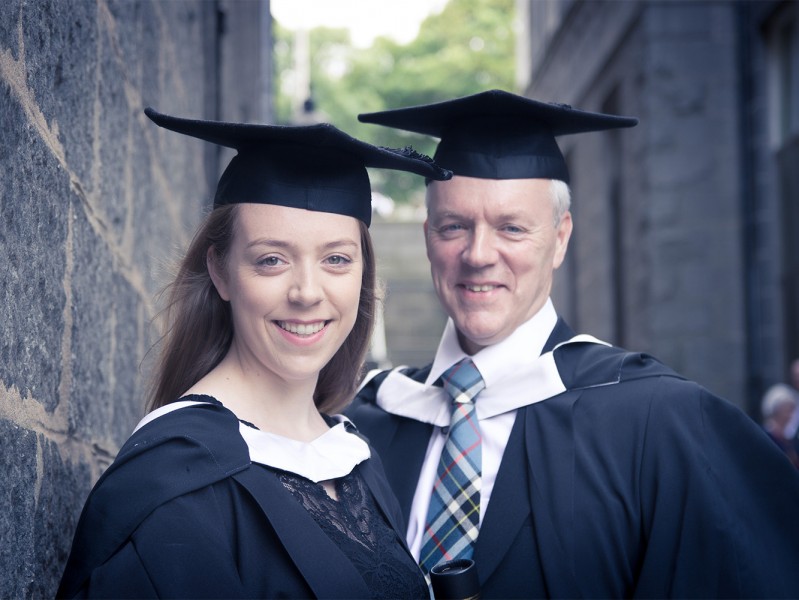 After years of studying and working together, father and daughter duo, Jennifer and Robert Conlan, celebrate after securing degrees from RGU.
They graduate together each with a degree in Mechanical and Offshore Engineering from the School of Engineering on Friday 12 July.
Both Jennifer and Robert studied for their degrees while working full-time at Subsea 7 as Designers. Jennifer was inspired to move to RGU after completing a HND in Mechanical Engineering at North East Scotland College (NESCol), while Robert had long wanted to achieve a degree however circumstances had never allowed him to do this.
"My son completed the same degree in 2016 and when Jennifer was going to progress to RGU, I thought that if I was ever going to do it, then now would be the time," said Robert. "Juggling studies with full-time employment is not easy but with a bit of determination – and a very supportive wife! – I was able to make this happen. Without a doubt, studying successfully at RGU was made possible due to the way the course is run. I mostly studied and attended lectures in the evenings and with the support of the University's video capture system, I was able to work as normally as possible."
"Studying with Jennifer was really good, we were able to help each other out when needed. We've always had a good relationship, which I think has been strengthened as a result of this experience."
Jennifer completed her degree part-time after taking part in RGU and NESCol's Degree Link programme. Degree Link is designed to make it easier for college students to transition directly into a degree at RGU, without any time loss.
"The course was a lot of hard work and dedication but to achieve a distinction at the end has made it all worth it," said Jennifer. "We would both like to particularly thank Dr Sha Jihan from the School of Engineering, as without him this achievement would not have been possible."
"Now that I have achieved my degree, I have managed to get a transfer within Subsea 7. I will soon progress from a Designer in the Drawing Office to become an Engineer in the Structures Department."
"Studying alongside my dad was a great experience. We were always there to help and support each other throughout, and I can honestly say that there is no one I would rather be graduating with than him."