Honorary - Joyce W. Cairns, DEd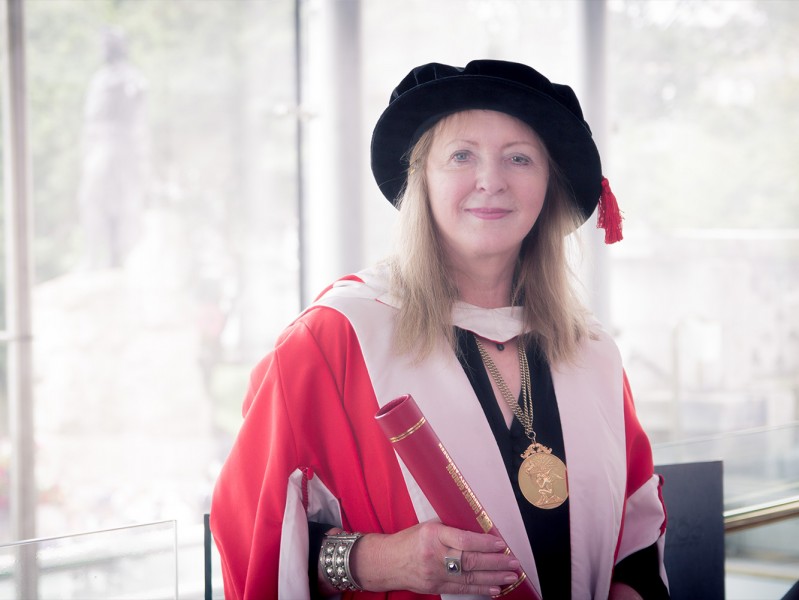 Joyce W. Cairns, renowned Scottish artist and President of the Royal Scottish Academy of Art and Architecture (RSA), has been recognised at the RGU graduation ceremony on Friday, July 12.
Joyce, an alumni of RGU's Gray's School of Art, where she also taught for 28 years, was awarded an honorary Doctor of Education (DEd).
Joyce is widely respected as one of the leading painters of her generation, with her work represented in both private and major public art collections across the United Kingdom and internationally.
She has a passionate interest in arts education and advocacy for the visual arts which has driven her desire to support young and emerging artists through both her many years of teaching and her representation within the Royal Scottish Academy of Art and Architecture, where she currently sits as the first female President.
Joyce has approached the development of her work through mainly autobiographical themes. These are based on memory and family history, woven around the backcloth of the once fishing village of Footdee in Aberdeen where she has lived for over 35 years.
Joyce's work is enjoyed and respected across the globe, and her most recent and significant body of work 'War Tourist' portrays the story of the human spirit, suffering yet triumphant in the face of the inhumanity of war.
RGU Principal, Professor John Harper, commented: "Joyce has achieved so much in the worlds of art and education, and has inspired and encouraged countless students with her passionate and selfless teaching as well as promoting them through her work on various award committees, including the RSA.
"As both an alumna and former member of the teaching staff at RGU, bestowing this honorary degree on Joyce is made even more special given her extremely strong links with our institution."