Anna McLeod, Computing - Application Software Developer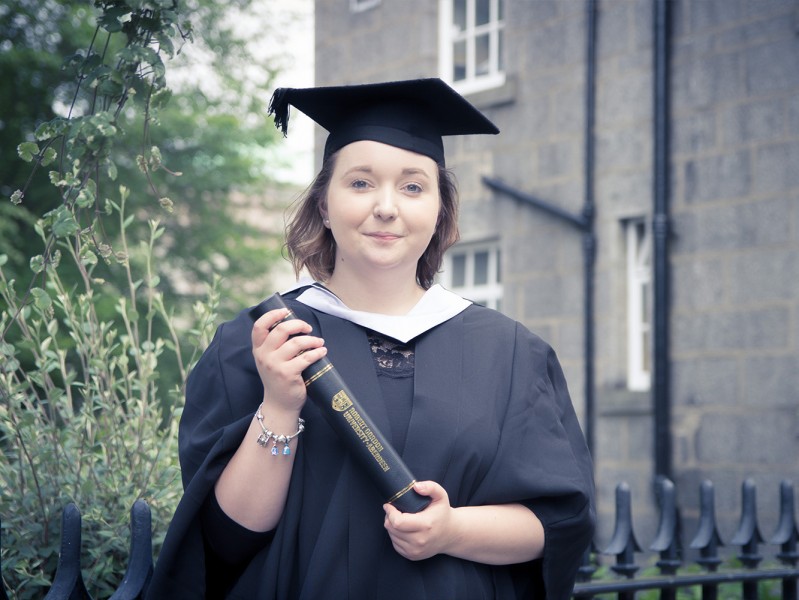 Anna McLeod, a prize-winning software developer from Aberdeen, is celebrating after securing both a degree from RGU and a job with Sword IT Solutions.
She graduates with an Honours degree in Computing – Application Software Development alongside her peers at a ceremony held on Friday 12 July.
After gaining a HND in Software Development from North East Scotland College (NESCol), Anna moved across to RGU to finish her studies through the Degree Link programme. The Computing – Application Software Development degree is designed specifically to meet the requirements of students who have completed a HND at college.
"I am very pleased with my degree," said Anna. "I am particularly proud to be awarded the Frances Morrison Prize for the best Honours project in Information Systems. The aim of my project was to create a mobile app for dog walkers to encourage an increase of exercise for both the human and the animal. I am very thankful to my project supervisor, who was extremely supportive and did everything he could to help me develop my idea into a working application."
"RGU definitely prepared me well to start building my career. It taught me that hard work really does pay off and can result in great opportunities. I was constantly supported throughout my studies by my lecturers which made the experience so enjoyable – their teaching methods have helped me understand what is required of me when approaching new tasks and I think this will help me to navigate any challenges I encounter during my career.
"The course itself built really well upon what I had learned at college, exposing me to a wide range of coding languages that proved to be very beneficial when applying for jobs. The skills I gained throughout are really adaptable and will support me well in a working environment. Additionally, the opportunity to work with real clients throughout the course gave me valuable insights into how businesses operate and what my future career might be like.
"I have thoroughly enjoyed my time at RGU. They say that you make some of your best friends while at university and I can wholeheartedly agree with this. Studying at RGU has allowed me to find my strengths, improve upon my weaknesses, gain the skills necessary to help me advance along my career path, and most importantly, has allowed me to make a lot of truly great friends."
Bill Whibley, Business Unit Director at Sword noted that the team is looking forward to welcome Anna on board: "At Sword, we are always on the look-out for the next generation of IT professionals to help strengthen the business and bring in fresh ideas. We have been working with RGU for many years and recognise the unique skills and knowledge that the graduates bring to the tables. One of the main advantages of working with RGU is that many of the graduates have an understanding of the oil and gas industry and the technology challenges that exist within the sector, which is essential to working with our customers. We are delighted to welcome Anna who will be joining the Energy Services team as Junior Software Developer here in Aberdeen."