Knit It wins national Young Innovators Award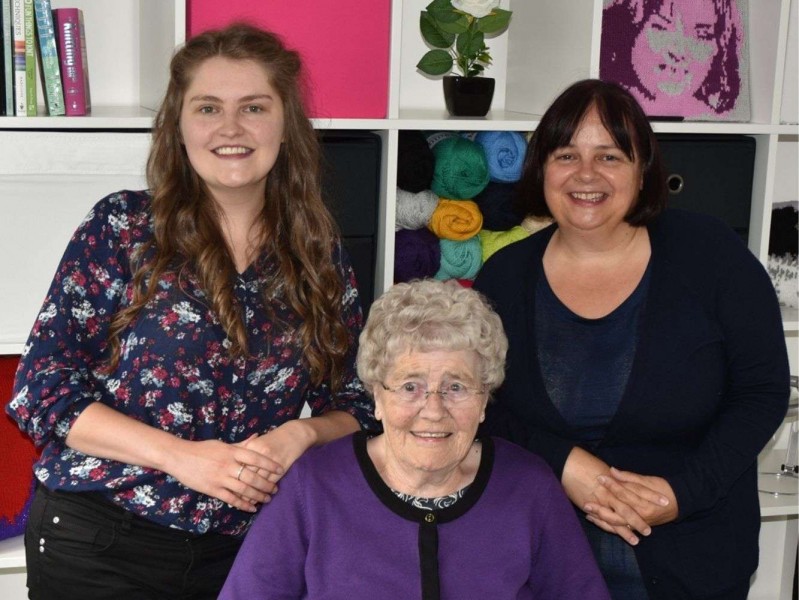 RGU graduate Lucy Fisher who created Knit It with the aims of making knitting easier, more accessible and fun for younger generations has won a national innovation award from Innovate UK.
The Young Innovators Award 2020/21 supported by Innovate UK, KTN, UKRI and the Princes Trust, recognises future leaders in innovation, received 757 applications for the competition are were able to fund 64 projects. Lucy is one of the five successful entrepreneurs from Scotland receiving the award which will provide Knit It with a £5,000 grant and one-on-one coaching and support over the next three years.
The Knit It team consists of Lucy, her Mum and Grandma who founded the business during the first lockdown and who share the same passion for knitting.
Last year, Lucy launched her first product from her online store - a knitting kit that transforms a customer's photo of their loved ones and pets into a knitting pattern, providing them with a kit with all the goodies to knit it. The business has had orders from across the UK as the unique knitting kit is the perfect lockdown pastime that can be enjoyed while staying at home.
With the Young Innovators Award, the three generational business aims to develop a digital platform to reinvent knitting for the future, as well as create unique physical products.
Lucy said: "We want to create a global community of young knitters. We need something to make the hobby more appealing and up to date for the digital generation. Our first product showcases what we can do when mixing technology with knitting.
"We can't wait to use the support from the Young Innovator's Award to develop the Knit It platform which we plan to launch this year."
Chris Moule, Head of Innovation and Entrepreneurship at RGU, said: "This win is a great achievement for Lucy who came through our Startup Accelerator programme with a robust scalable proposition, and the skills and confidence to take it to the next level."
Knit It was also recently announced as the Creative Edge and Young Edge winner at the Scottish EDGE Awards, which is a competition aimed at identifying and supporting Scotland's up-and-coming, innovative, high-growth entrepreneurial talent. This is the third year in a row an RGU start-up has won Young Edge.