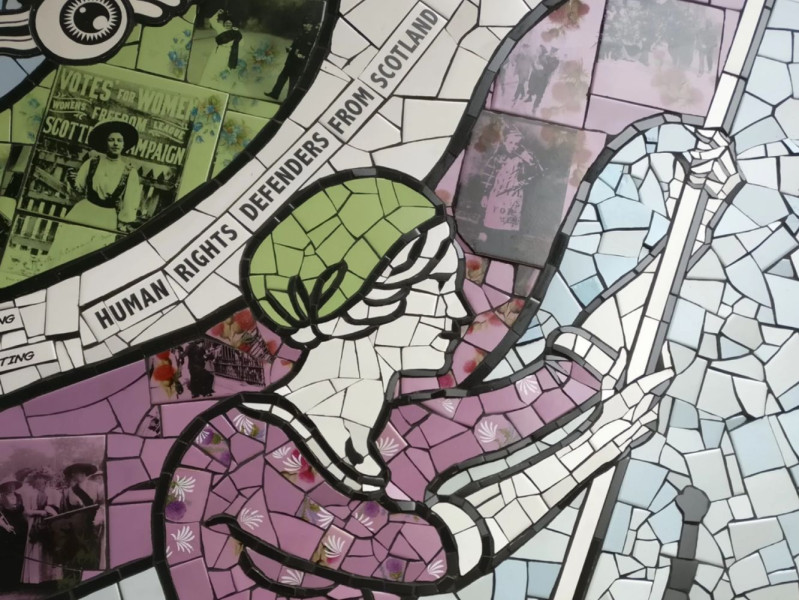 Celebrating North-East women with a call for contributions to Quinepedia
By Lewis Walker - 03 October 2022
As part of the recently launched 2022 Being Human Festival, a team from the School of Creative and Cultural Business, which includes Professors Sarah Pedersen and Peter Reid and Dr Rachael Ironside, are currently working on the construction of Quinepedia – a digital biographical dictionary focused on women in North-East Scotland.
The project has been stimulated by recent discussions in the Press & Journal around the lack of memorials to any women other than Queen Victoria in Aberdeen. While there is a mural by ceramicist-activist Carrie Reichardt in the city centre celebrating local women, there are few other indications of the contributions of women to the region.
Quinepedia therefore aims to contribute to and expand debate around this question, allowing public engagement with wider questions about civic commemoration and the limited amount of commemoration of women.
The Being Human Festival, run in partnership with the Arts and Humanities Research Council and the British Academy, is the only nationwide celebration of the humanities. It will run from November 10-19 and sees over 200 events taking place across the UK. A small amount of funding from the festival, alongside a matched amount from RGU Foundation, has kickstarted the development of Quinepedia which can already be viewed online at www.quinepedia.com.
The funding will also allow the team to put on a series of exciting events in mid-November, during the main festival dates, focusing on Quinepedia and raising awareness of women's contributions to the culture and history of North-East Scotland.
On the morning of Saturday 12 November 2022, story-teller Jackie Ross will tell the tales of some of North-East Scotland's 'weel-kent quines' at Aberdeen Central Library. This session is aimed at 5–12 year-olds. In the afternoon, award-winning playwright Alan Bissett will lead a table reading of his new play A Monstrous Regiment of Women. This focuses on the story of Aberdeen's own suffragette Caroline Phillips, something the team hopes will be of particular interest to local schools and pupils studying Higher History.
On Saturday 19 November, a public debate in the form of a hustings will feature advocates for some of the leading candidates for Quinepedia and aims to raise awareness of the digital dictionary and of a wider campaign for greater female representation in civic memorialisation across the region. This debate will take place in Cowdray Hall in Aberdeen's city centre and will also feature a 'bring your own heritage' event, encouraging people to share documents, letters, newspaper clippings, photographs and other memorabilia.
Are you able to help contribute towards Quinepedia? The team are keen to seek inclusions from the RGU community and would love to hear about who you think ought to be included. The online database aims to cover historical and contemporary women, from the Jacobite Colonel Anne Mackintosh and memoirist Christian Watt to Annie Lennox and Dame Evelyn Glennie. Entries are 800-1,000 words in length with a deadline of 31 October 2022.
If you are interested in contributing to Quinepedia, please email s.pedersen@rgu.ac.uk.