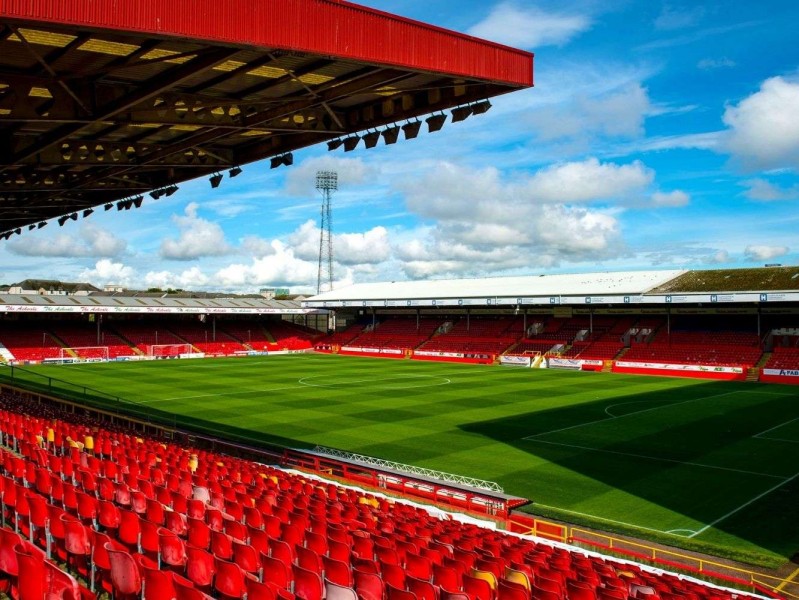 Keep your eye on the ball, follow your passion, ask questions
By Jack Stott - 01 February 2022
RGU Alumnus Liam Clifford was among the first cohort of students to study our BSc honours course on Cyber Security and won the overall course prize for his excellent academic achievements. Upon graduating, he successfully interviewed to become an IT Support Analyst at the very organisation that sponsored his final year prize—Aberdeen Football Club (AFC).
AFC's IT Department aims to provide best-in-class technology solutions to help the club win both on and off the pitch. Development is a key value at AFC, which is why it is an accredited investor in young people and maintains an ongoing partnership with the university.
We caught up with Liam to find out about his experiences of learning with RGU and his exciting role at the club.
What did you win?
I actually won two prizes in my fourth year, but the one that was sponsored by AFC was The BSc Cybersecurity honours year prize, which included £200 in Amazon vouchers and two tickets to a home game of my choice.
Tell us a little about your role at AFC!
It's been brilliant. I'm the IT support analyst. I assist my IT manager and generally help field all of the requests, queries, or issues from any of the staff or the community trust. I'm involved in a bit of everything, from helping deal with security issues that get raised, helping set up new systems, removing old systems—supporting the software and hardware lifecycle. Just basic meetings about getting new things set up, added, and helping people deal with all of that.
No two days are the same. And, I'm pretty sure that every day I've learned something new—five to ten things new. I've even been involved with match days, which is really cool. It's a big thing here, of course, and you really get to understand how much work goes into it because you get to see it happening all the time. For the matches, for all of the systems prior, everything is tested and set for a match day. A lot of systems have to run quite differently than they would day-to-day.
Overall, you get the feel of how everything builds up to a match and the excitement of that. It's brilliant. There's a lot more work than I originally thought goes into a football match—especially from the IT side of things.
So, what originally made you decide to go to university?
Originally, I had no real plan to go to university. I was never a huge fan of it. I was never particularly good in school. I did know that I was a big fan of technology and was always curious about what computers could do.
I went to college in Inverness for three years, and I did a computer science course there. That went really well, and made me go—okay—I really like computing. Let's do more. I realised at that same time that I quite enjoyed the security aspect. I had only done a few modules on cybersecurity here or there, but I really enjoyed them and wanted to do more. When I saw RGU had this big, brand-new course all about cybersecurity—and I'd heard good things about RGU in college—that's when it made sense to go to university for me.
And, what would be your most memorable thing about your time at RGU
It's probably just what I ended up learning. Like I said, I didn't originally plan on going to university when I was growing up. So, I went in as kind of a blank slate, not knowing what to really expect. I came out knowing so much that I would never have gotten outside of uni. I mean, the things I learned, and got access to, and got to be involved with, were just amazing. I would never really have expected to learn as much as I did. It's helped me to get to where I am today.
Obviously, there's everything online you can learn, and all these different ways, but at uni—and specifically at RGU—I would never have even known about half of the things, let alone try and find out about them outside of uni. So, I think, just how much I ended up leaving with was most amazing thing to me—just what I got to learn and get access to was amazing.
So how do you feel your time at RGU has prepared you for your job?
I think, amazingly to be honest. I never really understood it as a student, but I realise now that university gives you the tools to understand and learn. And, I think that's true. They teach you how to learn yourself and how to build upon what you get taught at university.
Obviously, university can only teach you so much but, at the same time, you end up leaving knowing how to do this yourself and to take it further. And, that's one of the things that I ended up learning a lot about at RGU: how to do things independently. I keep topping up my knowledge, learning new things, and expanding into new areas.
What do you know now, having gone to university, that you'd like current students to know? What advice do you have for them?
Ask questions. Definitely ask questions. I was new to the city, everything was brand new. I was internally questioning everything. Should I be doing this? Should I be doing that? Just ask. At the end of the day, RGU and its staff are there for you and you can make thinks a lot easier for yourself just by asking the questions—even simple questions. It's much better than walking around trying to figure it all out yourself.
You may feel that you don't want to waste someone's time, or it's probably a dumb question, or it'll be bad if I ask that. No. You want the help; you're there to learn; they're there to help. Just ask!
Remember, university really is an experience that you can't get from any other aspect of life—from the things that you'll learn, to the things you can do, and the people you can meet. I don't think I'd be nearly as happy or successful as I am now without it. It's really been, kind of, unbelievable. So, make the most of it and ask questions.