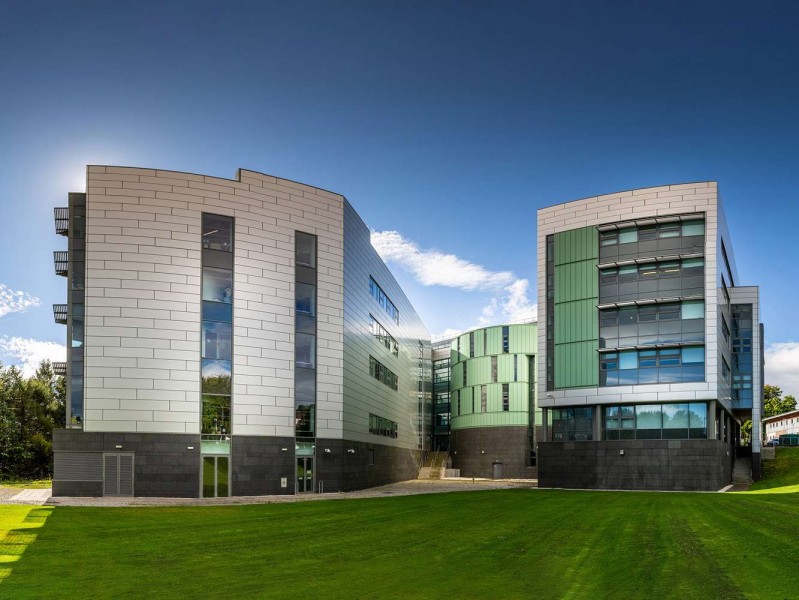 RGU continues to lead the way in producing innovative thinking students through SISA scheme
By Stacey Lynch - 18 June 2021
RGU was the first university to achieve accreditation from the Scottish Innovative Student Award Scheme (SISA) in 2018 and has continued to be sector-leading in its approach to embed innovation across its courses, most recently becoming the first university in Scotland to be awarded SISA self-accreditation status from the Scottish Institute for Enterprise (SIE).
Created by the SIE, SISA allows universities to deliver additional courses which equips students with a forward-thinking and enterprising business skillset.
The university's School of Creative and Cultural Business was the first to receive SISA accreditation and students could complete Level 1 'Future Thinker' while studying. Since then, RGU have gone on to provide students across a number of academic schools with the opportunity to gain the award at one of three levels. Students taking part in the SISA scheme complete three levels which consist of future thinker (Level 1), innovation catalyst (Level 2) and innovation champion (Level 3).
To date 478 RGU students have attained a SISA award with 21 continuing to Level 3, stating it has 'opened their horizons about innovation' and equipped them with the skills to succeed in a real working environment.
Taru Kiiskinen, a fourth year Management with Human Resource Management student, from Finland said SISA exceeded her expectations and she not only learned about innovation but about the whole process and the scheme has equipped her with the skills, knowledge and tools to implement innovations.
She added: "I was interested not only to boost my employability in post-COVID job market, but to learn more about innovation and the process, which I had already developed a keen interest in. I thought SISA would be a great opportunity to learn about innovation, before I undertook my thesis research on the topic.
"SISA exceeded my expectations greatly, as not only I learnt about innovation, I learnt about the process, how not only the past, present and future impact our acceptance towards innovations, but how we need to account for the future users feelings in the process for successful implementation. SISA additionally equipped me with tools that I could use to implement innovations if I would prefer an entrepreneurship path for myself in the future.
"Additionally, I learnt that there is a whole community out there, of like-minded individuals who want to use innovations to build a better world for everyone."
Melina Dimitrova, a 23-year-old Computer Science student from Bulgaria, has recently completed all three SISA levels said the scheme enabled her to explore the United Nation's Sustainable Development Goals and work towards solutions on one of the topics for a better future.
"The experience with SISA opened my horizons about innovation", she said.
"RGU has been an amazing experience for me, being also a foreign student so I got to live and study using English as a foreign language and improving on these skills. The modules selected for the course are very relevant and diverse, we get to experience and learn about all the fields in computer science so we could make the most suitable choice for our career path."
One RGU graduate, Erin Smith, credits SISA for increasing her confidence, networking and innovation skills and has since started up her own videography business – Pink Sphynx Media.
Erin graduated in the summer last year with a degree in Media and completed level 1 as part of her coursework and continued on to levels 2 and 3 to complete the journey.
She said: "Since completing the SISA level 1, 2 and 3 in 2020 I have seen a major increase in my confidence, networking and innovation skills. I believe this programme has helped me become a more adaptable and flexible thinker, allowed me to manage my uncertainty about various ideas and how they can be turned into a more positive decision using evidence and analysis.
"Before graduating I wanted to apply for jobs that involved videography, film and TV or commercial work. But the pandemic and first lockdown made the job market almost non-existent for new graduates. However, since graduating I have started up my own videography business called Pink Sphynx Media which allows me to create commercials, short films and short videos for multiple different clients.
"I believe that my time at RGU has strongly prepared me for the next steps of my career. The university offered multiple opportunities such as: SISA, the study abroad programme and placements. They also provided a course that is both theory and practical based which gave me the opportunity to apply my knowledge in the real world."