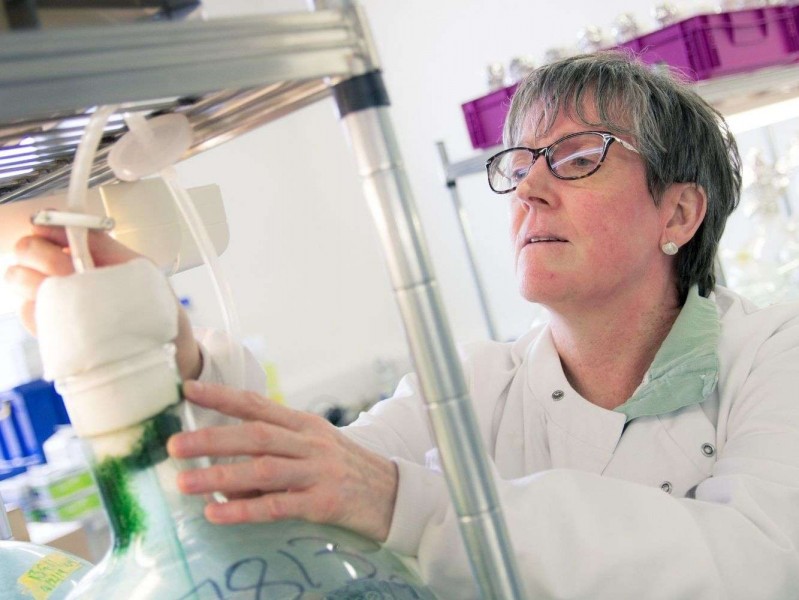 Recognising staff career progression: new RGU professors
By Victoria Cunto - 15 February 2022
RGU appoints five new professors, including a Zone 4 professor, the top level in Scotland.
Professor Linda Lawton from the School of Pharmacy and Life Sciences has received the highest academic distinction following a track record of professional performance and leadership at an international level since gaining Professor status in 2007.
Professor Lawton is an Environmental Microbiologist with over 35 years of experience in the study of toxic cyanobacteria (blue-green algae) and the powerful toxins (cyanotoxins) that they produce in ponds, lakes, and reservoirs. This has led her to develop methods to detect the toxins so that people and animals can be protected.
She also explores new and exciting water treatment approaches to destroy these dangerous compounds before they can enter drinking water with projects based in Brazil and Sri Lanka. In the laboratory, much of her focus is on understanding how the toxins are produced and in mass culture to ensure the supply of purified cyanotoxins to support international research.
The university has also awarded Professor status to five academics in the School of Pharmacy & Life Sciences, School of Nursing and Midwifery and School of Engineering.
Giovanna Bermano | Professor of Metabolic Nutrition | School of Pharmacy & Life Sciences
Professor Giovanna Bermano's research looks at how nutraceuticals - specific nutrients which can be added to different kinds of foods, diets or taken as supplements – can prevent disease and maintain health and wellbeing, with her research also contributing to the food and drink industry. Professor Bermano is currently focused on identifying new nutraceuticals or new sources for them by taking waste products from the food and drink industry, extracting them with new green technologies and screening the extracts for biological activities and antioxidant properties. She is particularly interested in one of the less known nutrients, selenium, which plays a role in the body antioxidant processes, protecting the body from oxidative stress.
Flora Douglas | Professor of Public Health | School of Nursing and Midwifery
Professor Flora Douglas' current research focuses on the impact of food insecurity on health and wellbeing, food practices and health care use in Scotland, with the aim of informing policy and practice. These interests pre-date the COVID pandemic, having led a national study investigating the nature and extent of food insecurity in Scotland in 2014. With a background in public health and ongoing research interest in health inequalities, Prof Douglas works closely with NHS and third sector organisations, and national and international academics in her work.
Nadimul Faisal | Professor of Surface Engineering & Micromechanics | School of Engineering
With a focus in Surface Engineering and Micromechanics, Professor Nadimul Faisal's research interests include metamaterial manufacturing using thermal spray techniques, neutron diffraction residual strain analysis, instrumented mechanical testing of coating materials and structures, acoustic emission (AE) and electrochemical techniques-based corrosion monitoring. Having founded a start-up company, Professor Faisal is also developing advanced multi-modal sensing and wireless communication system for automated airport runway inspection for safe landing decision making.
Mamdud Hossain | Professor of Future Energy Technology | School of Engineering
Professor Mamdud Hossain's research is focused on applying computer simulation to tackle flow-physics problems such as modelling wave energy extraction, water accumulation in fuel cells, and predicting sand deposition and erosion in oil and gas flowlines. Currently, Professor Hossain is investigating aerosols transport among people indoors due to human breathing and talking in order to prevent Covid-19 transmission. In parallel, he is also perusing research in hydrogen production via electrolyser using renewable energy.
Radhakrishna Prabhu | Professor in Smart Sensors and Instrumentation | School of Engineering
Professor Radhakrishna Prabhu has more than 20 years of applied research experience, mainly in the development of sensors & related instrumentation, environmental monitoring, optical imaging, clean technology, renewable energy systems and associated instrumentation, computational modelling and machine learning, medical instrumentation, micro & nanosensors. His current research projects include optical fibre-based smart pipeline monitoring, laser-based biosensing, environmental sensing and underwater imaging, self-sterile masks, and smart instrumentation for efficient energy utilisation.
Celebrating academic staff's achievements
Speaking about the new appointments, Nick Fyfe, Vice-Principal for Research, said: "I would like to add my congratulations to Giovanna, Flora, Mamdud, Faisal and Prabhu on being promoted to Professor. These are outstanding achievements, reflecting the quality and impact of their research, their commitment to teaching, and their wider leadership contribution to the university. They have all made a real difference in their respective fields and have exciting and ambitious plans for the future. They also exemplify how academic staff can build their careers at RGU and be promoted to the highest level, something which, as an institution, we should be very proud of.
"I would also like to extend my congratulations to Linda Lawton, who is an established Professor at RGU but has now been promoted to the highest grade within the professorial scale. This is an outstanding achievement and reflects the world-leading contribution Linda has made in the field of toxic cyanobacteria, environmental issues, and water quality. Her research expertise has been drawn upon by bodies, ranging from the World Health Organisation to the UK and Scottish Governments, and was recently also recognised with a Royal Society of Edinburgh (RSE) Fellowship."