Nursing Studies - For Overseas Qualified Nurses
BSc (Hons)
Apply now and start September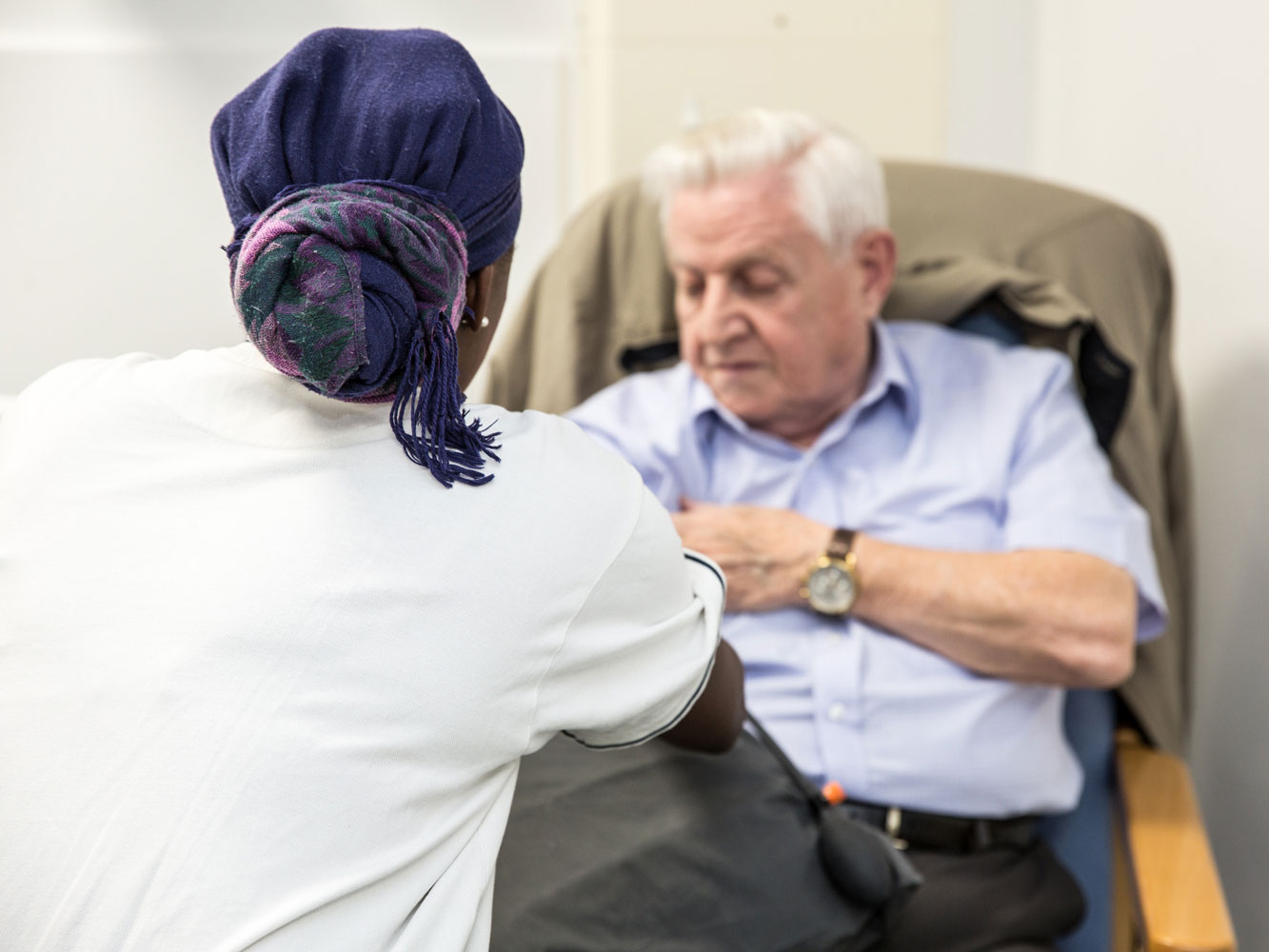 The BSc (Hons) Nursing Studies course provides qualified, registered nurses from around the world with a UK academic qualification in Nursing. You will study on campus in Aberdeen where you will integrate and experience life as a student in the UK during a rich cross-cultural learning experience.
Leadership is a key theme within the course and you have the opportunity while on placement to observe local clinical practice in relation to leading and managing staff, as well as patient care.
You will develop existing clinical skills both in the university and in clinical practice. The skills-based modules will be undertaken in our state-of-the-art clinical skills centre, using simulation and the use of volunteer patients.
The key themes of the course are, science, therapeutic practice, person and family-centred care, skills for safe practice and practice experience.
For the BSc qualification you will study sciences for advanced adult nursing, complex therapeutic interventions, leading managing and research quality, contemporary unscheduled care, as well as a practice experience module.
Continuing to the Honours programme you will study integrated health and social care, leadership, practice experience, an elective module, and a dissertation.
Modules
Modules and delivery order may change for operational purposes. The University regularly reviews its courses. Course content and structure may change over time. See our course and module disclaimer for more information.
Detailed module information
The modules you will study utilise a blended approach to learning i.e. lectures, tutorials, workshops, online learning.
You will use the university's online learning platform, Moodle and learn in the clinical environment during clinical placements.
Assessment will include a range of methods including examinations, essays and computer assisted assessments.
Activity Summary
Lectures - 220 students per group, 6 hours per week
Tutorial - 30 students per group, 6 hours per week
Practical class or workshop - 30 students per group, 6 hours per week
Placement / Work Based Learning - varies on placement, 37.5 hours per week
Independent Study
Self-study time is an important part of your success, including learning in practice settings. The course is delivered face to face in lectures and tutorials as well as online and you will be required to access and complete all elements. You will be considered adult learners who need strong organisation and self-direction skills.
STAFF DELIVERING ON THIS COURSE
A large percentage of the Lecturers who teach on this course are qualified Nurses. They have a wide-range of experience from varied healthcare settings. They also have educational and research experience. The School has strong links with industry practice and some of the teaching will be undertaken by nursing and healthcare staff who work locally. We also have E-learning Advisors who support all our teaching and learning activities.
Assessment
Typically students are assessed each year:
Year 1
1 written exam, typically for 2.5 hours
3 written assignments, including essays
1 project output
1 practical skills assessment
Year 2
1 written exam, typically for 2.5 hours
3 written assignments, including essays
1 project output
1 practical skills assessment
Feedback
We aim to provide you with feedback within 20 working days of hand-in for all written exams, coursework and practical exams.
---
ACADEMIC SUPPORT
The Disability & Dyslexia Centre advises and supports students who disclose a sensory or mobility impairment, chronic medical condition, mental health issue, dyslexia and other specific learning differences. Applicants are encouraged to arrange a pre-entry visit to discuss any concerns and to view the facilities.
ONLINE LEARNING & SUPPORT
All undergraduate and postgraduate students, whether you are learning on-campus or by online distance learning, benefit from using our collaborative virtual learning environment, CampusMoodle. You will be provided with 24/7 online access to your learning material and resources, along with the ability to interact with your class members and tutors for discussion and support.
STUDY SKILLS SUPPORT
The Study Support Team provides training and support to all students in:
Academic writing
Study skills (note taking, exam techniques, time management, presentation)
Maths and statistics
English language
Information technology support
Library Support
The Library offers support for your course, including the books, eBooks, and journals you will need. We also offer online reading lists for many modules, workshops and drop-ins on searching skills and referencing, and much more.
Placements
You will undertake a clinical placement in each year of the course. These placements will be in a range of clinical environments for example Accident and Emergency (A+E), acute surgical and medical and community areas. This will provide you with an excellent insight into nursing practice in the UK.
Applicants must satisfy the university's general admission requirements for undergraduate and postgraduate courses as contained in
Academic Regulation A2: Admission
, including proficiency to a minimum standard in the English language.
Specific entry requirements for Bachelor of Science Nursing (Honours) Award
additional entry requirements
Students from outwith the United Kingdom must provide overseas criminal record clearance from their home country. Students must also provide a 5 year address history and if this shows that they have been out of their home country for 13 weeks or more they will be required to obtain overseas criminal record clearance from the country they have been in.
All applicants who accept a place on the course are subject to an occupational health assessment. Applicants who declare a health condition or a disability will be assessed as appropriate, through the occupational health provider and/or the university disability advisor in relation to the compatibility of the applicant's condition to nursing practice, with a view to reasonable adjustments being made where feasible.
An offer of a place on the course is conditional on the applicant's carrier immune status for specific infectious diseases being acceptable e.g. Hepatitis B and TB.
English Language Requirements
Applicants whose first language is not English should have an IELTS of 6.0 overall, with no component lower than 6.0, or an equivalent.
We accept a variety of in-country and secure English language tests, find out more:
Our Pre-Sessional English Programme (PSP) is available for students who have not yet reached the required English level and those who would like to improve their language competency.
Pre-Sessional English Programme at RGU
Please note, some courses may require a higher standard of English than stated in this page. Contact
admissions@rgu.ac.uk
for further information.
FOR ACADEMIC YEAR 2019/2020
International Students
£13,670 per academic year
Additional Costs
The following course-related costs are not included in the course fees:
The cost of books that you may wish to purchase.
Costs associated with your placement / study abroad
Approximately £65 for uniforms (including polo shirt for clinical skills)
Approximately £300 to £500 for occupational health checks. Actual cost will depend on the immunisations required.
£52 for Protecting Vulnerable Group (PVG) check
Disclaimer
For new intakes course fees are reviewed and published annually for each mode of delivery. Tuition fees are fixed for the duration of a course at the rate confirmed in the offer letter. For further information see:
Have a question about the course? Get in touch with our Student Admissions Team and we'll do our best to help.
+44 (0) 1224 262728
Accreditation
NB This course does not qualify you for registration with the Nursing and Midwifery Council (NMC) in the UK. You must be registered with the NMC to work as a nurse in the UK.
Taking this course, you will have access to some of the world's best facilities.
We've invested more than £100 million in the development of our campus, new facilities and new resources.
University Wide Facilities
Apply
Applicants from non-EU countries can apply direct to the University with our PDF form.