Paramedic Practice: Remote & Hazardous Environments
BSc | DipHE | CertHE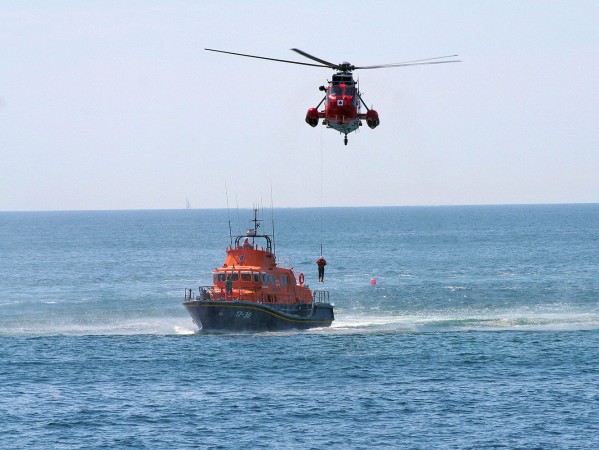 This course has been designed by Outreach Rescue Medic Skills (ORMS) and Robert Gordon University (RGU) for Emergency Medical Service (EMS) workers who, while working in a clinical role and are unable to study full-time, can achieve the necessary qualification to apply to the HCPC for registration as a Paramedic.
This course will give you the skills and competence to practice paramedic care and lead in the most challenging environments and circumstances including remote and hazardous situations. It will help you to develop academic skills, clinical practice and leadership principles to use today and throughout your future career; whether you choose to apply for registration with the HCPC as a Paramedic on completion of the DipHE, or continue and complete the BSc.
Years 1 & 2 (Stage 1)
During this stage, knowledge of working within the health sector and the foundations of anatomy, physiology, and pathology and professional skills will be integrated with key Paramedic skills.
You will develop your Paramedic assessment and treatment skills and explore the interrelationships between allied rescue agencies and how to work within these structures effectively. Clinical placements are undertaken to reinforce these skills and link theory to practice.
Years 3 & 4 (Stage 2)
Acute management of ill and injured patients is developed further, alongside the inclusion of invasive procedures to promote positive outcomes when managing these patients. You are consistently challenged to consider the pragmatics of care delivery by comparing care delivery between 'Remote', 'Hazardous' and 'Domestic' environments.
The use of research to support and underpin practice is developed further encouraging development of clinical reasoning skills. Further two clinical placements are undertaken to reinforce the necessary knowledge and skills required for qualification.
Successful completion of Stage 2 (award of Diploma of HE) means that you can become eligible to apply for registration with the HCPC.
Years 5 & 6 (Stage 3)
The emphasis in your final stage relates to evidence-based management of 'Hazardous' environments, effective performance in disasters and the academic skills necessary for the management of these circumstances.
In conjunction with understanding key issues relating to policies and interagency team working, improving practice is explored (incorporating critical evaluation of practice) aiming to further develop your Paramedic skills for delivery of care in these more extreme environments.
Your final clinical placements allow development and refinement of the required treatment and management skills.
Modules
Modules and delivery order may change for operational purposes. The University regularly reviews its courses. Course content and structure may change over time. See our course and module disclaimer for more information.
The course is delivered online and face to face. The face to face activities are facilitated in the ORMS centre in North Wales. ORMS and RGU facilitate the delivery of this course together through blended learning, self-directed, face-to-face attended lessons and academic written work. You will also undertake a variety of key practice-based periods in specific clinical environments as well as in your employer/sponsor's normal operational environment.
The face-to-face components of the course are based on 30-hour-blocks during a five-day week at the ORMS site in Bangor, North Wales. Attendance is required to meet all elements of the face-to-face sessions especially as this contact time will be used to develop clinical skills through the use of simulation.
Activity Summary
Lectures - 15 students per group, 30 hours, 1 week per semester
Seminars - 15 students per group, hours vary
Webinar - 15 students per group, hours vary
Tutorial - 1 student per group, as required, 1 per semester
Project Supervision - 15 students per group, 40 hours per year for final project
Demonstration - 8 students per group, hours vary per taught element
Practical class or workshop - 8 students per group, hours vary per taught element
Independent Study - 80 hours per semester
Placement / Work Based Learning - 1 students per group, 750 hours per year on operational placements
Independent Study
Self-study time is an important part of your success, including learning in practice settings. You will need strong organisation and self-direction skills. Most of your independent study will comprise research and investigation as part of the taught components of the course.
STAFF DELIVERING ON THIS COURSE
Your Module Coordinator, Tim Roberts, is a graduate Paramedic with experience of delivering high quality education and training to Paramedics,from the domestic (NHS), commercial and Search and Rescue settings. He is also the Course Leader and the Education Director of ORMS.
Most of the course will be delivered in an online format by ORMS personnel. This will include experienced Paramedics, alongside medical staff, Nurses and Midwives. The face-to-face content of the course will be delivered by ORMS in Bangor, North Wales, where there is a bespoke site with facilities to allow you to experience the challenges faced when working at height, in enclosed spaces and in water.
Assessment
Typically students are assessed each year:
Year 1
1 set exercise
2 practical skills assessments
Year 2
1 written exam
1 written assignment, including essay
1 set exercise
1 practical skills assessment
Year 3
3 written assignments, including essays
3 practical skills assessments
Year 4
1 report
1 oral assessment
3 practical skills assessments
Year 5
1 written assignment, including essay
1 project output
2 practical skills assessments
Year 6
1 report
1 project output
1 oral assessment
1 practical skills assessment
Feedback
We aim to provide you with feedback within 20 working days of hand-in for all written exams, coursework and practical exams.
---
ACADEMIC SUPPORT
The Inclusion Centre advises and supports students who disclose a sensory or mobility impairment, chronic medical condition, mental health issue, dyslexia and other specific learning differences. Applicants are encouraged to arrange a pre-entry visit to discuss any concerns and to view the facilities.
ONLINE LEARNING & SUPPORT
All undergraduate and postgraduate students, whether you are learning on-campus or by online distance learning, benefit from using our collaborative virtual learning environment, CampusMoodle. You will be provided with 24/7 online access to your learning material and resources, along with the ability to interact with your class members and tutors for discussion and support.
STUDY SKILLS SUPPORT
The Study Support Team provides training and support to all students in:
Academic writing
Study skills (note taking, exam techniques, time management, presentation)
Maths and statistics
English language
Information technology support
Library Support
The Library offers support for your course, including the books, eBooks, and journals you will need. We also offer online reading lists for many modules, workshops and drop-ins on searching skills and referencing, and much more.
Placements
Practice placements are an integral part of the programme and you will spend significant time in your employer or sponsors' normal operational environment.
The sponsoring organisation is the organisation where you will be completing your Ongoing Record of Achievement (ORA), with a Practice Educator (PEd). The Sponsoring Organisation may or may not be your employer.
Job Prospects
Successful completion of stages one and two will make you eligible to apply for HCPC registration as a Paramedic. From there, you can choose to enter stage three and work towards obtaining a degree, which will give you skills and knowledge in the area of remote and hazardous environments.
Is Paramedic Practice: Remote & Hazardous Environments a good career choice?
Your enhanced skills and knowledge gained will make you a very valuable member of the paramedic team, thereby increasing your employability.
For admission to the course applicants must normally possess:
5 GCSEs (including English, mathematics and/or a science) plus at least 2 A' levels or equivalent qualifications.
Equivalent overseas qualifications, SQA, BTEC and access programmes will be considered on a case by case basis
Admissions Process
The first stage of the application process is to fill out the online application form:
During this process, applicants must evidence:
ability to meet the academic requirements of the course, and in addition, demonstrate;
genuine insight into the role of a Paramedic, and
communication, team working and interpersonal skills.
Students with the required entry qualifications will then be invited to attend an assessment and selection day, held at the ORMS centre in Wales. The selection process enables the recruitment team to assess applicants for various attributes required for the role of Paramedic. Applicants will engage in a number of physical activities to assess abilities in communication, working to specific parameters and as a team member.
Upon completion of the assessment and selection day with ORMS, successful candidates will be invited to complete the RGU application form for the programme.
A satisfactory disclosure clearance and Occupational Health clearance will be required, ideally presented at the selection day, however, any subsequent offer made by ORMS and RGU would be subject to meeting this requirement. In addition, if currently employed, a signed agreement between student and employer and educational institution would be required.
The documents below are in addition to the standard RGU Policies and Procedures applicable to all applicants and students:
Questions about the application should be directed to: enquiries@orms247.co.uk
ENGLISH LANGUAGE REQUIREMENTS
Applicants whose first language is not English should have an IELTS of 7.0 overall, with no component lower than 6.5, or an equivalent.
We accept a variety of in-country and secure English language tests, find out more
Our Pre-Sessional English Programme (PSP) is available for students who have not yet reached the required English level and those who would like to improve their language competency.
PRE-SESSIONAL ENGLISH PROGRAMME AT RGU
Please note, some courses may require a higher standard of English than stated in this page. Contact admissions@rgu.ac.uk for further information.
For Students commencing Academic Year 2019/2020
The course cost is £4,400 per year (60 credits)
FOR STUDENTS COMMENCING ACADEMIC YEAR 2020/2021
To be confirmed.
Additional Costs
The following course-related costs are not included in the course fees:
The cost of books that you may wish to purchase.
Costs associated with your placement / study abroad
The programme requires you to attend face-to-face sessions at the ORMS facilities. You are responsible for the payment of your own travel, accommodation and subsistence for this aspect of the course. In addition, you will be expected to travel as part of placements. Any expenses incurred due to travel, accommodation and subsistence is your responsibility and will not be reimbursed by ORMS or RGU. You or your employer (or the sponsoring organisation) are responsible for all expenses incurred by you during clinical and practice placements.
Alumni Discount
Robert Gordon University is delighted to offer a 20% loyalty discount on course fees for all alumni who have graduated from RGU.
Student Funding
Postgraduate students will normally make their own arrangements for payment of fees. However, there are a limited number of SAAS funded places on certain postgraduate courses.
There are also sources of funding that are applicable to categories of student.
Postgraduate Students' Funding
Scholarships and Financial Awards
You may also qualify for a scholarship or financial award:
SCHOLARSHIPS AND FINANCIAL AWARDS
DISCLAIMER
For new intakes course fees are reviewed and published annually for each mode of delivery. Tuition fees are fixed for the duration of a course at the rate confirmed in the offer letter. For further information see:
Have a question about the course? Get in touch with our Student Admissions Team and we'll do our best to help.
+44 (0) 1224 262728
The interaction and relation to Paramedic Practice demonstrated by the lecturing staff was excellent.
Accreditation
The course is accredited by the Health & Care Professions Council (HCPC) up to completion of Stage 2 (Diploma of HE).

Taking this course, you will have access to some of the world's best facilities.
We've invested more than £100 million in the development of our campus, new facilities and new resources.
University Wide Facilities
Apply
---
The university has moved to home teaching and working following official COVID-19 guidance from the Scottish Government. Our staff will continue to process applications and respond to enquiries about your course during this time.
---
Apply directly to ORMS through completing the online form