Portfolio Plus
Short Course - Foundation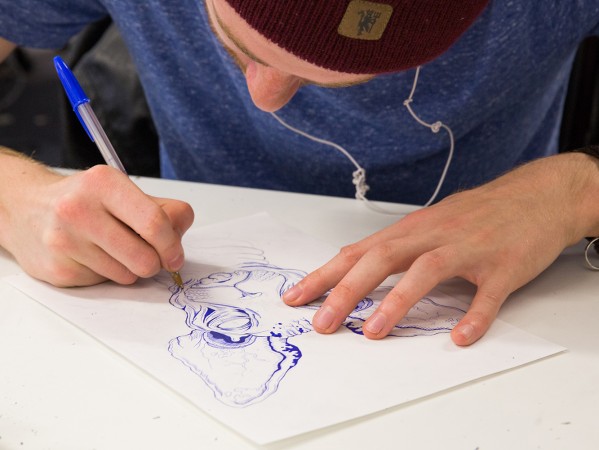 This course is specifically tailored to provide guidance and instruction on preparing a portfolio for application to full time Art and Design courses.
PLUS offers extended studio time in addition to the standard Portfolio Building course, including specialised weekend workshops:
Weekend Sketchbook Workshop
Weekend Mixed Media Workshop
Weekend Life Drawing Workshop
Weekend 3D workshop
You will have the opportunity to explore and develop their skills within a variety of practical disciplines.
Choosing the right course
Support with personal statement and reference
Research methods, development of ideas
Sketchbook preparation
Problem solving
Portfolio preparation and presentation
Digital portfolio advice
Interview skills
Individual guidance on student portfolios will be given and exemplar folios will be available to illustrate content and quality of portfolio submissions.
You will develop a range of meaningful sketchbooks, vital to a successful portfolio. You should be aware that the class will provide guidance and processes to support your folio development, with the understanding that you create further outcomes in your own time through private study.
You will experience working directly from the artist's life model to raise the overall standard of their observational drawing and compositional skills.
Disclaimer
The University regularly reviews its courses. Course content and structure may change over time. See our course and module disclaimer for more information.
Studio equipment: easels, trestles, and drawing-boards will be provided.
Students must provide their own drawing materials. A suggested materials list will be issued with booking confirmation. Paper for exhibiting purposes will be provided in week 16. A life model is provided during the course.
You will build on your existing knowledge and understanding of art practice through integrated class talks demonstrations, individual/group discussion and studio-based practice.
You are taught by specialist staff who will offer practical advice and instruction together with personal encouragement in discovering individual creative skills. You will receive general instruction and one-to-one tuition tailored to suit your personal level of experience and ability.
A complete health and safety induction will take place on commencement of the course.
---
SUPPORT
Students are encouraged to inform us at the time of enrolment of information relating to a disability, medical condition or specific learning difficulty.
The Disability & Dyslexia Centre advises and supports students who disclose a sensory or mobility impairment, chronic medical condition, mental health issue, dyslexia and other specific learning differences. Applicants with profound physical or sensory disabilities are encouraged to arrange a pre-entry visit to discuss any concerns and to view the facilities.
The Study Support Team provides training and support to all students in academic writing, study skills, maths and statistics, English language and information technology.
Students should have appropriate qualifications pending for entry to their chosen degree courses.
Required Age
All students are required to be at least 16 years of age on the commencement of course excluding the Young Artist programmes.
Course fee: £450
Refunds
A refund is only applicable where there has been illness with a medical certificate to support it.
Student ID Cards
Students enrolled on a 40/60 hour Short Course are eligible for student discounted rates around the city and at our Gray's School of Art Materials Shop. Find out more:
Gray's School of Art Materials Shop
Located within the Gray's building, the Art Materials Shop stocks a wide range of specialist materials, papers and equipment for all kinds of creative ventures. Open to all, both student and non-student, with very competitive prices, the staff are on hand and happy to help. Open between 9am-3.30pm Monday to Friday and a selection of dates over each semester to accommodate the Short Course students.
Staff appreciate many Short Course students are busy through the day, so they are happy to take phone orders that can be collected from reception at a later/more convenient time for students.
Gray's School of Art Materials Shop
Disclaimer
For new intakes course fees are reviewed and published annually for each mode of delivery. Tuition fees are fixed for the duration of a course at the rate confirmed in the offer letter. For further information see:
Have a question about the course? Get in touch with the Gray's Short Course Team and we'll do our best to help.
Taking this course, you will have access to some of the world's best facilities.
We've invested more than £100 million in the development of our campus, new facilities and new resources.
University Wide Facilities
Apply
Apply direct to the university using our online application form. 
Successful enrolment will be confirmed by email.
Have a question about the course? Get in touch with the Gray's Short Course Team and we'll do our best to help.