Figure School
Short Course - All levels EXTRA - 4 Day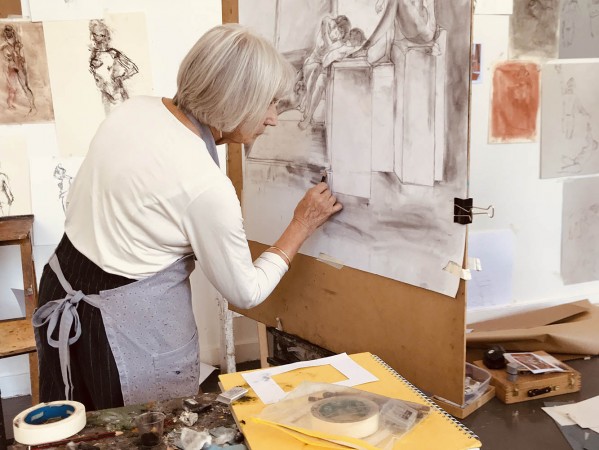 An opportunity to spend 4 days of concentrated study, working from the human form in the drawing studios of Gray's School of Art.
You will be encouraged to examine your current approach to life study and respond to a compositional dialogue that will be created of the figure in space.
Over the four days the model environment will be gently redesigned, manipulated and altered in order to encourage a dynamic and stimulating approach to figure study.
Using a variety of materials this course will address traditional & experimental life drawing techniques, enabling the challenge of artistic abilities & boundaries with like-minded fellow artists and support from experienced tutors. You may draw or paint your final outcome.
You will be encouraged to share your study of the human form to the group, exchange ideas, as well as critique your practice and creative investigations during the course.
Professional models will present a structured series of poses specifically tailored to practise intuitive, analytical and investigative observational process suitable for drawing and painting outcomes.
Disclaimer
The University regularly reviews its courses. Course content and structure may change over time. See our course and module disclaimer for more information.
Students are welcome to bring any art materials they wish to support their drawing practice with.
Studio equipment: easels, trestles, and drawing-boards will be provided.
Basic drawing materials will be provided: Paper support, graphite, charcoal, ink etc.
A complete health and safety induction will take place on commencement of the course.
Assessment
There is no formal assessment on this course.
---
Academic Support
The Disability & Dyslexia Centre advises and supports students who disclose a sensory or mobility impairment, chronic medical condition, mental health issue, dyslexia and other specific learning differences. Applicants are encouraged to arrange a pre-entry visit to discuss any concerns and to view the facilities.
Study Skills Support
The Study Support Team provides training and support to all students in:
Academic writing
Study skills (note taking, exam techniques, time management, presentation)
Maths and statistics
English language
Information technology support
Tailored to you. Open to participants wishing to revisit or maintain their figure & life drawing practice or beginners seeking advice and improvement. This course will also be of particular interest to portfolio builders, existing students and practicing artists wishing to further develop their life drawing skills with a concentrated period of study. Tuition will be tailored to participants on an individual basis.
All students are required to be at least 16 years of age on the commencement of the course.
Course fee: £330
(Life model provided all day. Includes basic drawing materials.)
Refunds
A refund is only applicable where there has been illness with a medical certificate to support it.
Disclaimer
For new intakes course fees are reviewed and published annually for each mode of delivery. Tuition fees are fixed for the duration of a course at the rate confirmed in the offer letter. For further information see:
Have a question about the course? Get in touch with the Gray's Short Course Team and we'll do our best to help.
Taking this course, you will have access to some of the world's best facilities.
We've invested more than £100 million in the development of our campus, new facilities and new resources.
University Wide Facilities
Apply
Apply direct to the university using our online application form. 
Successful enrolment will be confirmed by email.
Have a question about the course? Get in touch with the Gray's Short Course Team and we'll do our best to help.