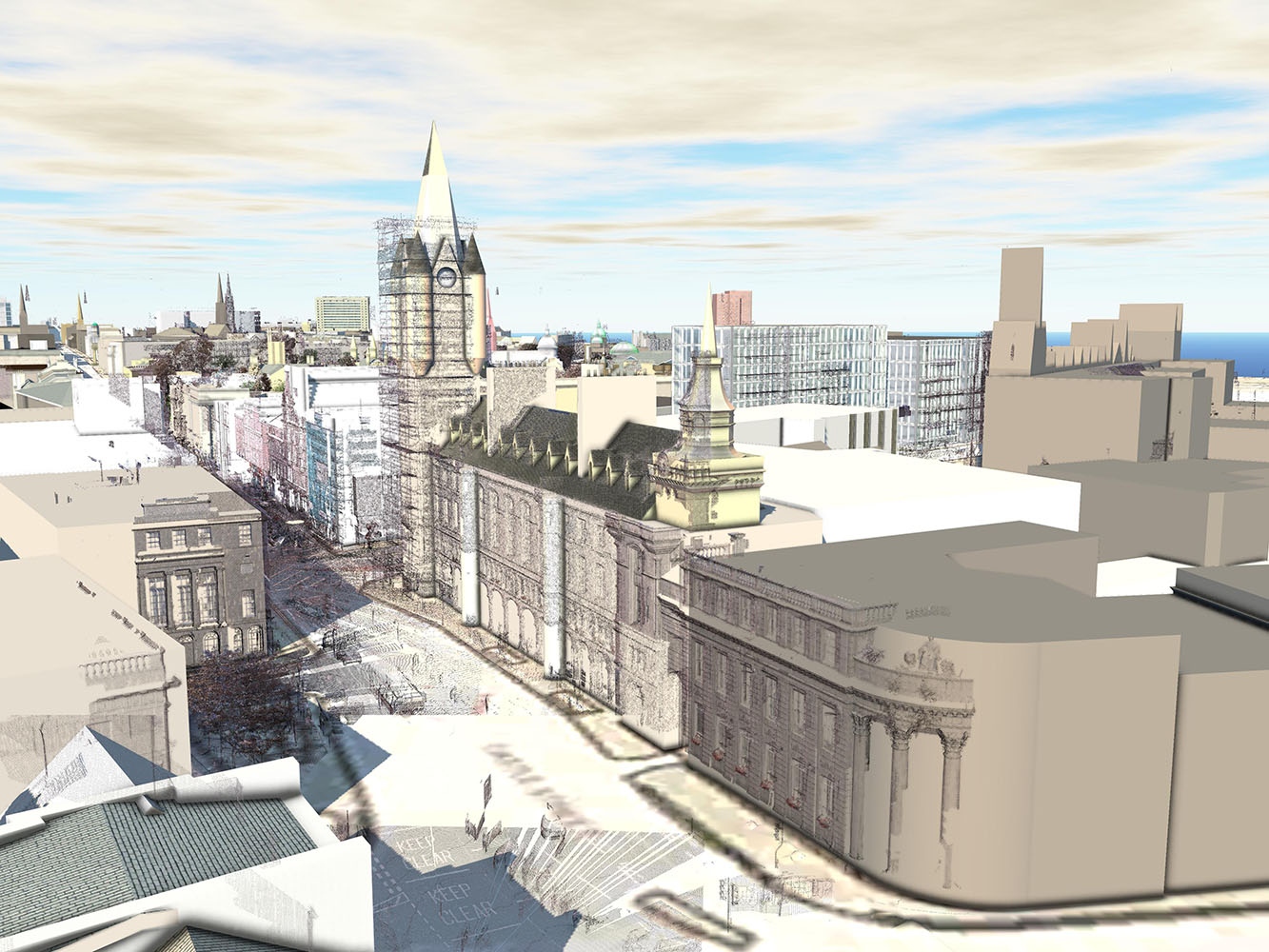 This course places a focus on the transformative challenges facing the industry, with the aim of equipping qualified graduates and practitioners with the technical and managerial skills, as well as the strategic knowledge required to deal with the short term transition and long term transformation of managing construction projects within a global digital economy.
The curriculum of the MSc has been designed to address the latest developments and challenges in this field nationally and worldwide.
The concepts of technical, operational and strategic BIM have been identified as the best fit for the construction industry to develop skills and expertise in BIM through education and training. These concepts have been used to underpin the development of the module content and associated professional skills included in this course's curriculum.
Year 1
First year modules will allow you to develop a deep understanding of Building Information Modelling and Design management concepts, their implications for design, construction and collaboration, and the ways in which they will affect your discipline area and working practice in the future. You will develop the research skills and methodologies to underpin your final dissertation project in Year 3.
Year 2
Second year modules will allow you to further develop your gained understanding of Building Information Modelling and its application in facilities management processes and strategies undertaken by project managers during the development process including team leadership. You will apply your technical and operational skills and methodologies through a virtual collaboration project.
Year 3
You will work on an in-depth piece of research in the form of a dissertation or advanced research project focusing on strategic BIMM issues such as making the business case for BIMM, forecasting and commercial benefits, impact on organisations, BIMM integration in workflow and risk to the organisation.
Learning during the course is structured around three key aspects of BIMM, namely Technical, Operational and Strategic. In technical BIMM students will learn about: BIM theory, BIM models, BIM application in design and construction , BIM process management, communication, collaboration, BIM tools, Common Data Environments, COBIe, impact on project stages, relevance to various built environment discipline.
In operational BIMM students will learn about: Team leadership, BIM manager role, Team coordination, BIMM process management, data management, data security, BIMM virtual collaboration, BIMM application in facilities management, project risk management, and project phasing and sequencing.
In strategic BIMM students will research topics related to: Strategic value of BIMM, commercial benefits, risk, business case proposition, forecasting, impact on organisation, integration in business models.
Modules
Modules and delivery order may change for operational purposes. The University regularly reviews its courses. Course content and structure may change over time. See our course and module disclaimer for more information.
Detailed module information
The course modules and their learning outcomes embrace the value of combining theory and practice, often utilising examples from industry. You will be encouraged to engage with the course material in a range of ways, including through academic literature review, application of practical skills within project work, and through interaction with other students.
Key aspects of the curriculum (including study of BIM strategy, implementation and virtual collaboration) carry the need to recognise multi-participant and cross-discipline working, and this will be central to course delivery and operation. This will include study of secondary source material (literature and case studies) and participation in group work and assessment.
You will be encouraged to use web-accessible software (free to registered students for academic use) from Autodesk, Graphisoft and others, including industry-standard CAD, modelling and rendering software.
Activity Summary
Lectures - 4 hours per week
Webinar - 2 hours per week
Project Supervision - 3 hours per week
Independent Study - 12 hours per week
Independent Study
A core philosophy behind the course is that you are active participants in the learning process. The online learning environment provides for active participation by all, and supports your access to academic and other resources; it also facilitates online peer-to-peer discussion, where you are able to participate in both guided and free discussions, related to the course material.
Staff Delivering on This Course
Each module is led by a staff member (module coordinator) with research/industrial expertise in the subject matter, and who will act as the main academic tutor dealing with subject specific issues. BIM experts from practice such as BIM Managers and BIM coordinators will contribute to the delivery of key practical modules providing industrial context and up to date application of BIM in design, construction and asset management.
Assessment
Typically students are assessed each year:
Year 1
4 written assignments, including essays
Year 2
3 written assignments, including essays
Year 3​
Feedback
We aim to provide you with feedback within 20 working days of hand-in for all written exams, coursework and practical exams.
---
ACADEMIC SUPPORT
The Disability & Dyslexia Centre advises and supports students who disclose a sensory or mobility impairment, chronic medical condition, mental health issue, dyslexia and other specific learning differences. Applicants are encouraged to arrange a pre-entry visit to discuss any concerns and to view the facilities.
ONLINE LEARNING & SUPPORT
All undergraduate and postgraduate students, whether you are learning on-campus or by online distance learning, benefit from using our collaborative virtual learning environment, CampusMoodle. You will be provided with 24/7 online access to your learning material and resources, along with the ability to interact with your class members and tutors for discussion and support.
STUDY SKILLS SUPPORT
The Study Support Team provides training and support to all students in:
Academic writing
Study skills (note taking, exam techniques, time management, presentation)
Maths and statistics
English language
Information technology support
Library Support
The Library offers support for your course, including the books, eBooks, and journals you will need. We also offer online reading lists for many modules, workshops and drop-ins on searching skills and referencing, and much more.
Job Prospects
On the successful completion of BIMM course, you will be able to measure your own competency and ability to conduct any emergent BIM-based activity or role. More importantly you will play an important role within your organisation or prospective teams, to support the routines and dynamics of team compatibility, communication and collaboration.
Career options include working as a specialised BIM personal in Architectural companies or as a pioneer that could lead the way to BIM implementation in multidisciplinary practices or multinational companies (locally or globally).
Applicants normally hold a 2:2 undergraduate honours degree or its equivalent, in one of the following subject areas: Architecture, Architectural Technology, Surveying, Design/Construction Management, Engineering, Planning or any associated discipline.
Applicants with a lower degree classification and / or relevant work experience will be considered on a case by case basis.
English Language Requirements
Applicants whose first language is not English should have an IELTS of 6.5 overall, with no component lower than 5.5, or equivalent.
We accept a variety of in-country and secure English language tests, find out more:
International Students
Our Pre-Sessional English Programme (PSP) is available for students who have not yet reached the required English level and those who would like to improve their language competency.
Pre-Sessional English Programme at RGU
Please note, some courses may require a higher standard of English than stated in this page. Contact admissions@rgu.ac.uk for further information.
FOR ACADEMIC YEAR 2019/2020
All Students
Distance Learning Part-time
£3,190 Stage 1
£3,190 Stage 2
£2,120 MSc dissertation stage
Additional Costs
The following course-related costs are not included in the course fees:
Costs associated with your placement / study abroad
Alumni Discount
Robert Gordon University is delighted to offer a 20% loyalty discount on course fees for all alumni who have graduated from RGU.
Student Funding
Postgraduate students will normally make their own arrangements for payment of fees. However, there are a limited number of SAAS funded places on certain postgraduate courses.
There are also sources of funding that are applicable to categories of student.
Postgraduate Students' Funding
Scholarships and Financial Awards
You may also qualify for a scholarship or financial award:
SCHOLARSHIPS AND FINANCIAL AWARDS
DISCLAIMER
For new intakes course fees are reviewed and published annually for each mode of delivery. Tuition fees are fixed for the duration of a course at the rate confirmed in the offer letter. For further information see:
Have a question about the course? Get in touch with our Student Admissions Team and we'll do our best to help.
+44 (0) 1224 262728
Accreditation
The MSc Building Information Modelling Management is Accredited by the Chartered Institute of Architectural Technologists (CIAT) which would gain exemptions from parts of the Professional Assessment application when progressing to Chartered status.

​Taking this course, you will have access to some of the world's best facilities.
We've invested more than £100 million in the development of our campus, new facilities and new resources.
University Wide Facilities
Apply
We've got a few options for applying to our postgraduate courses for UK, EU and international applicants.
All applicants to postgraduate courses can apply direct to the university using our online application form.
Applicants from non-EU countries can apply direct to the University with our PDF form.