Exercise Therapy for the Treatment of Tendinopathies: A Mixed Methods Evidence Synthesis
Abstract

This project is funded by the NIHR [HTA (129388]. The views expressed are those of the authors and not necessarily those of the NIHR or the Department of Health and Social Care.
Abstract
Exercise therapy is the core method of managing tendinopathy, as first or second-line intervention, and despite the plethora of literature on exercise for tendinopathy, uncertainties remain.
Exercise has been studied on its own and in combination with other interventions including manual therapies, extracorporeal shockwave therapy, laser therapy, taping and splinting, and various types of injection.
Exercise is generally classified by contraction mode (eccentric, concentric, isometric, stretch-shortening) or by intensity of load (e.g., heavy slow resistance exercise, heavily loaded eccentric exercise).
A significant body of literature exists comparing one exercise type to another exercise type, to another conservative intervention, or to a control (e.g., "wait and see"). There is also literature concerning factors such as dosage, mode of delivery, and the patient experience.
Previous systematic reviews have been conducted, but to date there is no evidence synthesis that combines the exercise related research findings across all tendinopathies and identifies commonalities and heterogenic treatment effects, whilst taking into account relevant variables and participant characteristics.
The aim of this mixed methods evidence synthesis is to examine the evidence base on exercise therapy for tendinopathies in order to make recommendations for clinical practice and future research.
Review Questions
What exercise interventions have been reported in the literature and for which tendinopathies?
What outcomes have been reported in studies investigating exercise interventions for tendinopathies?
Which exercise interventions are most effective across all tendinopathies?
Does type/location of tendinopathy or other specific covariates affect which are the most effective exercise therapies?
How feasible and acceptable are exercise interventions for tendinopathies?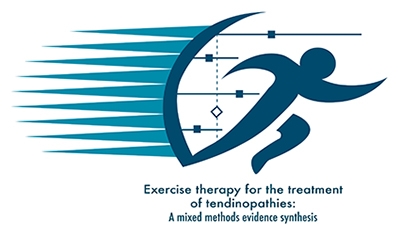 Research Staff
Principal Investigator
Co-Investigators
Dr Lyndsay Alexander
Dr Paul Swinton
Dr Anastasia Pavlova
Colin MacLean
David Brandie, SportScotland Institute of Sport
Laura Mitchell, NHS Grampian
Professor Dylan Morrissey, Queen Mary University of London
Dr Victoria Tzortziou Brown, Queen Mary University of London
Research Staff
Dr Jo Shim
Leon Greig
Dr Rachel Moss
Eva Parkinson
Isabelle Harrison
Related Links
Read more about the Project on OpenAIR: