RGU's Creative Accelerator cohort to showcase their businesses to the public
Thursday 12 September 2019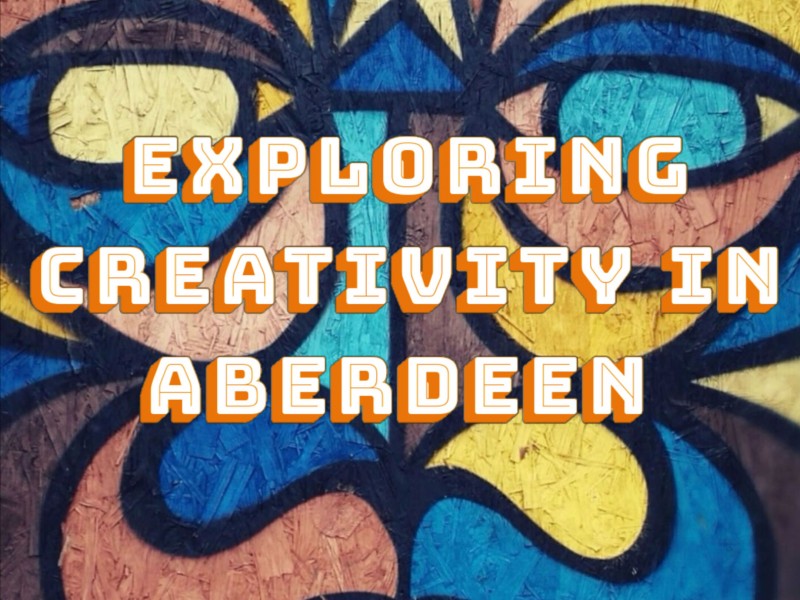 A group of ten creatives, who have spent the last 12 weeks on RGU Creative Accelerator, will mark the end of the programme with a special exposition, showcasing their enhanced businesses to the public.
The Creative Accelerator has been run by Look Again, part of Gray's School of Art, in collaboration with the university's Entrepreneurship and Innovation Group (EIG).
To help launch their business, or take their existing concept to the next level of development and commercialisation, the participants have spent the last three months taking part in training, mentorship and development opportunities, as well as being given work space at the Look Again project space at 32 St Andrew Street, Aberdeen.
The Accelerator also provided masterclasses by creative industry leaders, who were brought in to share their experiences of entrepreneurialism in the creative sector.
The Creative Accelerator Exposition will take place at Look Again Project Space from Friday, September 13, to Sunday, September 15, open 11 to 5 each day. A programme of workshops and classes will take place over the weekend.
Hilary Nicoll, Co-Director at Look Again, commented: "The mission of the Creative Accelerator is to support the growth of creative industries in the North East of Scotland
"Over the past three months, the creative entrepreneurs have been testing, developing and growing their ideas into viable businesses. The showcase and exposition is a celebration of the progress of these exciting businesses and an opportunity for them to build new connections, promote their work and highlight their success."
Dr Heidi Gardner is one of the Creative Accelerator cohort. Her business, Science On A Postcard, and the products she creates, give scientists the opportunity to integrate their passion for science into everyday life, sparking conversations and breaking down stereotypes.
She commented: "My business has gained focus. Before the Accelerator I was making sales, but it was running around like a headless chicken trying to keep on top of things. Now the business feels more structured - I'm able to handle the sales I was making before, whilst also pushing forward with new creative ideas and avenues for business development.
"I'm delighted that this programme is happening in Aberdeen specifically. I've lived here for almost a decade and shamefully had very little clue about where I could go to for help - whether it be funding, business advice and guidance, or simply a place to bounce creative ideas around with people that get it. Now I feel proud of the creative activities happening in and around the city, and I look forward to contributing to them in the months and years ahead."
A fellow Creative Accelerator startup is Dancing on the Borderline's, Lynn Shaw. Lynn's service-based business was founded to act as a representative for those with Borderline Personality Disorder, by primarily using the arts as a catalyst to contribute to changing the often-stigmatised misrepresentations of the disorder.
"Having spent the last two years developing new skills and gaining new knowledge, the Creative Accelerator programme has given me more clarity on how to drive my business forward by setting down practical action-based goals," Lynn said.
"Creativity is often undervalued in businesses, society and education. Having access to this kind of initiative acknowledges, celebrates and nurtures local makers and creators, while highlighting the possibilities and potential for other people to turn their own creative ideas into a reality.
"The creative industries are often overlooked as a professional pathway for young people to pursue, however knowing that there are local opportunities such as the Creative Accelerator initiative gives them something to strive towards."
Another business which has successfully gone through the inaugural Creative Accelerator is Prolong. Run by Lucia Gasparidesova, Prolong is a business with sustainability at its core and takes existing items of clothing, which are no longer in use, and transforms them into completely new products.
Lucia commented: "It has been an eye-opening course which I am very grateful for. I definitely think it's vital for start-up businesses to have these 'incubators' where all the important information can be provided, as well as the mentoring opportunities.
"Creative Accelerator was a very playful but challenging course where I went out of my comfort zone in order to know myself as an individual in a deeper sense, and that's super important when running your own business."
For more information, please visit https://lookagainaberdeen.co.uk/events/creativeaccelerator