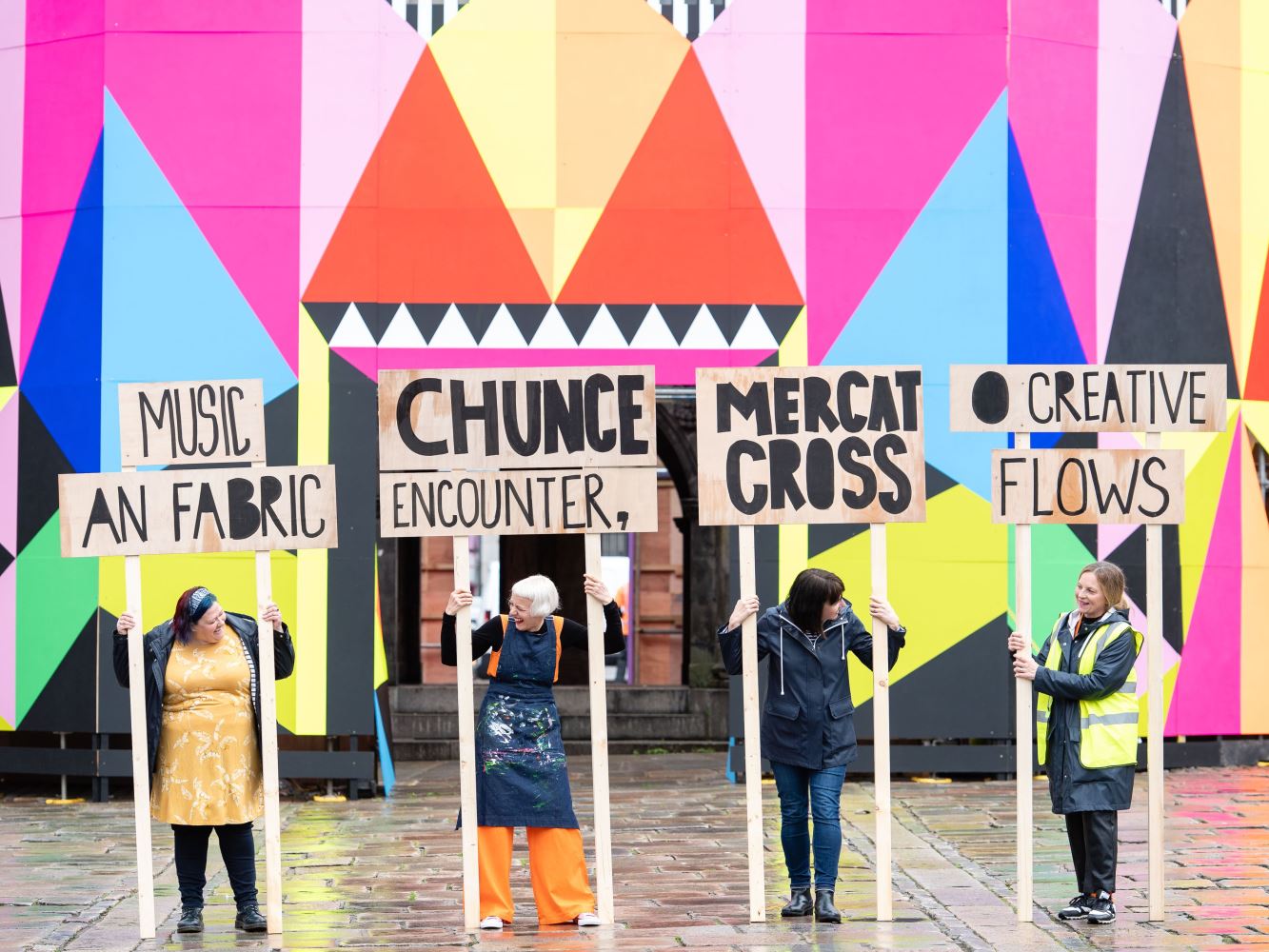 Aberdeen's annual celebration of the very best in contemporary art and design, Look Again Festival, opens today presenting new work from internationally acclaimed and emerging artists in locations and sites throughout the city.
Over 100 artists at this year's festival were invited to respond to the theme 'New Narratives' emboldening them to enter new territory and respond to our fast changing world to create work which seeks to re-activate vacant or underused areas of Aberdeen.
Highlights of the 5th edition of the Festival include newly commissioned major site-specific installations from two of the of the UK's most exciting contemporary artists John Walter and Morag Myerscough.
John Walter has torn up the rulebook to create a new immersive Virtual Reality experience, The Fourth Wall, inspired by the architecturally significant Marischal Quad, in which participants wear visually stunning customized headsets and become performers in a separate show they can't see while they experience unforgettable augmented reality through the headsets.
Displaying the brilliant bright colours of Morag Myerscough's graphic style, Love at First Sight rises around the city's traditional meeting point, the Mercat Cross in Castlegate, and is inspired in part by the artist's parents meeting and falling in love in the city. The colosseum like interactive structure marks Myerscough's first Scottish showing for which she has also collaborated with Doric poet, Jo Gilbert.
In another major commission for Look Again Festival 2019, Aberdeen-based writer Shane Strachan presents, The Bill Gibb Line, an interdisciplinary show inspired by the life and career of Bill Gibb - the son of an Aberdeenshire farmer who took the fashion world by storm, with Elizabeth Taylor, Bianca Jagger, and Sandie Shaw wearing his designs in the 1970s.
Each year, Look Again Festival also supports emerging artists connected to Aberdeen to make and show new work through the Seed Fund initiative. Caro&Karo Taxi is a multimedia project by visual artist Zloto, one main element of which is a customised legendary east European vehicle that will become a colourful intervention taxi-ing the public from one festival location to another. Studio N_Name imagine a world with The Rebel Caterpillars in which children have formed a new political party and risen up and taken power. Presented by Gray's School of Art alumni David McDiarmid, Jon Nicolson, Stuart Noble, Emma Rogers and Rachel Rogers, The Artists' Tuck Shop is a mobile tuck shop trolley serving up snacks and handy artworks made by artists. Artist Kirsty Russell's Threshold(s) responds to the hard-edged built environment of Aberdeen, installing a rug in the city centre, welcoming visitors.
The 2019 programme also sees Jacqueline Donachie, one of Scotland's most prominent artists bringing Temple of Jackie to Aberdeen. A mobile unit that will pop up in the city centre, it will function as a DJ booth/soup kitchen/gathering space.
Scottish artist Craig Barrowman presents Mobile 'Ploposal' Unit, a huge head of architect Archibald Simpson, on wheels, housing a unit for the production of public art proposals. Through conversations with members of the public, Craig will produce public art proposals to be displayed, as 2D images across the city.
Aberdeen based design agency, Design and Code celebrate the Doric dialect at the Music Hall with Glisk, showcasing Doric phrases chosen by the public and designs inspired by Morag Myserscough's Festival commission. Jo Gilbert's poetry for Love at First Sight will also feature, with the project creating a call and response in Doric along Union Street.
New Art from Macedonia curated by Jon Blackwood, at Peacock Visual Arts is the first leg of an exchange exhibition between Aberdeen and the capital of North Macedonia, Skopje. Aberdeen Follies, a project developed with final year students at Scott Sutherland School of Architecture, responding to a brief to produce a digitally fabricated, demountable architectural intervention for the city – a 'Folly'. The development process included road testing of the initial concept designs by children from two Aberdeen schools.
This Pernicious Nuisance by Jess Wilson-Leigh and Am I Using Material Or Is Material Using Me? By Elliott Cookson, Hannah Gibson and Marcus Murison are part of We are TAR, a series of events and showcases happening at The Anatomy Rooms this year, highlighting the work of the studio residents. (Un)Well by Norma D Hunter is inspired by Scotland's long tradition of Clootie wells. There is another opportunity to enjoy the work of Rob Lowe (aka Supermundane), For I Know It's Over.
An extensive series of talks, workshops and events will give opportunities to learn more about the work of the participating artists and the creative industries in the North-East.
Born in 2015 out of a need to celebrate, showcase and support the incredible visual art and artists in the region, Look Again is now part of Gray's School of Art at Robert Gordon University (RGU) and is firmly established as a year-round presence.
Look Again works with the sector and city partners to cultivate the creative industries in Aberdeen, proving the value of creativity and culture to the city, spotlighting and supporting creative talent emerging from the region, and harnessing national and international connections.
As part of its advocacy work, Look Again is supporting the Scottish Contemporary Art Network (SCAN)'s campaign Art in Action by inviting MSPs in the North East to attend the festival and asking them to recognise the valuable role visual art plays within communities across the region.
Sally Reaper and Hilary Nicoll, Look Again Co-Directors said: "In this, our 5th year, Look Again lasts longer and extends further than ever before. With amazing participation from well over 100 artists, designers, makers, writers and performers, we really feel we are showing what a great creative community we have right here in the Northeast, and are so pleased to be highlighting this wealth of talent.
"Our programme is bold and ambitious, outward-looking and connected, and we're delighted at the collaborations and partnerships that have emerged and continue to grow through Look Again."
Libby Curtis, Head of Gray's School of Art, commented: "Look Again is fully committed to supporting the growth and development of Aberdeen's incredible creative industry, support it critically needs in order to maintain its robust cultural offering but also to retain the fantastic artistic talent we have here in the North East.
"For Look Again 2019 we will celebrate and explore Aberdeen through the very best visual art and design, inviting residents and visitors to see the city through fresh eyes, and supporting artists from the region to show new work as part of our diverse programme.
"A particular focus for this year's festival is to present innovative contemporary visual art which seeks to re-animate historic spaces and breathe new life into underused sites across the city."