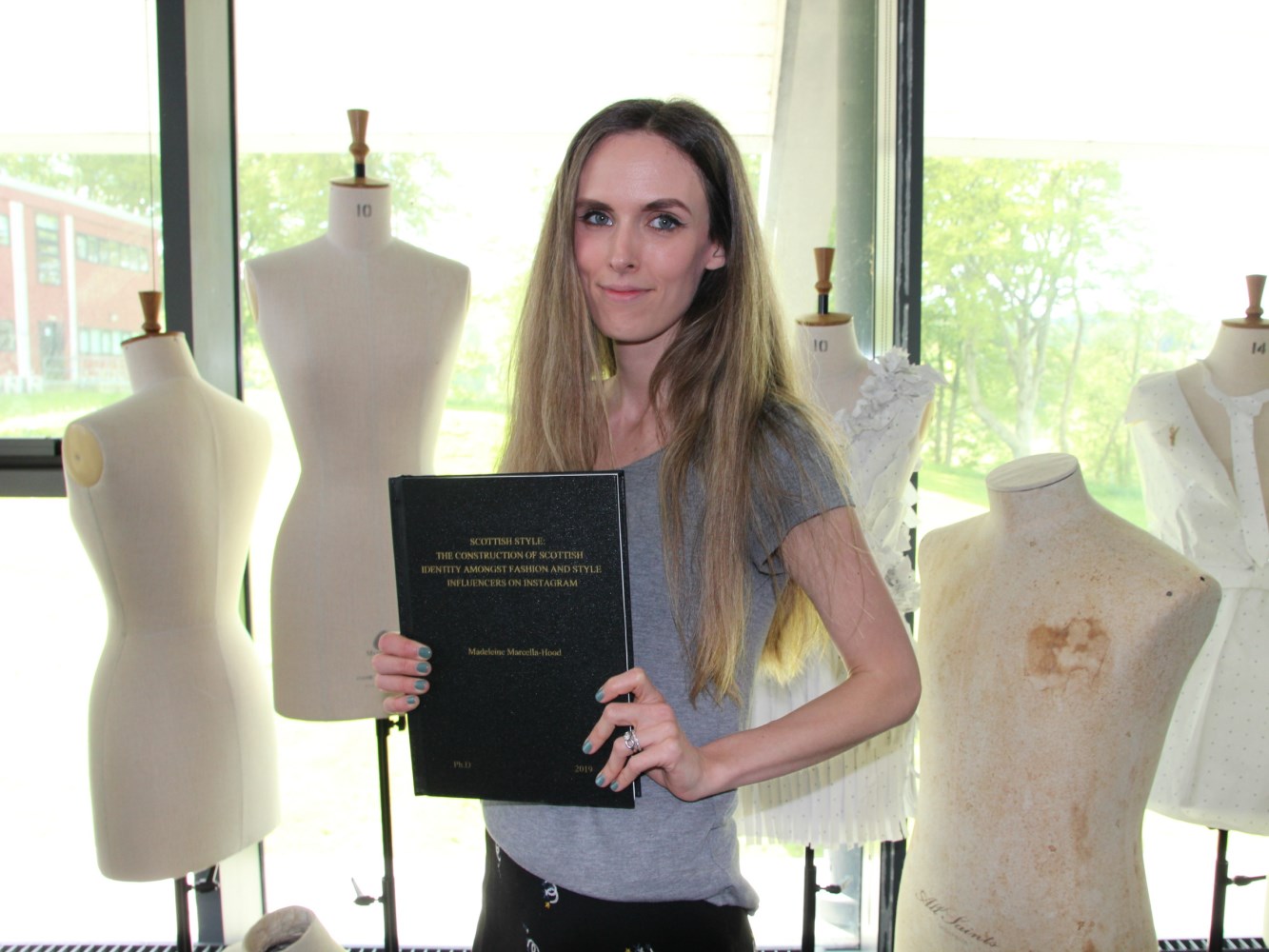 An RGU researcher is exploring the construction of Scottish identity and place amongst fashion and style influencers on Instagram.
Dr Madeleine Marcella-Hood, who is head of year one for the BA (Hons) Fashion Management course at RGU's School of Creative and Cultural Business, found that research into Scottish fashion is an underdeveloped field and hopes her current research will pave the way for future research into contemporary Scottish fashion.
Madeleine recently presented her research at the IFFTI conference in Manchester where she won an initiative award for her paper entitled 'Scottish style: the construction of Scottish identity among fashion and style influencers on Instagram'.
"My paper was one of only eight that received an award. Other authors included researchers from Parsons and FIT in New York so it was a real honour for my research to be recognised alongside the work of others from globally renowned fashion institutions such as these," she commented.
Speaking about her research, Madeleine continued: "Literature in the field of Scottish identity suggests that the traditional Highland myth surrounding Scotland is so overwhelming that it is difficult for new meanings and identities to come to the fore.
"The aim of this study was to explore the construction of Scottish identity and place among fashion and style influencers on Instagram. The Highland myth of Scotland has been popularised by literary and artistic representations of the nation and I would argue that Scottish fashion influencers act in a similar way and could be considered as important cultural icons who are shaping contemporary representations of Scotland.
"My Masters research focused on the application of project management tools and techniques to creative industries, which I explored with a sample of fashion business in the north-east of Scotland. In conducting this research, it became apparent that information on Scottish fashion is quite difficult to come by and where this does exist, it tends to focus on the Scottish textiles industry."
Madeleine's research involved interviews with 14 Scottish fashion influencers.
"I was aware of a growing community of Scottish fashion influencers operating on Instagram and that these individuals were perhaps quite important in shaping contemporary perceptions of Scottish identity and fashion among a potentially global audience, where social media platforms like Instagram are unrestricted in terms of their geographic reach," she added.
The participants were asked to provide a set of posts that they felt were representative of their identity as Scottish fashion influencers. This is a novel methodological approach that enabled new meanings around contemporary Scottish identity and fashion to be uncovered. The participants were all women and Madeleine said this in itself is revealing, where traditionally Scottish identity has evoked more masculine imagery.
Participants were passionate about their Scottish identity; this was seen as an attractive feature and a way in which they could stand out in the increasingly crowded realm of fashion influencers online.
Madeleine said: "The findings reveal a tension between past and present representations of Scotland, where traditional textiles were recognised for their value to the Scottish fashion industry and economy but not considered sufficient in conveying contemporary Scottish style, which was found to be more diverse. Participants tended to convey an outdoor lifestyle in their posts and much of their fashion imagery reaffirms the Highland vision of Scotland as a place, where they preferred to present themselves against a historic or rural backdrop.
"Participants expressed a natural preference for autumn-winter styles, which elicited comfort and familiarity and stemmed from a sense of themselves as Scottish. The autumn-winter aesthetic was strong throughout the sample imagery in terms of fashion choices and tonality of colour."
Speaking of the impact of her research, Madeleine said: "This research helps pave the way for future research into contemporary Scottish fashion. The timing of this research felt particularly apt where there has been much discussion around Scottish identity amidst a vibrant political landscape, which includes the Scottish Independence Referendum and Brexit. A novel methodological approach is adopted that could be used in future studies of online identity."
Madeleine has recently written a paper for Scottish Affairs and she hopes to investigate further the concept of Scottish identity and how this is conveyed through fashion.
"The findings of my research uncovered some more localised identities and initiatives within Scotland and I'd like to explore these further through a series of case studies as I think these would be really valuable in helping document Scotland's fashion status in an authentic and contemporary manner," she concluded.