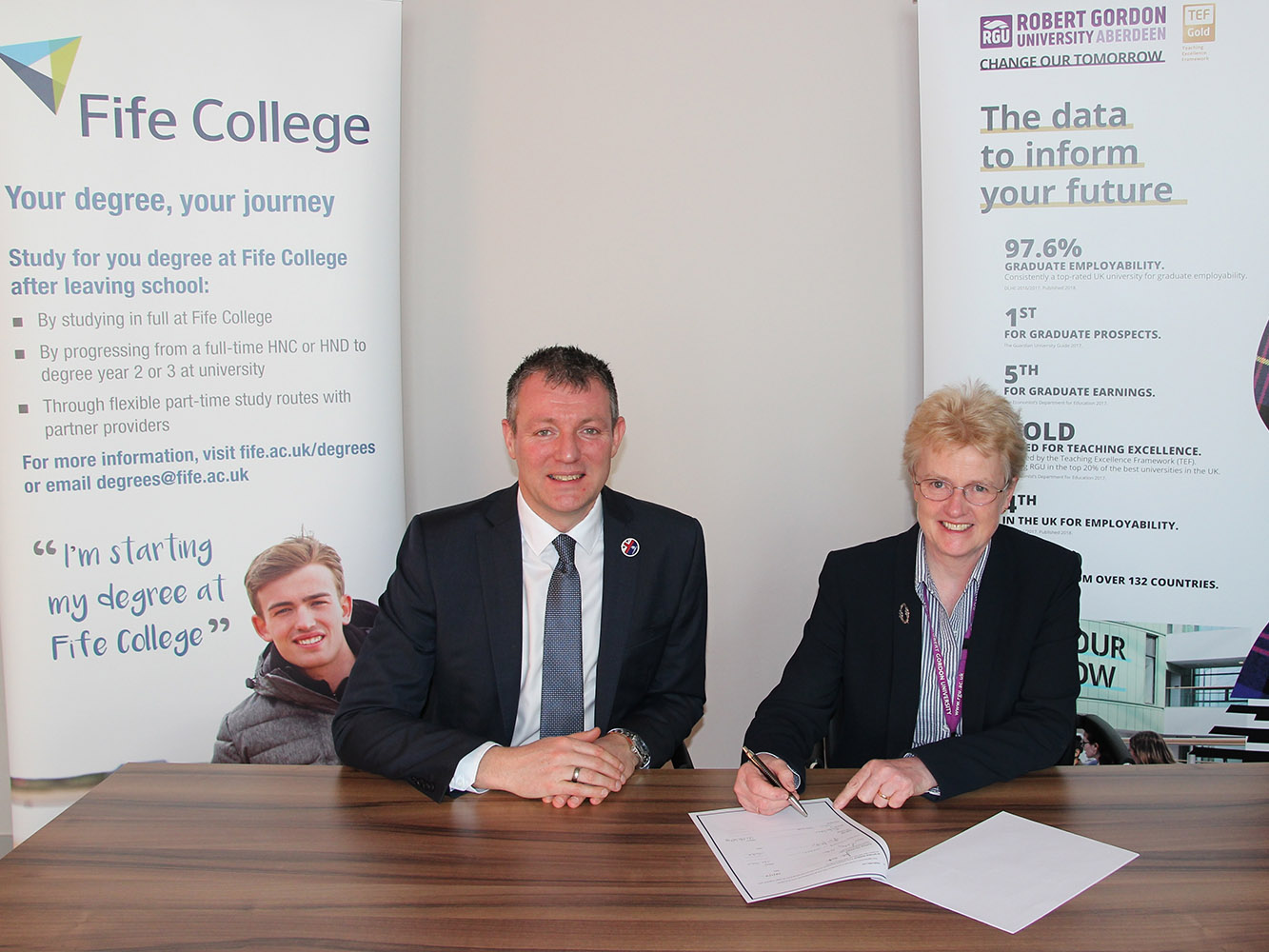 Fife College and Robert Gordon University have increased pathways to higher education for local learners through a new partnership.
RGU has formally partnered with Fife College on a new agreement which adds a further three degrees to the range currently on offer through its Degree Links, offering students greater flexibility and a more affordable option of study by completing the first one or two years of their degree locally at college.
The new partnership with RGU, which replaces and enhances the Advance Entry Agreement which has existed between the two institutions since 2012, creates a direct entry progression pathway for HND students into the third year of a degree course in three new subject areas - BSc (Hons) in Architectural Technology, BSc (Hons) in Quantity Surveying and BA (Hons) in Fashion Management.
Iain Hawker, Assistant Principal - Quality and Academic Partnerships at Fife College, said: "We very much value our partnership with RGU and are very pleased to have signed this new memorandum which formally recognises our links.
"This signing is an exciting step forward for our degree links programme enhancing our range of degrees and recognised pathways on offer. We look forward to working with staff at RGU to progress our partnership to benefit students."
Direct entry into year two or three at university ensures that students can continue to move forward with their studies without repeating material and finish their Honours degree in four years, the same timescale as they would have if they had gone straight into year one at university.
Students enrolling into an RGU course, or any other degree link course at Fife College, will be invited to register as an Associate Student enabling them to benefit from university services such as library and IT facilities.
James Dunphy, Director of the Department of Enhancement of Learning, Teaching and Access (DELTA) at RGU, said: "Fife College has an excellent reputation for developing confident and successful learners.
"RGU is delighted to be able to support the College as it increases pathways to degree study for its students and we look forward to welcoming increasing numbers of Fife College graduates to RGU as our relationship develops."